Ellie Phimister, or more commonly known as Negasonic Teenage Warhead, is a mutant and a member of the X-Men. Before she was an official member, she trained under Colossus, another member of the X-Men. Though she is a member, Negasonic didn't appear in any X-Men movies. She made her first appearance on the big screen in the first Deadpool movie, playing a supporting role. She played a more prominent role in Deadpool 2.
As a mutant, Negasonic's power is self-detonation or the manipulation of explosions. She can generate a blast of varying degrees from all parts of her body. She can also create a forcefield from the kinetic energy of her explosion to shield her from all kinds of attacks. The character is also a skilled engineer who was able to fix Cable's wrist time machine. Her combination of destructive power, fiery personality and cool appearance makes her a good cosplay option. This is a Negasonic Teenage Warhead cosplay guide.
The Deadpool Negasonic Teenage Warhead Costume Tutorial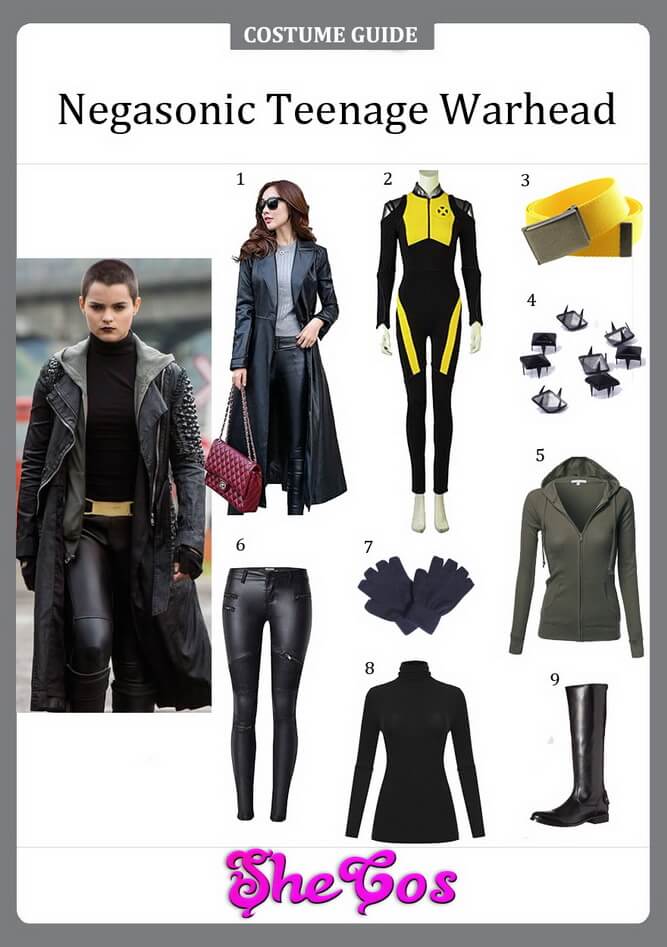 1. Negasonic Teenage Warhead Coat       Check Price
2. Negasonic X-Men Costume                   Check Price
3. Pyramid Studs                                           Check Price
4. Negasonic Grey Hoodie Jacket              Check Price
5. Dustin Stranger Things Hat                   Check Price
6. Black Fitted Leather Pants                     Check Price
7. Black Fingerless Gloves                           Check Price
8. Black Fingerless Gloves                           Check Price
9. Black Fingerless Gloves                           Check Price
The Best Negasonic Teenage Warhead of Deadpool Cosplay Guide
When it comes to dressing up as Negasonic Teenage Warhead, there are two outfits to choose from. One is her X-Men costume, and the other is the casual outfit she wore in the movie. This cosplay guide will feature both outfits.
Her casual wear consists of a black long-sleeves fitted turtleneck top with black fitted leather pants. This outfit will also come with a yellow belt and, a pair of fingerless gloves, and a couple of black boots. The outfit includes a grey hoodie jacket and a black full trench coat. The X-Men costume consists of a black full-body suit with yellow designs on the chest area and yellow line on the legs. The outfit also has silver plates on the shoulder and collar area. The outfit is completed with pyramid studs on each side of the character's belt.
About Negasonic Teenage Warhead Costume
The Negasonic Teenage Warhead name is a good fit for the character, considering her attitude and personality is that of a typical teenager who's a bit rebellious. Of course, she's a powerful teenager at that, having the power to manipulate explosions. Despite her teenage attitude, Negasonic is also a smart and witty character.
It was evident in how she responds to Deadpool and in her ability to fix a time machine in Deadpool 2. Her combination of attitude, personality, and neat appearance make her a good cosplay option for a lot of ladies. If you look at the Negasonic cosplay photos, you can see how badass looking the character is. Though she has worn several different outfits, the cosplay photos show that her X-Men uniform is the favorite choice. She's an excellent character to dress up as for costume parties or comic conventions.
Negasonic Teenage Warhead Makeup Tutorial