Tsunade is a character in the anime series Naruto. She is one of the legendary Sannins of the Konohagakure Village and its Fifth Hokage. She is also a descendant of both the Uzumaki and Senju clan and known as the physically strongest shinobi, as well as the best medical ninja. But Tsunade abandoned the shinobi life for a while before accepting the role of Fifth Hokage.
The repeated death of her loved ones is the main reason for turning her back on the shinobi life and for her fear of blood. Her former teammate Jiraiya and Naruto Uzumaki were the ones who convinced her to return. She lost a bet to Naruto, which made her believe in the Hokage title again. This article is a Tsunade cosplay guide.
Naruto Series | Tsunade Cosplay Guide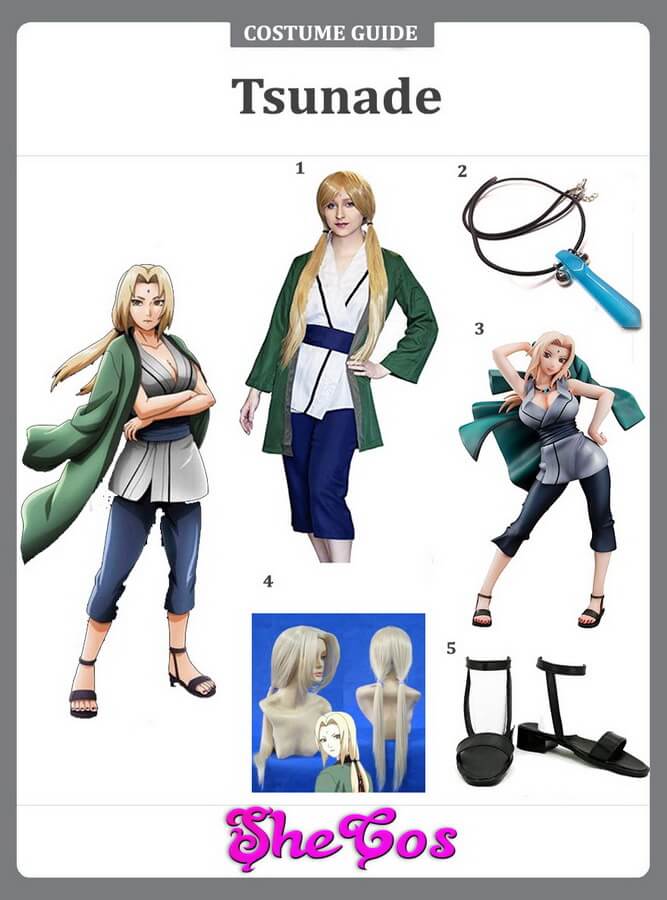 Parts you may need
1. Full Tsunade Costume                             Check Price
2. Green Necklace                                         Check Price
3. Tsunade Figure                                          Check Price
4. Blonde Tsunade Wig                                Check Price
5. Tsunade Shoes                                           Check Price
The Best Tsunade of Naruto Cosplay Ideas
Tsunade is one of the rare characters in the Naruto anime series who didn't change her outfit or appearance as the series progresses. She is mostly seen wearing the same outfit throughout the series. The only exception to this is during flashback scenes, where she was wearing her ninja combat gear. This cosplay guide will feature Tsunade's usual outfit.
It consists of a sleeveless grey kimono style blouse for the top with a dark blue obi around her waist. The set also comes with dark blue pants and a green haori that Tsunade wears over her outfit. The haori has a kanji symbol on the back, which translates to gamble. Tsunade's cosplay set is completed with a pair of black open shoes, the First Hokage necklace that she gave to Naruto, and a long blonde wig in the character's hairstyle. The cosplay set would also come with a Tsunade figure for display.
About Tsunade Costume
Tsunade is one of the strongest characters in the Naruto series. Her combination of physical strength, exceptional regeneration technique, and world-class medical ninjutsu abilities make her one of the toughest opponents to defeat in a battle. She is also the prettiest woman in the ninja world, due to her pretty face, and curvaceous body. Even at the age of 50, Tsunade was able to maintain her youthful appearance due to a unique Transformation Technique to make her look young again.
She may not be one of the most popular characters in the series, but Tsunade still has fans. Her combination of power and beauty makes her an ideal cosplay option for ladies who wants to represent a powerful but also pretty anime character. If you look at the Tsunade cosplay photos, you can see that dressing up as Tsunade will make any lady look excellent. She is an ideal cosplay option if you are attending a costume party or comic convention. The character is even a good cosplay option for people who wants to do anime photoshoots.
Naruto Tsunade Cosplay Makeup Tutorial