League of Legends is an online multiplayer video game that launched in 2009. Three years after it was released, League of Legends became the most played OC game in the world, having logged 1.3 billion hours of gameplay in 2012.
Gamers would play the role of a summoner who is in control of a champion with the unique skills and abilities that they need to develop to make the character stronger. They will be battling other gamers, or computer controlled heroes and try to destroy the enemy's Nexus structure.
The game has close to 150 heroes to choose from, and each of them has their unique abilities, skills, and powers. One of the old characters that League of Legend has is Miss Fortune. There have already been a lot of skins or costumes released for Miss Fortune from 2010. Here it will be a Miss Fortune cosplay guide.
League of Legend Miss Fortune Cosplay Tutorial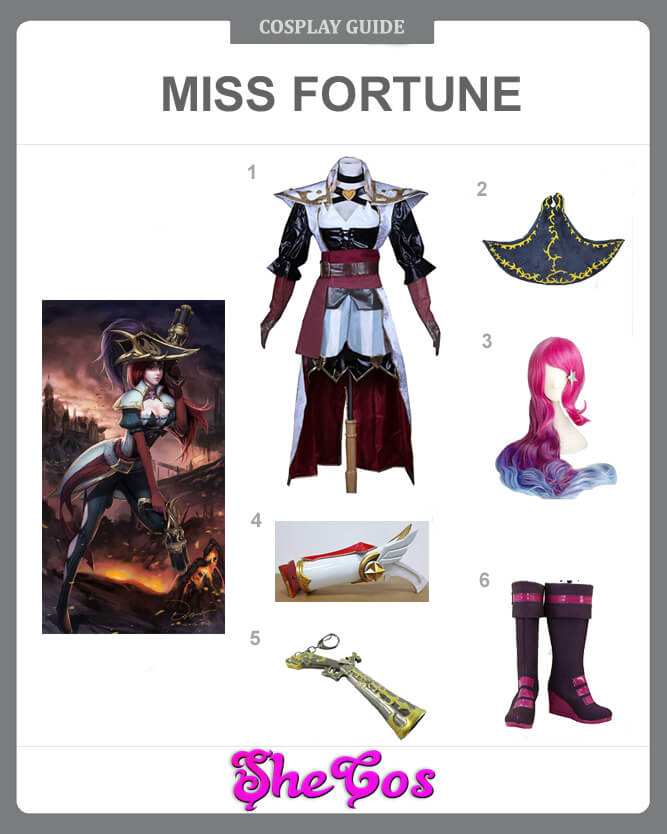 1. Full Captain Fortune Cosplay                 Check Price
2. Miss Fortune Hat                                      Check Price
3. Miss Fortune Wig                                      Check Price
4. Star Guardian Gun Prop                          Check Price
5. Captain Fortune Gun                               Check Price
6. Miss Fortune Boots                                   Check Price
The Best Miss Fortune of League of Legends Cosplay Guide
Miss Fortune is a Bilgewater captain that is well-known for her ruthlessness and beautiful looks. Being one of the earliest heroes from the game, Miss Fortune already has many skins or costumes available.
For this Miss Fortune cosplay set, you will get one of her skins, which is the Captain Fortune outfit. It is a pirate outfit with a black corset on top of a white top with black long sleeves and a white long-tail coat. The suit also comes with light blue and white striped shorts with a brown belt and a maroon sash tied on the waste and maroon arm-length gloves. It is completed with the Captain Fortune hat, a pair of dark brown boots with pink designs and a long pink wig with dark purple and light blue colors being seen close to the tip for Miss Fortune's hairstyle. As for the prop, you will get Captain Fortune's gun and a Star Guardian gun prop.
About LOL Miss Fortune Costume
Sarah Fortune or more commonly known as Miss Fortune is a beautiful but ruthless woman. She can captivate you with her beauty, but she can also put a bullet through your head if you piss her off. Her backstory is a bit tragic as she witnessed how the reaver king Gangplank brutally murdered her entire family. Her ruthlessness, though, showed when she avenged them. She blew up the king's flagship while he was on board.
Miss Fortune is not among the favorite characters in League of Legends, but she does have her fair share of fans. She is a good choice, though, when it comes to cosplaying League of Legend characters. That is because of her combination of looks, fierceness, and attitude. Checking out the Miss Fortune cosplay photos, you can see how appealing and good looking it is to cosplay as Miss Fortune for comic conventions, costume parties, or photoshoots.
Cosplayer: CosplayerTineMarieRiis, Eva_sirin, Kinpatsu Cosplay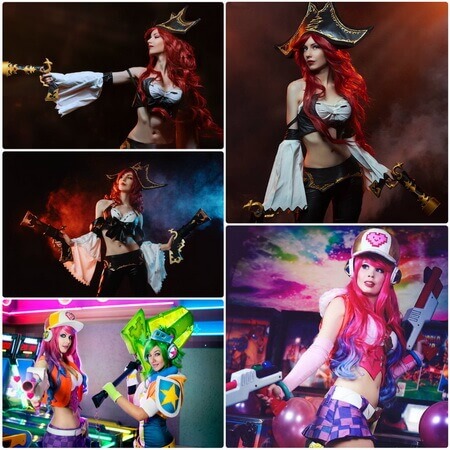 League of Legends Miss Fortune Makeup Tutorial