Esmeralda is one of the main characters of the Disney animated movie The Hunchback of Notre Dame. She is a Romani woman and the deuteragonist of the story. And she was the only one who showed care, compassion, and spiritual love to the deformed protagonist, Quasimodo. Esmeralda is also a humanitarian, and she belongs to a marginalized group known as gypsies and her.
The character is also a member of the Romani culture and works as a dancer on the streets and in professional events with her pet goat and assistant Djali. This article is an Esmeralda cosplay guide.
The Hunchback of Notre Dame Esmeralda Cosplay Tutorial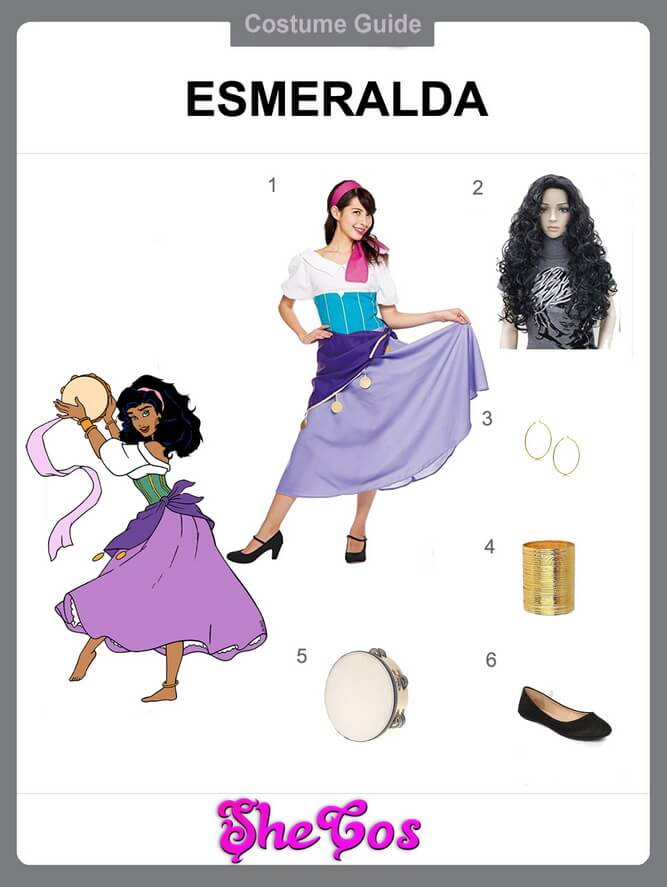 Parts you may need
1. Full Esmeralda Costume                        Check Price
2. Black Esmeralda Wig                              Check Price
3. Hoop Earrings                                          Check Price
4. Gold Bangle Set                                        Check Price
5. Tambourine                                               Check Price
6. Black Esmeralda Shoes                           Check Price
The Best Esmeralda from The Hunchback of Notre Dame Cosplay Ideas
Esmeralda was not shown to wear different outfits throughout her appearance in the animated movie. She is wearing one usual outfit mostly, and the only difference in her appearance is if she is wearing shoes or not when performing. This guide will feature the typical outfit that Esmeralda wears in the movie.
It consists of a white top with a teal-colored bodice that has gold lines. The character's outfit also comes with a light purple skirt that has white petticoat underneath and a purple sarong tied on waist. Ther is a pair of hoop earrings and a gold bangle set that the character wears on her left arm in the list. The Esmeralda cosplay will also have a long black curly wig, a pink ribbon to tie the hair back, and a pair of flat black shoes. The full cosplay set includes a tambourine that Esmeralda uses whenever she is dancing, whether on the streets or during an event.
About Esmeralda Costume
Esmeralda is a cunning, streetwise, and vocal woman who is not afraid to fight for what is right. Her morale is also high, which is evident in how she treated Quasimodo and how she stood up against Minister Frollo. She was vocally opposing in the minister's accusations that her group is thieves. Her vocal opposition to the minister gets her in trouble a lot, but her wits allow her to evade the officials who are trying to capture her. Esmeralda also a firm conviction and will not let go of her beliefs and morals, even when she was finally captured.
But Esmeralda is not all brains and ability, she is also a beautiful lady, which is evident in Minister Frollo and Phoebus falling head over heels for her. Her personality, minds, and beauty make the character one of the favorite Disney princesses. Her overall appearance also makes Esmeralda a good cosplay option. If you take a look at the Esmeralda cosplay photos, you can see that the character makes a great costume idea for ladies attending a costume party or going to a comic or movie conventions.
The Esmeralda Cosplay Makeup