Owen Grady is one of the main characters of the Jurassic World movie series. He is one of the two protagonists of the story. Owen is a dinosaur researcher that is working with Jurassic World and is in charge of training and studying the behaviors of the Velociraptors.  He was the one who discovered that Velociraptors' behaviors are more complex than they thought.
After working with the dinosaurs, Owen soon became the leader of a pack of 4 Velociraptors. He said that he doesn't control the dinosaurs. He built a relationship with them, basing on mutual respect. This article is an Owen Jurassic Park costume guide.
The Jurassic World Owen Grady Costume Tutorial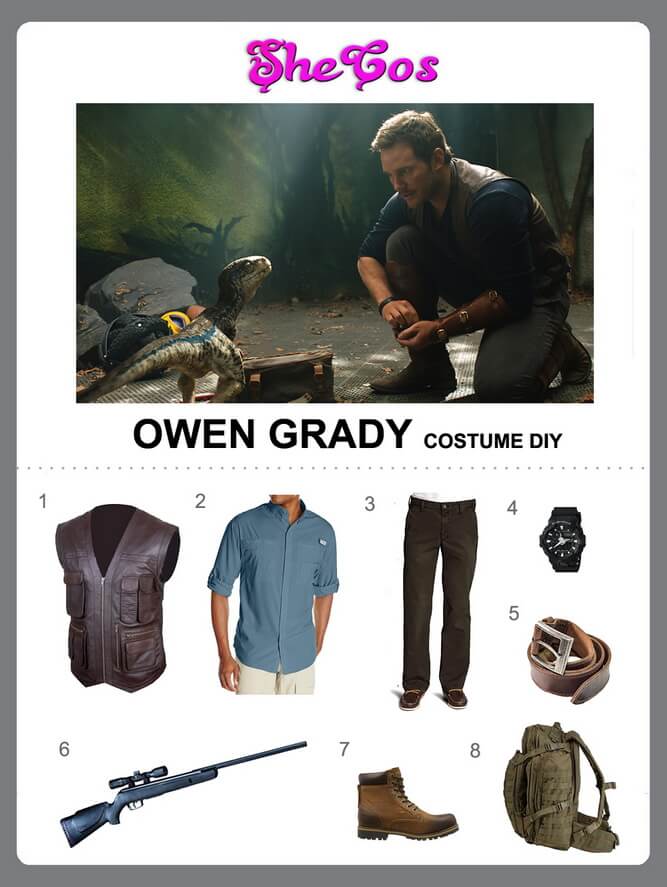 1. Brown Owen Grady Vest                       Check Price
2. Blue Long-Sleeves Polo                         Check Price
3. Black Pants                                               Check Price
4. Black Owen Grady Watch                     Check Price
5. Brown Belt                                                Check Price
6. Air Rifle Prop                                           Check Price
7. Owen Grady Boots                                   Check Price
8. Green Backpack                                       Check Price
The Best Owen Grady from Jurassic World Cosplay Ideas
Owen Grady has worn various costumes throughout his appearance in the Jurassic World movie series. He wears different typical, depending on the scene that he appears. But the character does have one usual outfit that he wears mostly in the movie. This guide will feature the typical costume that Owen Grady wears.
It consists of a blue long-sleeved polo with the sleeves folded up to the elbows and black pants. On top of the polo is a dark brown leather vest that has pockets on the chest area and the stomach area. The Owen Grady costume also comes with a brown belt, a pair of brown shoes, and a black watch. The set will also have an air rifle prop and a green backpack where Owen puts all of his gear and stuff to complete the character's overall appearance.
About Owen Jurassic World Costume
Owen Grady is a confident and headstrong individual who has a strong sense of compassion and justice to all life forms. Out of all the staff in Jurassic World, Owen is the one who cares about the welfare of the dinosaurs. He doesn't view his Velociraptor pack as pets or subordinates, and he treats them as family, which is how he got their respect in the first place. His care and compassion for the dinosaurs also show in how he responds to authority figures in the park.
He doesn't care if he is disrespectful to them, especially if they're not thinking about the welfare of the dinosaurs. It made Owen a fan favorite since he is very concerned with the protection of the dinosaurs, even going as far as to disobey his bosses for them. As a favorite character in Jurassic World, Owen is also an excellent cosplay option for fans of the movie, looking to dress up as a character. If you look at the Owen Grady cosplay photos, you can see that his look has its flair and style, even if the outfit itself is just normal. He's a great costume option for costume parties or costumed conventions.