Pocahontas is the protagonist of the Disney animated movie with the same name. She is a part of a Native American tribe in Virginia, which her father Chief Powhatan leads. Though she respects and adheres to the traditions of her tribe, Pocahontas is a willful and free-spirited individual. This personality prompted her to have a forbidden friendship with Englishman John Smith. She would eventually fall in love with the Englishman and use her love for him as an inspiration to try and unite her tribe and the foreigners.
The story of Pocahontas was from an actual person, which made people like the animated movie and the character even more. This article is a Pocahontas costume guide.
The Pocahontas Costume Tutorial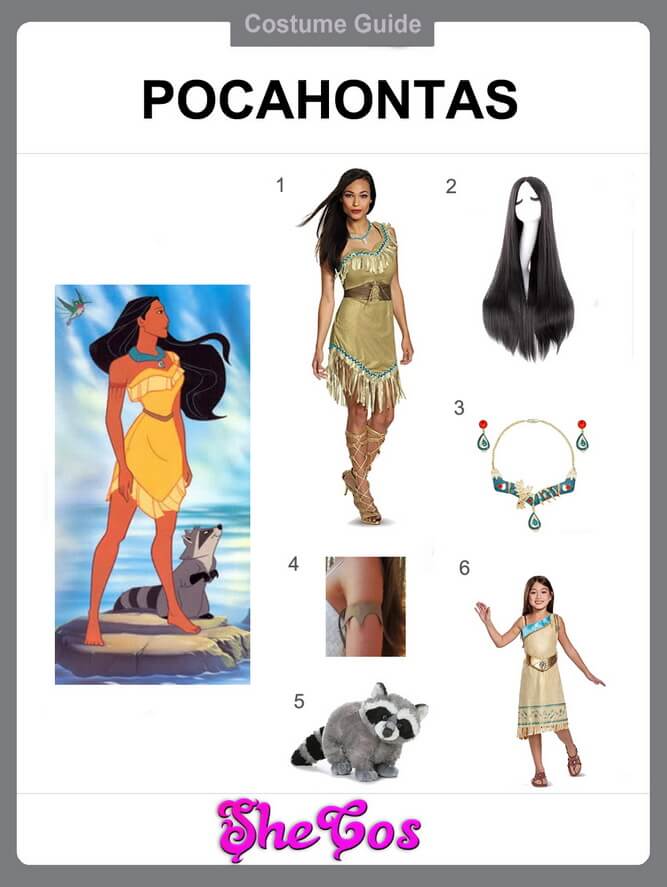 1. Full Pocahontas Costume                       Check Price
2. Black Pocahontas Wig                            Check Price
3. Pocahontas Necklace and Earings        Check Price
4. Brown Armband                                       Check Price
5. Plush Meeko Raccoon Doll                     Check Price
6. Pocahontas Costume for Kids                Check Price
The Best Pocahontas Cosplay Ideas
Pocahontas has worn two distinct outfits in her appearances in the movies. The first outfit is her Native American outfit, which she wore in the first movie. The other costume was the outfit that the Noblewomen of London were wearing, which she wore in the second movie. For this guide, Pocahontas' Native American outfit is featured.
It consists of a tanned Native American dress with a brown belt on the waist. Though the character was bare feet in the movies, this Pocahontas cosplay set will come with a pair of tan heeled gladiator sandals for footwear. The full collection will come with a jewelry set that consists of a turquoise necklace and matching turquoise earrings, which the character wears throughout the movie. A long black wig will also come with the cosplay set, as well as a brown armband to represent the character's birthmark on the left arm. A plush doll of Meeko raccoon and a Pocahontas costume for kids completes the cosplay set.
About Pocahontas Costume
Though Pocahontas is a Native American, she is different from her tribe. She inherited her mother's free spirit and strong will, which gave her a sense of independence and freedom. She showcased her difference when she refuses what her father wants, which is to marry Kocoum. Pocahontas believes her path is different and she wants to follow it. She is the only one among her tribespeople who wasn't afraid of the white settlers, even befriending John Smith.
Though tensions grew between her tribe and the settlers, her strong will allowed her to avert a war and unite the two groups. A lot of people loved Pocahontas because she wasn't the typical Disney princess, who was helpless. Right from the start, the movie established how mature she is and what she wants to do in her life. It made the character one of the favorite cosplay options of people looking to dress up as a Disney princess. If you look at the Pocahontas cosplay photos, you can see that her overall appearance will make any lady stand out in a crowd. She's a great costume idea for those attending costume parties or comic and movie conventions.
The Pocahontas Cosplay Makeup