Alice Angel is one of the characters of the Bendy series, which began with the first-person puzzle action-horror video game called Bendy and the Ink Machine. Joey Drew Studios, the animation studios in the game is the one who created the character, as well as the other animated characters found in the Bendy cartoon series.
She first made her appearance in Chapter 2 of the video game, appearing in a poster entitled Sent From Above. The poster also shows that she is a talented singer and dancer, and Chapter 3 of the game revealed how beautiful her voice really is. But Alice Angel and her corrupted physical appearance is no angel, as she is one of the villains of the game, first appearing in Chapter. She became the main villain in Chapter 3 and 4. This article is an Alice Angel cosplay guide.
The Bendy Series - Alice Angel Costume Tutorial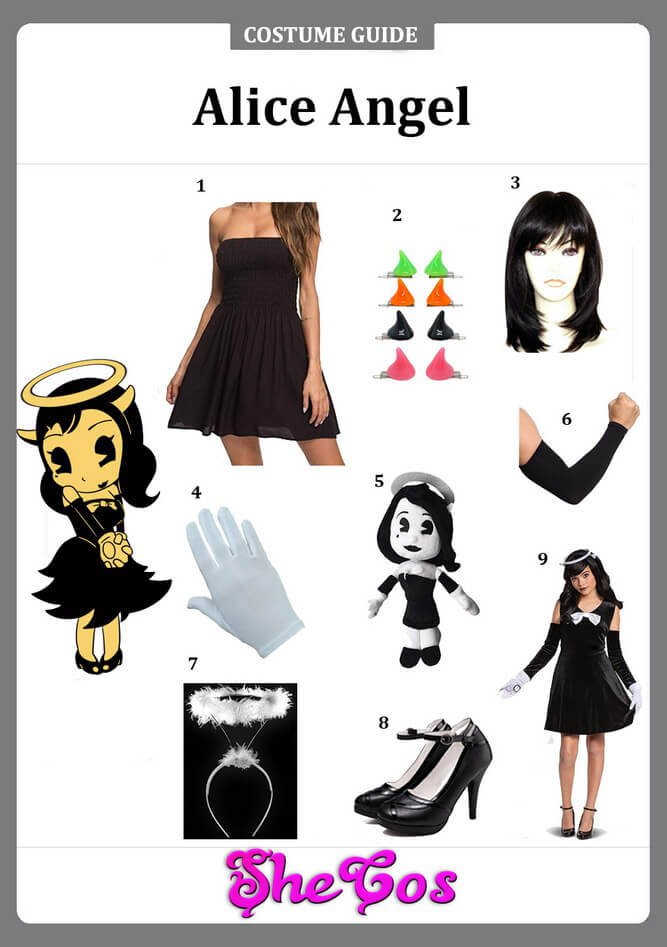 1. Black Tube Dress                                       Check Price
2. Hair Clip Set                                               Check Price
3. Alice Angel Wig                                         Check Price
4. White Gloves                                              Check Price
5. Alice Angel Plush Doll                             Check Price
6. Black Arm Sleeves                                     Check Price
7. Headband with Halo                                 Check Price
8. Alice Angel Shoes                                     Check Price
9. Full Alice Angel Costume                        Check Price
The Best Alice Angel of the Bendy Series Cosplay Guide
Alice Angel is one of the antagonists of the Bendy and Ink Machine puzzle action video game. As the villain, her outfit is the same as the ones she is wearing in the poster, but her overall appearance is a bit more devilish. Her face is a bit deformed, very different from how she looked in the poster.
This cosplay guide will feature Alice Angel's full costume. It consists of a black tube dress that is just above the knees in length. It also comes with a hair clip set that can act as the character's horns, and a white headband with a halo attached to it. The costume set will also include a pair of black arm sleeves, a pair of white gloves, and a pair of high heeled shoes. Alice Angel's look is completed with a long black wig, and the set will also include an Alice Angel plush doll.
About Alice Angel Costume
The original appearance of Alice Angel is shown as a beautiful and angelic looking lady who has a talent for singing and dancing. A character in the series, Sammy Lawrence, even said that her voice is "both heavenly and beautiful". However, when the Physical Alice first made an appearance in the video game, she was the exact opposite.
She was deformed, making her look more like a demon than an angel. But it is a good thing since it gives ladies options when it comes to cosplay this character. Looking at the cosplay photos, you can see that Physical Alice Angel is a great costume idea to wear during Halloween season or costume parties where the theme is horror. The beautiful Alice Angel is just a good costume idea to wear all around, whether it's costume parties, comic conventions, or photoshoots.
Bendy and the Ink Machine: Alice Angel Cosplay Makeup Tutorial