Nagito Komaeda is one of the characters of the Danganronpa franchise, a video game series where it follows a group of high school students forced to partake in a murder game. Nagito is a student at Hope's Peak Academy and belongs to Class 77-B. He made his first appearance in Danganronpa 2: Goodbye Despair, the second video game installment of the franchise.
Nagito is known as the Ultimate Lucky Student due to his extreme bad and good luck, which defined most of his life. He would always experience sheer bad luck, and it would be followed by extreme good luck. It made him incapable of really enjoying life since lousy luck will always follow good luck and vice versa. The complicated situation that he has and how he is dealing with it made Nagito one of the popular characters of the Danganronpa series. It also made him a good cosplay option. This article is a Nagito Komaeda cosplay guide.
Danganronpa: Nagito Komaeda Cosplay Tutorial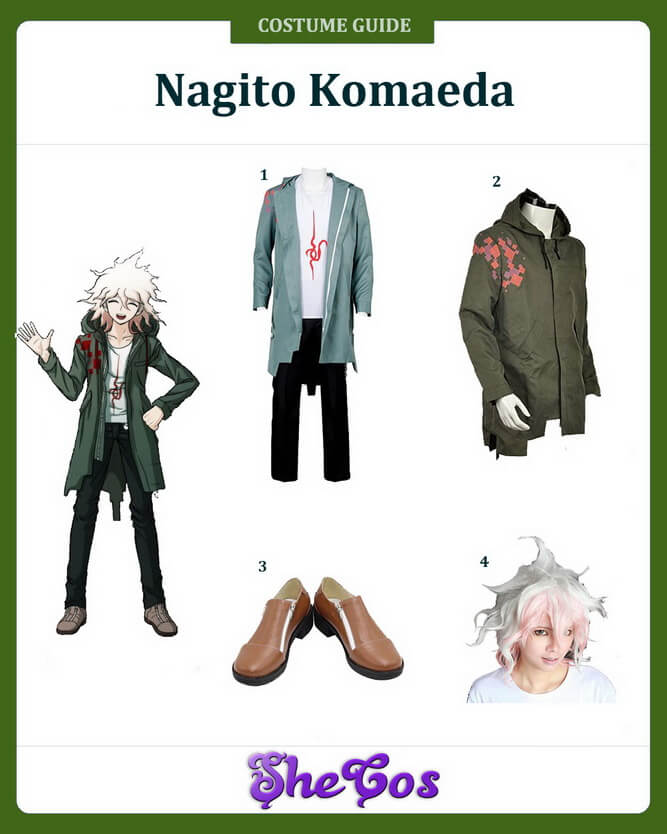 Parts you may need
1. Full Nagito Komaeda Costume              Check Price
2. Green Nagito Jacket                                 Check Price
3. Nagito Komaeda Shoes                            Check Price
4. White Nagito Wig                                     Check Price
The Best Nagito Komaeda of the Danganronpa series Cosplay Ideas
Nagito Komaeda is one of the main characters in the Dangonronpa franchise. He is known as the Ultimate Lucky Student due to his ability to experience extreme bad luck and good luck. This circumstance forced him to adopt a badass philosophy towards life, particularly about happiness. It made him one of the favorite characters in the franchise.
This Nagito Komaeda cosplay guide will feature his full costume. It consists of a white T-shirt with a big red design at the front and plain black jeans with wallet chains and a skull charm. It also comes with a dark green zipper coat with a hoodie that has red square designs on the right shoulder and jagged cut tail. The collection includes a pair of pale brown leather shoes and a medium-length white wig in Nagito's naturally wavy and messy hair as well.
About Nagito Komaeda Costume
As one of the main characters of the Danganronpa 2: Goodbye Despair video game, Nagito Komaeda also makes an appearance at the Danganronpa Another Episode: Ultra Despair Girls. He is one of the most interesting characters in the franchise due to his unusual talents. The Hope Peak Academy branded him as the Ultimate Lucky Student because of his ability to experience both extreme bad and good luck.  He is usually under the unfortunate situations that sometimes result in the death of people around him due to his bad luck.
But he usually survives these situations and is followed with good fortune due to his good luck. That made him one of the characters that people are interested in. It is also the reason why he is one of the top choices for people looking to cosplay Danganronpa characters. Looking at the Nagito Komaeda cosplay photos, you can see his amazing view on life in his outfit. Nevertheless, he's still a great character to dress up as.
Danganronpa Nagito Komaeda Cosplay Makeup Tutorial