Suichi Saihara is a character in the Danganronpa video game series. He is a student of the Ultimate Academy for Gifted Juveniles, and he participated in the Killing School Semester. He made his first appearance in Danganronpa 3: Killing Harmony. Suichi is known as the Ultimate Detective because he is a skilled detective that is capable of solving murder cases much faster than the police can.
The title of Ultimate Detective, though, is just a fabrication that Team Danganronpa created for Suichi. His skills and talent as a detective, though they are good, doesn't earn him the title yet. He was one of the most popular characters in the series' third installment of the game. Fans fell in love with his excellent skills as a detective, as well as his handsome appearance. It makes Suichi Saihara another good cosplay option for people. This article is a Suichi Saihara cosplay guide.
Danganronpa series Suichi Saihara Cosplay Tutorial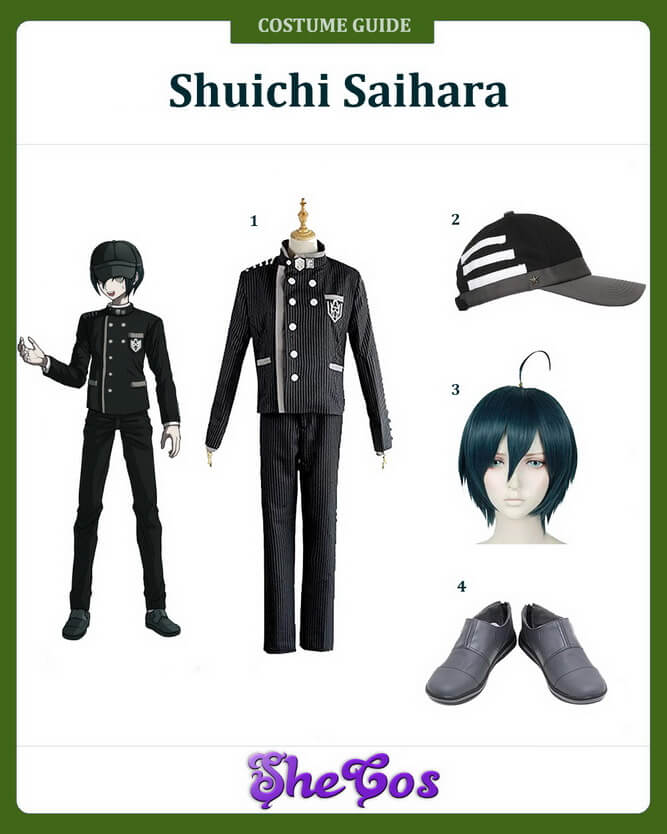 Parts you may need
1. Suichi Saihara Full Outfit                        Check Price
2. Black Suichi Hat                                        Check Price
3. Suichi Saihara Wig                                   Check Price
4. Dark Blue Loafer Shoes                            Check Price
The Best Suichi Saihara of the Danganronpa Cosplay Ideas
Suichi Saihara is one of the characters of Danganronpa 3: Killing Harmony, the third installment of the Danganronpa video game series. He is also known as the Ultimate Detective, even if Team Danganronpa only fabricated the title for him. Suichi does possess exceptional detective skills, which makes the title not that farfetched. He is also one of the favorite characters in the third game, making him a good cosplay option.
This Suichi Saihara cosplay guide will feature her usual outfit. It consists of a double-breasted black uniform with thin grey pinstripe over it with and a school emblem on the breast pocket. It also comes with matching black pants and a pair of dark blue loafer shoes. The costume set includes a short black wig in Suichi's hairstyle and a black cap with three white stripes placed at the back of it as well.
About Suichi Saihara Costume
Suichi Saihara is a quiet and sober person. He is also shown as someone who is timid and has a weak personality, which is the reason why he doesn't talk a lot. Suichi always assumes that other people are better suited to do things than him. He is level-headed, though, and has shown a strong and quick decisive personality when the situation calls for it.
Suichi is a skilled detective, and his insights are superior to most. But his lack of self-confidence is what's holding him back. When it comes to outfits, Suichi only wears those that make him feel comfortable. His hat, specifically, plays a vital role in his comfort, as it prevents him from looking at people straight in the eyes. Despite his weak personality and lack of self-confidence, fans still like the character. That is due to his excellent skills and abilities as a detective and his good looks. If you look at the Suichi Saihara cosplay photos, he is a good option for both men and women looking to dress up as Danganronpa characters.
Cosplayer: Despairdeity