Futurama is an animated sitcom that Matt Groening created for the Fox Broadcasting Company. The sitcom was set at the turn of the 31st century in a city called New New York, which is a city built over the ruins of present-day New York. It was a popular series when it was still being aired, with some even considering it as one of the best shows about the future. The sitcom follows the adventure of the character Philip J. Fry, an immature slacker who works as a pizza delivery man. He was accidentally transported to the 31st century where he got a job as a cargo delivery boy for the Planet Express.
Professor Hubert J. Farnsworth, the only living relative of Fry owns the company. The character accidentally cryogenically freezes himself on January 1, 2000, and was reawakened on December 31, 2999. Though Fry is the main character, he is not the only important one in this sitcom. There are also a lot of prominent characters that also play important roles like Turanga Leela, a human mutant and also the love interest of Fry, and Zapp Brannigan, an egotistical military officer. This article will be a Futurama cosplay guide for the principal characters.
Futurama Turanga Leela Cosplay Guide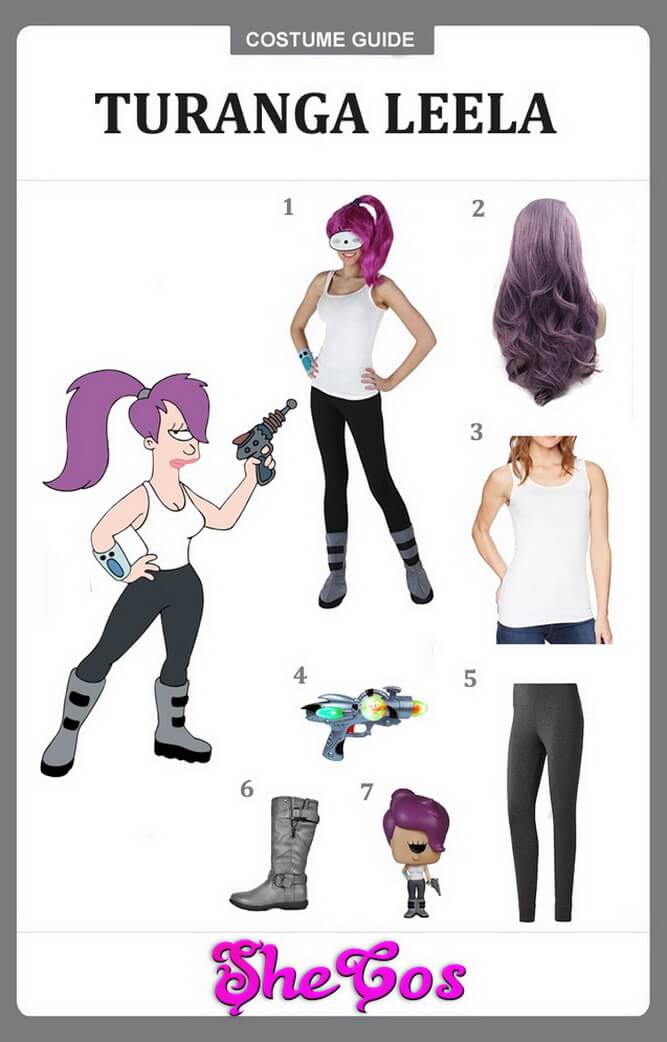 Parts you may need
1. Futurama Leela Costume                        Check Price
2. Leela Futurama Wig                                Check Price
3. White Tank Top                                        Check Price
4. Space Gun Prop                                        Check Price
5. Dark Grey Tight Pants                             Check Price
6. Leela Boots                                                Check Price
7. Turanga Leela Figure                              Check Price
The Best Turanga Leela of Futurama Cosplay Ideas
Turanga Leela is one of the primary roles of the Futurama sitcom. She is the captain of the Planet Express Ship and the love interest of Philip J. Fry. She is part human and part mutant, having only one large eye. For ladies looking to cosplay characters from Futurama, Leela is likely an ideal choice.
Leela wore several outfits throughout the show, but she is known for only one outfit, which this cosplay guide will feature. Leela's full costume consists of a white tank top, dark grey pants, and a pair of light grey boots with black designs at the front. The set will also come with a mask for the character's one large eye, a long purple wig for Leela's hairstyle and a space gun prop as the weapon. The cosplay set also comes with a small Turanga Leela figure.
About Futurama Leela Costume
Turanga Leela is the main female protagonist of Futurama and a captain of the Planet Express Ship. She has a tough attitude and is passionate about a lot of things. Leela has a love for violence, a longing to learn about her past, affection for animals, and is committed to doing a good job. She is not afraid to abandon her mission or jeopardize the life of her crew to pursue one of her passions.
As the lead female in Futurama, Leela is the likely first choice of a lot of ladies when they want to dress up as a character in the sitcom. Despite having one large eye, Leela is still a beautiful and curvaceous woman. And if you look at the cosplay photos of people dressing up as Leela, you can see that her appearance does showcase her beauty and figure.
Cosplayers: Lallupyon, Phlegmocat, Lost.things.cosplay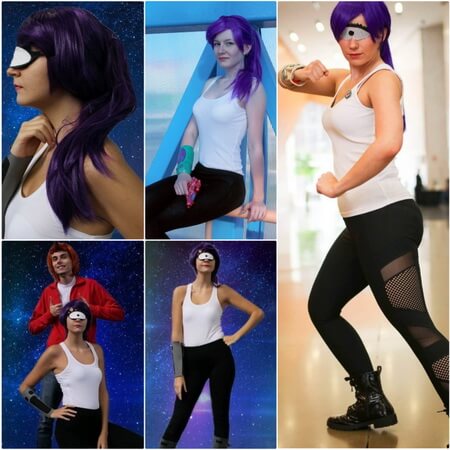 Futurama Philip J. Fry Costume Guide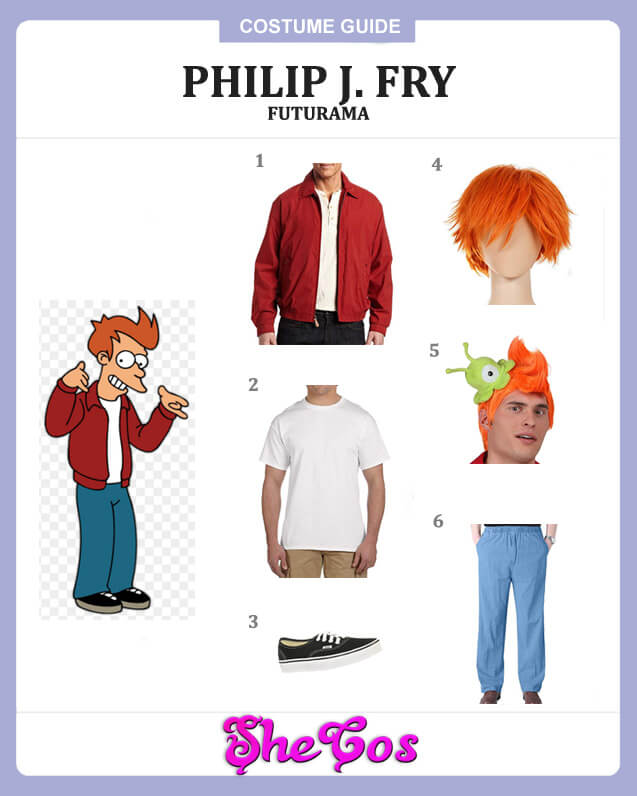 1. Red Futurama Fry Jacket                        Check Price
2. White T-Shirt                                            Check Price
3. Black Sneakers                                          Check Price
4. Futurama Fry Wig                                    Check Price
5. Green Brain Slug                                      Check Price
6. Blue Pants                                                  Check Price
The Best Philip J. Fry of Futurama Cosplay Ideas
Philip J. Fry, or just Fry, is the main character of the Futurama sitcom. He is a character that was born in 1974, but he got transported into the future when he accidentally cryogenically freezes himself to sleep and awakens 1,000 years after.
As the main character, Fry is also a popular choice for people to cosplay as when they look at cosplaying as Futurama characters. For this cosplay guide, Fry's usual is featured. The costume consists of a white t-shirt with a red jacket on top and blue pants. The set also comes with black sneakers and a short orange wig for Fry's hairstyle. The cosplay set also comes with a prop of the green slug parasite that sucks people's brains.
About Futurama Fry Costume
Philip J. Fry is a man-child who is generally lazy at work and will spend most of his time sitting on a couch, watching TV and drinking. His immaturity also puts him in a lot of tight spots, sometimes forcing Turanga Leela to bail him out. Despite his immaturity and laziness, Fry is a good and sentimental guy who is more than willing to go to any lengths to save his friends.
Fry's personality makes him a funny and likable character. It also makes him one of the favorite characters of the series. That also makes Fry one of the first choices that people go to when it comes to cosplaying Futurama characters. Cosplaying Fry is more accessible compared to other Futurama characters since he doesn't wear anything out of the ordinary. Still, dressing up as Fry still looks fantastic. Just check out the Fry cosplay photos, and you can see how people are sporting his appearance.
Futurama Zapp Brannigan Cosplay Guide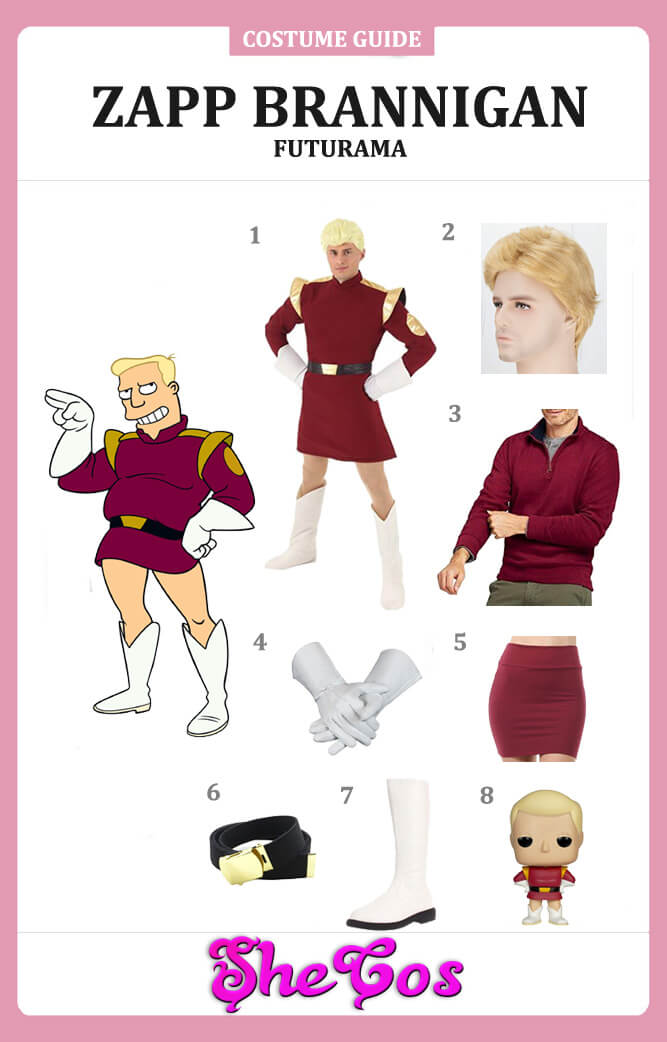 Parts you may need
1. Standard Zapp Brannigan Costume     Check Price
2. Short Blonde Wig                                     Check Price
3. Maroon Jacket                                          Check Price
4. Zapp Brannigan Gloves                           Check Price
5. Maroon Skirt                                             Check Price
6. Black Belt with Yellow Buckle               Check Price
7. Zapp Brannigan Boots                            Check Price
8. Small Zapp Brannigan Figure               Check Price
The Best Zapp Brannigan of Futurama Cosplay Ideas
Zapp Brannigan is one of the recurring supporting characters in Futurama. He is a military officer of the Democratic Order of Planets and a ship captain of the Earth's Government. A lot of people consider him a great military hero but are usually disappointed after meeting him. Nonetheless, he is one of the hot characters in the series because of his actions and statements.
Like a lot of the characters in Futurama, Zapp is wearing one outfit only, which is what this cosplay guide will feature. The costume consists of a maroon jacket with a maroon skirt, a pair of white gloves and a pair of white boots. The cosplay set includes a black belt with yellow buckle and a short blonde wig for Zapp's hairstyle. The collection will also come with a small Zapp Brannigan display figure.
About Zapp Brannigan Costume
Zapp Brannigan is a military officer, and many consider him a great hero. Of course, this perception usually changes after people meet him. Zapp is an egotistical and selfish person who is also a pervert, arrogant, stupid and incompetent. The character doesn't have a concept of what is right or wrong and always thinks what he does is right, even if it is immoral or puts lives in danger.
He usually gets away with his actions because his superiors are oblivious and inept. Only Zapp's crew knows who he is. Still, the combination of all his lousy personality and actions makes for a very comedic scenario. That is why audiences are fond of him despite his evil nature. If you look at the Zapp Brannigan cosplay photos,  you can see that dressing up as Zapp is also a good option if you can do it right.