Zatanna is one of the superheroes of the DC world. She is the daughter of the magician Giovanni "John" Zatara and Sindella, a member of naturally magic-wielding Homo Magi race. Zatanna followed in the footsteps of her father, becoming an illusionist herself before discovering that she has magical powers. Zatanna's quest to locate her father after he disappeared was the event that led to her finding her magical powers.
Zatanna can control her powers by speaking her incantations spelled backward. She is one of the most powerful heroes in the DC universe as there is no limit to her magical abilities. The only thing to hold her back is herself, as she refuses to use her full potential. Nevertheless, this made Zatanna one of the popular female heroes of the franchise and a good option for cosplaying. This article will be a Zatanna cosplay guide.
DC Comics Zatanna Zatara Cosplay Guide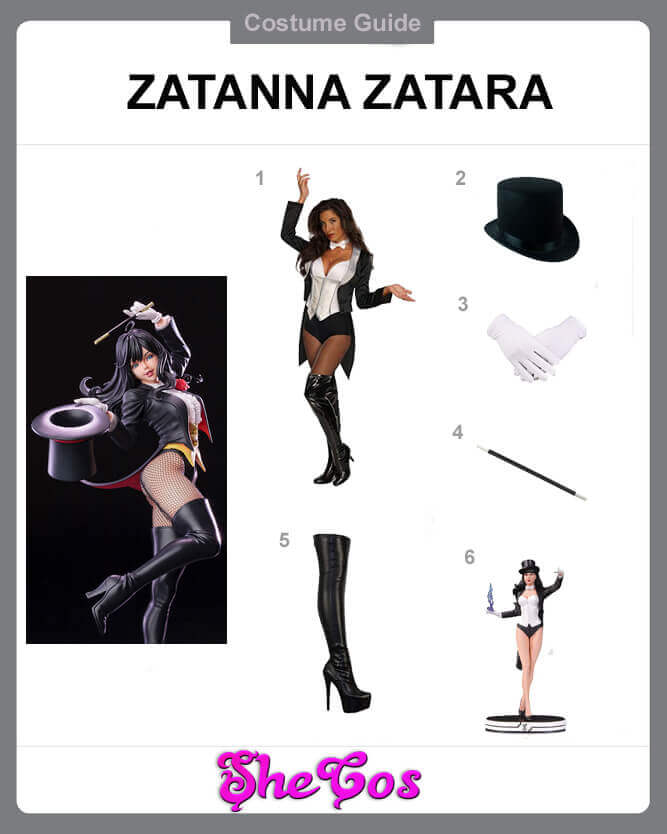 1. Full Zatanna Costume                             Check Price
2. Zatanna Top Hat                                       Check Price
3. White Gloves                                              Check Price
4. Zatanna Wand                                           Check Price
5. Zatanna Boots                                           Check Price
6. Zatanna Figure                                          Check Price
The Best Zatanna Zatara of DC Cosplay Ideas
Zatanna Zatara is one of the most powerful magicians in the DC Universe. There is no limit to what she can do as she has already been portrayed to teleport, levitate objects, and alter reality. She is even powerful enough to stop time. As one of the most powerful characters, Zatanna is also a popular choice for the ladies to dress up in. Since she is a stage magician, this is very much reflected in her overall appearance.
This Zatanna cosplay guide will feature her full magician outfit. The outfit consists of a white buttoned corset top with black magician jacket on top of it. It also comes with black high wasted cycling shorts, stockings, and thigh-length black heeled boots. The costume is completed with white gloves, a magic wand, and a black magician hat. The cosplay set also comes with a small Zatanna Zatara figure as a collection.
About Zatanna Zatara Costume
Zatanna Zatara was born as a powerful magician, but she didn't know this yet. She just followed in her father's footsteps at the start becoming a stage magician herself. The disappearance of her father, though, led her to investigate the incident. The quest proved to be a revelation, as this is where she discovered her magical powers. Despite being one of the most powerful magicians in the DC universe, Zatanna can't seem to reach her full potential.
A glimpse of her full potential was shown, especially in dire situations. But, overall, she seems to refuse to reach her full potential to the dismay of some of her fans. Despite this, she is one of the popular characters in the DC universe and cosplaying Zatanna is always a good choice. If you look at the Zatanna cosplay photos, you can see why that is the case. Her good looks, combined with her fantastic outfit, makes her an appealing choice for women to dress up in.
Cosplayers: Adamilangley, Kotyashenkacosplay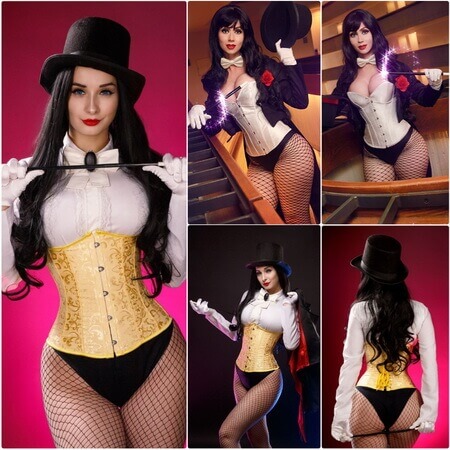 Zatanna Zatara Cosplay Makeup Tutorial