Boba Fett is one of the characters of the Star Wars franchise. He is one of the deadliest bounty hunters in the franchise and is one of the iconic characters in Star Wars. He is the human genetic clone of an infamous bounty hunter known as Jango Fett. Jango was used as the subject to create a clone army, but the bounty hunter also asked for a clone for himself, which he named Boba.
But Boba was different from the other clones since he grew up like an average human, and Jango raised him like a son and taught him everything he knows as a bounty hunter. This article is a Boba Fett costume guide.
The Star Wars Franchise Boba Fett Costume Tutorial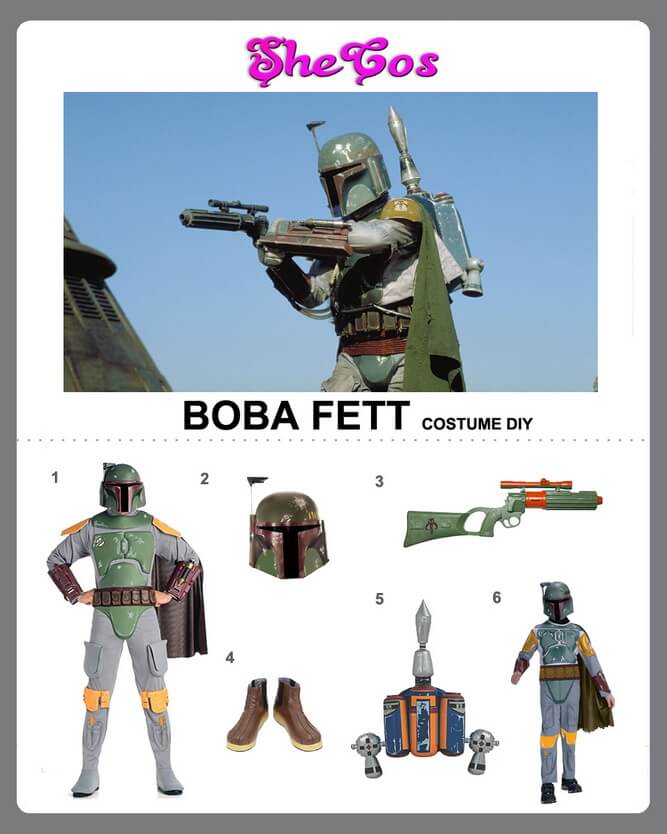 1. Full Boba Fett Costume                           Check Price
2. Boba Fett Helmet                                     Check Price
3. Blaster Prop                                               Check Price
4. Brown Boba Fett Boots                            Check Price
5. Jet Pack Prop                                             Check Price
6. Boba Fett Costume for Kids                    Check Price
The Best Boba Fett from the Star Wars Cosplay Ideas
One of the iconic things about Boba Fett is his overall cool-looking appearance. Fans of the original trilogy of the franchise remember him more because of his presence, not because of his skills or what he did. This guide will feature Boba Fett's overall appearance.
It consists of a full-body gray jumpsuit with a pair of yellow knee pads and a pair of yellow shoulder pads. Included in the cosplay set is the Mandalorian armor that Boba Fett wears, which is a green armor that covers his front body and a green cape attached to it. The Boba Fett cosplay set will also come with a blaster and jet pack prop that Boba wears. Completing the character's appearance is the bounty hunter helmet that Jango first wore. But Boba's mask is painted in green to match his armor. The cosplay set also comes with a Boba Fett costume for kids.
About Boba Fett Costume
Boba Fett is one of the famous characters of the Star Wars franchise. But his popularity is not due to his skills, activities, or reputation. In the original trilogy, Boba didn't do anything spectacular, other than capturing Han Solo and bringing him to Jabba the Hut. He also died hilariously in the movie. The reason for his popularity is his cool-looking outfit. When Boba first appeared, fans were enamored with his look, a cool looking helmet coupled with a jet pack and blaster that he uses well.
Boba Fett's popularity with the fans prompted the producers to create a series in his image. The character's cool-looking appearance is also the reason why he is one of the favorite characters that fans of the franchise like to dress up as. If you look at the Boba Fett cosplay photos, you can see that the character does look cool, and it makes any wearer stand out. He is a great costume idea for costume parties or for attending comic and movie conventions.