Yondu Udonta is one of the characters of the Marvel Cinematic Universe. He is mostly known for his roles in Guardians of the Galaxy and Guardians of the Galaxy Vol.2. He is the leader of an exiled faction of the Ravagers and the adoptive father of Peter Quill, a.k.a. Star-Lord. He was originally hired to deliver Peter Quill to his father Ego, but Yondu decided against it, knowing what Ego will likely do with Quill.
When Peter Quill betrayed the Ravagers after he took the orb for himself, Yondu didn't go after Quill for revenge, which resulted in his clan losing trust in him. Despite not one of the significant characters, Yondu is a fan favorite. This article is a Yondu costume guide.
Marvel Cinematic Universe Yondu Cosplay Tutorial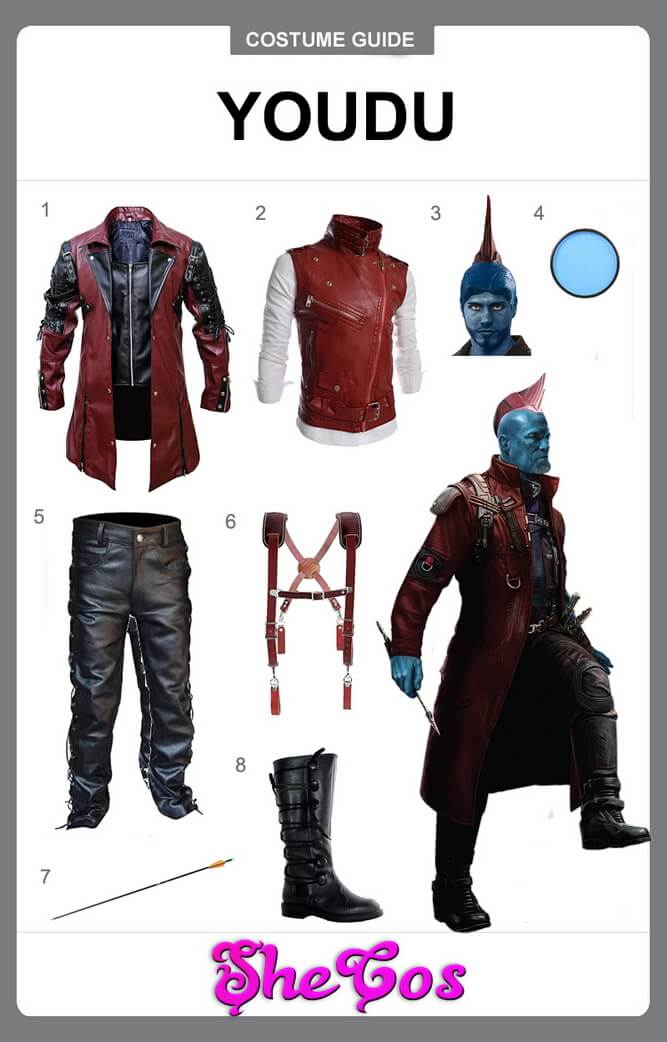 Parts you may need
1. Brown Yondu Coat                                  Check Price
2. Yondu Vest                                               Check Price
3. Bald Cap with Yondu Headpiece          Check Price
4. Blue Face Paint                                        Check Price
5. Black Leather Pants                                Check Price
6. Harness Straps                                         Check Price
7. Arrow Prop                                                Check Price
8. Black Yondu Boots                                  Check Price
The Best Yondu from the Marvel Cosplay Ideas
One of the unique things about Yondu is his appearance. His skin color is blue, and he wears some sort of headpiece on the top of his head, which is a device that allows him to control his powerful arrow through whistling. He mostly wears the same outfit throughout his appearances, which is what this guide will feature.
Yondu's usual outfit consists of a brown-red leather turtleneck vest with harness straps on top of it. For the bottom, black leather pants will come with the brown leather top. The Yondu cosplay set will also include a brown-red leather coat that Yondu is known to wear and a pair of black leather boots. The first is completed with a blue bald cap that comes with Yondu's headpiece attached, a blue face paint to mimick Yondu's skin color, and an arrow prop for the character's weapon.
About Yondu Costume
Yondu's first role in Guardians of the Galaxy was more of a villain since he permanent as someone who is looking to kill Peter Quill for betraying him and taking the orb for himself. But as his character's personality developed, fans saw that Yondu was acting as a father figure to Quill, just wanting to make sure he doesn't get himself into too much trouble. His sacrifice to make sure Peter Quill survives in their encounter with Ego broke a lot of fans' hearts.
But aside from Yondu's personality and story, another thing that fans liked about him is his appearance and cool ability. He doesn't have superpowers, but he has a seemingly permanent arrow that he can control through whistling. The headpiece he wears is a device that connects to the arrow to give him the ability to control it. It makes Yondu a good cosplay option for people looking to dress up as Marvel characters that are not mainstream. If you look at the Yondu cosplay photos, you can see that he is an excellent choice, especially if you're going to a comic book convention.