Twisty the Clown is one of the main characters of one story in American Horror Story. He is the antagonist of the story, a deranged clown who is also a serial killer and kidnapper. The character doesn't have a jaw since he blew it up in an attempt to commit suicide. He prosthetic mask with a wide grin to cover his disfigured face.
He also has a minor mental disability after he was dropped on his head when he was just a baby. This disability results in Twisty having a temper and not having the ability to fully comprehend what is right or wrong. This article is a Twisty the Clown costume guide.
The American Horror Story Twisty the Clown Costume Tutorial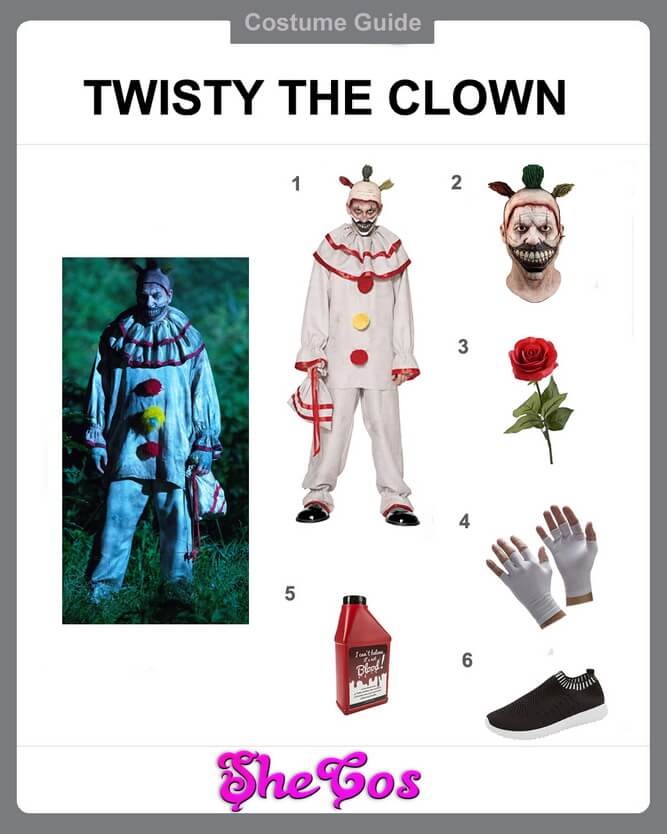 1. Full Twisty the Clown Costume             Check Price
2. Twisty the Clown Mask                           Check Price
3. Rose Prop                                                   Check Price
4. White Fingerless Glove                           Check Price
5. Fake Blood                                                 Check Price
6. Twisty the Clown Shoes                          Check Price
The Best Twisty the Clown from American Horror Story Cosplay Ideas
Twisty the Clown has worn different outfits throughout the story, but the costume that people will remember him to wear is the dirty clown suit and a prosthetic grin that he wears to conceal his missing jaw. This guide will feature the clown outfit that the character wears.
It consists of a dirty white long-sleeves top with a wide opening at the sleeves and multilayer cloth at the neck area that covers the shoulders and chest. The top also has red outlines around the multilayered cloth and sleeves. The white top also has two red and one yellow fur ball attached to the center arranged in a line. The cosplay set will also have a matching dirty white loose pants and a pair of white fingerless gloves. The collection will also include a pair of black rubber shoes, fake blood, and a rose prop. Completing Twisty the Clown's cosplay set is a mask of the character.
About Twisty the Clown Costume
Despite Twisty's minor mental disability, he still tried to live a healthy life and even got a job as a clown in Rusty Westchester's Traveling Carnival, where he was famous. But the two dwarves who were jealous of his popularity led the other carnival freaks to spread a lie that Twisty was molesting children, making him lose his job and unable to work again as a clown. He tried finding ways to make a living, but no one was giving him a break. This, coupled with his mother's death, made him blow his jaw to try and commit suicide.
After he survived, he wore a scary wide-grin prosthetic and decided to make children love him again. He would murder their parents as a way to "free" the children from doing chores and not eating candy. Twisty felt that he is helping, but he was making children fear him more. The character's sad story and scary look make him a good cosplay option, especially for people who are going to a Halloween party. If you look at the Twisty the Clown cosplay photos, you can see how scary Twisty looks, making him an excellent costume choice.
The Twisty the Clown Cosplay Makeup