Han Solo is one of the main characters of the Star Wars franchise. He is a smuggler who first made his appearance on the franchise when he helped Ben Kenobi and Luke Skywalker rescue Princess Leia Organa. He has a trusty companion in the Wookie Chewbacca. After rescuing Princess Leia, Han eventually became one of the leaders of the Alliance to help defeat the Galactic Empire and restore the Republic.
He was only known as Han before the Chief Recruitment Officer Drawd Munbrin gave him the surname Solo. As one of the main characters, Han Solo is also one of the franchise's most popular characters. This article is a Han Solo cosplay guide.
Star Wars Han Solo Costume Tutorial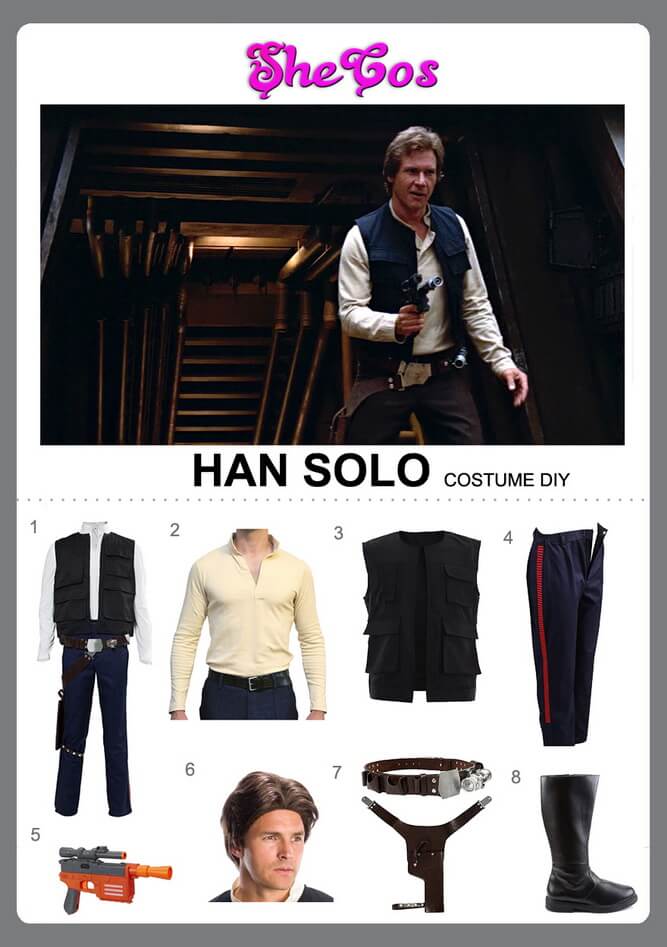 Parts you may need
1. Full Han Solo Costume                          Check Price
2. White Han Solo Shirt                             Check Price
3. Black Han Solo Vest                               Check Price
4. Dark Blue Han Solo Pants                     Check Price
5. Han Solo Blaster Prop                            Check Price
6. Brown Han Solo Wig                              Check Price
7. Brown Belt with Gun Holster                Check Price
8. Black Han Solo Boots                             Check Price
The Best Han Solo from Star Wars Costume Ideas
Han Solo has worn various outfits throughout all his appearances in the Star Wars franchise. But like almost all of the franchise's characters, he is also known for wearing an iconic outfit that most fans will recognize. This guide will feature Han Solo's iconic outfit.
It consists of a dirty white long-sleeved collard shirt with buttons that reach a few inches below the chest. On top of the dirty white shirt is a black vest with several pockets at the front. The vest is what is iconic about Han Solo's appearance. The Han Solo cosplay set will also come with dark blue pants with red lines on the side, a pair of black boots, and a brown belt with a gun holster. The cosplay set is completed with a blaster prop and a short brown wig for Han Solo's hairstyle.
About Han Solo Costume
Han Solo is one of the famous characters in the Star Wars franchise, especially in his appearances in the first trilogy of the movies that came out. People liked how his personality changed the bad boy / badass appearance who don't care about anything except for money to one of the critical leaders of the Alliance that's willing to sacrifice himself to save his friends. His romance with Princess Leia Organa is also something that fans are always looking forward to.
Han Solo is also one of the Alliance's best pilots, which makes him a valuable member. His Millennium Falcon ship, though old, is fast and has helped him and the Alliance out of a lot of situations. As one of the main characters of Star Wars, Han Solo is also the first cosplay choice of a lot of people. His badass attitude and appearance appeal to a lot of fans. If you look at the Han Solo cosplay photos, you can see that it is a great costume for you to attend a comic or movie convention, as well as costume parties.
The Han Solo Cosplay Makeup