Elizabeth Jean Rubble, who is more commonly known as Betty Rubble, is one of the main characters of The Flintstone cartoon series. Betty Rubble is the wife of Barney Rubble and the mother of their adoptive son Bamm-Bamm. She is also close friends with Fred Flintstone's wife, Wilma. The two wives, together with their children, like to hang out often. They also spend a lot of time finding ways to bail out their husbands who have a knack for getting into trouble.
Though Betty is the least essential and developed character out of the main characters of the cartoon series, she still plays an important role. This article is a Betty Rubble costume guide.
The Flintstones Betty Rubble Costume Tutorial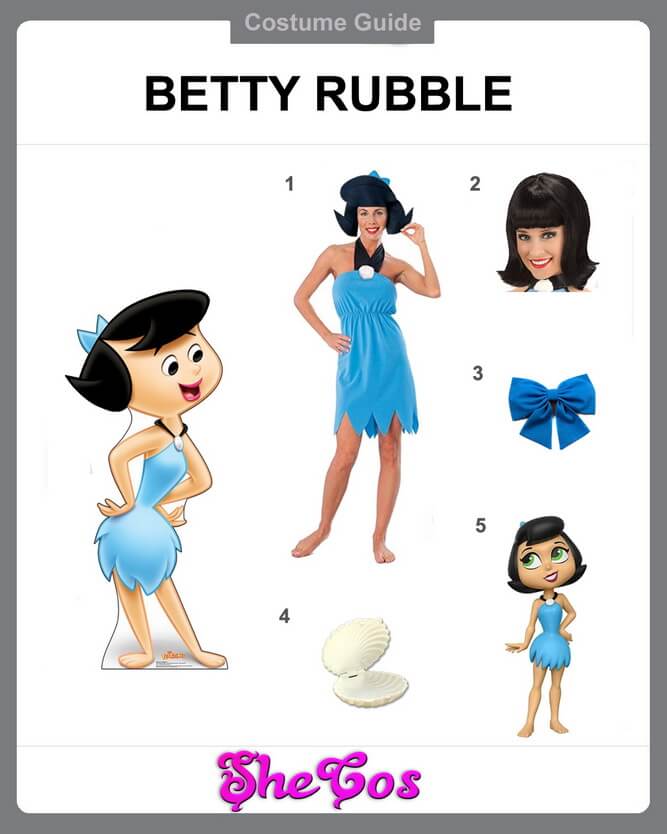 Parts you may need
1. Full Betty Rubble Costume                     Check Price
2. Black Betty Rubble Wig                           Check Price
3. Blue Head Bow                                          Check Price
4. White Plastic Seashell                             Check Price
5. Betty Rubble Figure                                  Check Price
The Best Betty Rubble from The Flintstones Cosplay Ideas
Like all of the characters of The Flintstones cartoon series, Betty Rubble has worn different outfits throughout her appearance. But the character also has a usual outfit that she wears almost all of the time in the series. This guide will feature the typical costume that Betty Rubble wears.
It consists of a sky-blue tube caveman dress with a matching sky-blue head bow that Betty Rubble wears on the back of her head. The tube dress is connected to a white plastic seashell with black straps that the character wears on her neck like a necklace and make the tube dress look-like a halter dress. The character's cosplay outfit also comes with a medium-length black wig in Betty Rubble's hairstyle. Included in the cosplay set is a Betty Rubble figure that is ready for display, whether on a desk or a shelf.
About Betty Rubble Costume
Though Betty Rubble is the least developed character in the series, she is the most emotional amongst them. It is evident in her marriage with Barney, as it's always full of affection and passion. Betty's passionate character is also seen whenever she's angry with her husband for getting into trouble again or when she's crying when things are not going so well. But like her husband, Betty is mostly a happy and friendly person.
But unlike her husband, Betty is the type of character that is more than willing to take the lead if there's a need to. She's also willing to take on any challenge and do anything for her husband and adoptive son. Betty Rubble is also an attractive lady, and her combination of looks and personality, make her an interesting character. That is why she is also a good cosplay option for ladies who are looking to dress up as The Flintstones character. If you look at the Betty Rubble cosplay photos, you can see that she is a great costume option for ladies who are attending a costume party or going to a comic or cartoon convention.
The BETTY RUBBLE Cosplay Makeup