Esdeath is the main villain in "Akamge ga Kill!". She is a high ranking general of the Empire that eventually become the leader of the Jaegers, a special Police Squad to combat the Night Raid rebels. Esdeath is beautiful and slim. She lives by the motto "the strong live and the weak die", which is something her father taught her at an early age.
This motto is the reason why she doesn't have any empathy for weak people. She is also a bit of a sadist, which she also learned from her father since he always gutted prey without killing them. She is also a skilled fighter, even at a young age, showing that she can hold her own in a fight. Even if Esdeath is a villain, a lot of fans consider her as the best character in the series. That's why she is a favorite cosplay option of ladies looking to dress up as "Akame ga Kill!" characters. This article is an Esdeath cosplay guide.
Akame ga Kill!: Esdeath Cosplay Guide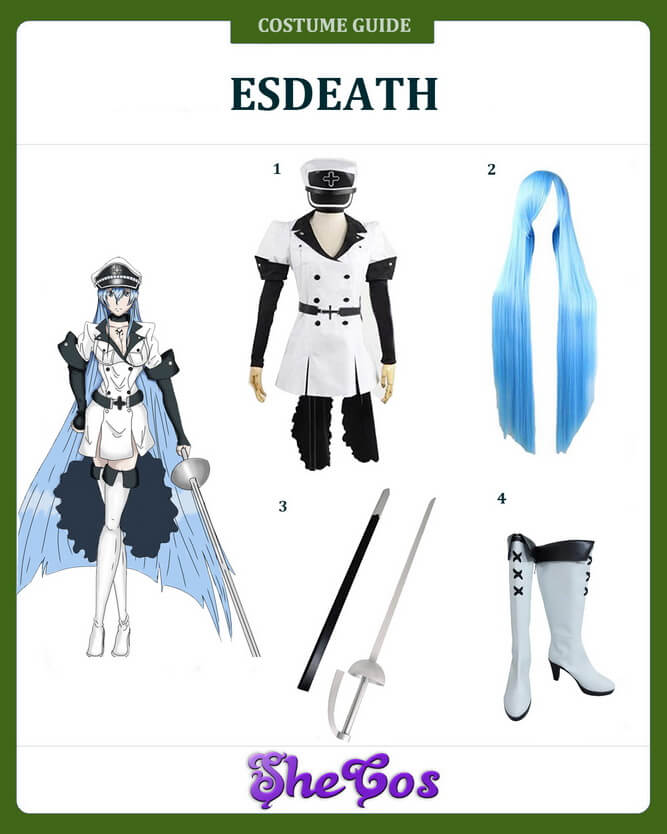 1. Full Esdeath Costume                              Check Price
2. Esdeath Wig                                              Check Price
3. Sword with Sheath                                   Check Price
4. Black Akame Boots                                  Check Price
5. Esdeath Figure                                          Check Price
The Best Esdeath of Akame ga Kill! Cosplay Ideas
As the main villain in "Akame ga Kill!" , Esdeath is a high-ranking officer of The Empire. But due to the effectiveness of the Night Raid, The Empire created the Jaegers and appointed her as its leader. She is a skilled and formidable fighter who is also a bit of a sadist, who likes to inflict physical and emotional pain. She also doesn't have empathy for the weak and doesn't care about killing them to achieve her goals. Despite all this, Esdeath is the best character in the series. It makes her a popular cosplay option.
This Esdeath guide will feature her full costume, which consists of a white uniform dress with long black sleeves that has a button on the upper arms and black collars. The cosplay set also comes with a black leather belt and a pair of thigh-length white heeled boots. The set is completed with a very long light blue wig for her hairstyle, her military officer hat, and a sword prop with scabbard.
About Esdeath Costume
A lot of the fans of "Akame ga Kill!" consider Esdeath as one of the best characters in the series, even if she is a villain. Her cruel and murderous nature, combined with her mighty ice powers, makes her one of the coolest villains in a series. A lot of fans also enjoy seeing Esdeath's positive attitude towards the people she likes, providing them with another side of this villain.
Plus, she is also one of the most, if not the most beautiful female character in "Akame ga Kill!". Combine that with her nasty personality, and you have a role that you'd love to look at and hate at the same time. That's also why she is a popular option for ladies who are looking to dress up as characters from this series. If you look at the Esdeath cosplay photos, you can see what a beautiful looking but the sadistic female character would look like.
Cosplayers: MarinyanCosplay, Hellyvonvalentine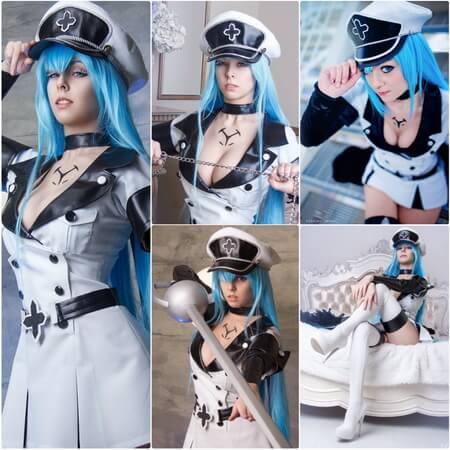 Akame ga Kill - Esdeath Cosplay Makeup Tutorial