Captain Spaulding or Cutter is one of the characters of the horror film House of 1000 Corpses and The Devil's Reject. Also known as Johnny Lee Johns, Captain Spaulding is a foul-mouthed and psychotic clown that's also a bit of a slob. He is the proprietor of the Captain Spaulding's Museum of Monsters and Madmen. It's an establishment that serves as a gas station, a haunted house attraction, a museum that shows odd stuff, and a chicken wing fry restaurant.
The unusual establishment is due to the combination of Johhny's two loves, fried chicken and murder. Johhny's current lifestyle manifested at an early age when he developed an interest in violent crimes and sideshow deformities. His adoptive brother Charles gave him the nickname Cutter after Johnny stabbed a man to death. He started his murdering spree using the alias Mr. Ding Dong. Captain Spaulding is a fan favorite, and he is also well-known for providing a lot of memorable quotes. This article is a Captain Spaulding cosplay guide.
House of 1000 Corpses & The Devil's Reject Captain - Spaulding Costume Guide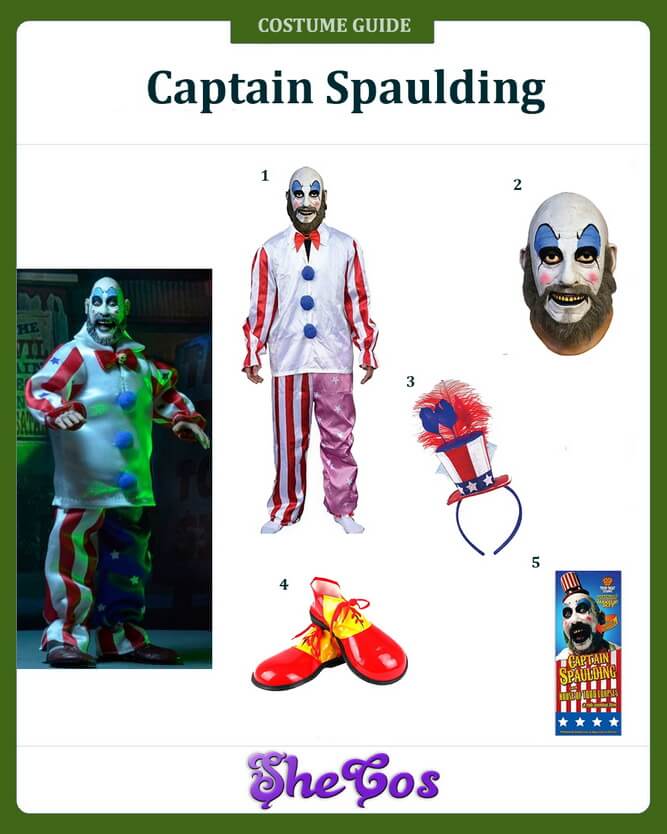 1. Full Captain Spaulding Costume          Check Price
2. Captain Spaulding Mask                        Check Price
3. Captain Spaulding Hat                           Check Price
4. Captain Spaulding Big Clown Shoes    Check Price
5. Captain Spaulding Makeup Kit             Check Price
The Best Captain Spaulding Costume Ideas
Captain Spaulding is one of the characters of the horror movie House of 1000 Corpses and The Devil's Reject. He is a psychotic clown that violently murders people for fun and amusement. He is likely one of the characters that contributed to a lot of people being afraid of clowns. It also makes him a good cosplay option, especially during Halloween.
This guide will feature Captain Spaulding's full costume. It consists of a white hot dog shirt with the sleeves sporting a red and white stripe, representing the flag of the United States of America. The top also consists of three blue fur balls that act as buttons and a red bowtie. The costume set also comes with loose pants that have the U.S. flag design with one side having white and red stripes and the other blue with white stars. The collection also comes with a big red and yellow clown shoes, a headband hat, a Captain Spaulding mask, complete with beard, and a makeup kit.
About Captain Spaulding Costume
Captain Spaulding is undoubtedly one of the images that come to mind from a lot of people when they think of evil and scary clowns. He is a psychopath who finds amusement and excitement in murdering people. He doesn't just kill them, and he does it violently to make it more exciting and pleasurable to him.
This tendency seems to be innate with the character as well since at young he already developed an interest in violent crimes and deformity sideshows. These psychotic and brutal murders make Captain Spaulding one of the scariest villains. It, together with his penchant for delivering memorable quotes, makes him an ideal cosplay option. If you look at the Captain Spaulding cosplay photos, you can see that both men and women like to dress up as him, especially for providing a little scare and during Halloween costume parties.
Cosplayers: Aluhhhsonsfx, Theastronomicon
Captain Spaulding Cosplay Makeup Tutorial