The Ghost Rider is one of the superheroes in the Marvel Universe. He is a demon that is also known as the Spirit of Vengeance. The devil resides in the body of Johnathan "Johnny" Blaze, a motorcycle-riding daredevil who performs death-defying stunts. Though the two are different souls, they have formed a bond that allows them to coexist inside one body.
Ghost Rider is a popular character, primarily due to his devil appearance and awesome demonic powers. It also makes the character an idea cosplay option for people looking to cosplay as Marvel characters outside the mainstream superheroes. This article is a Ghost Rider costume guide.
The Marvel Universe Ghost Rider Costume Tutorial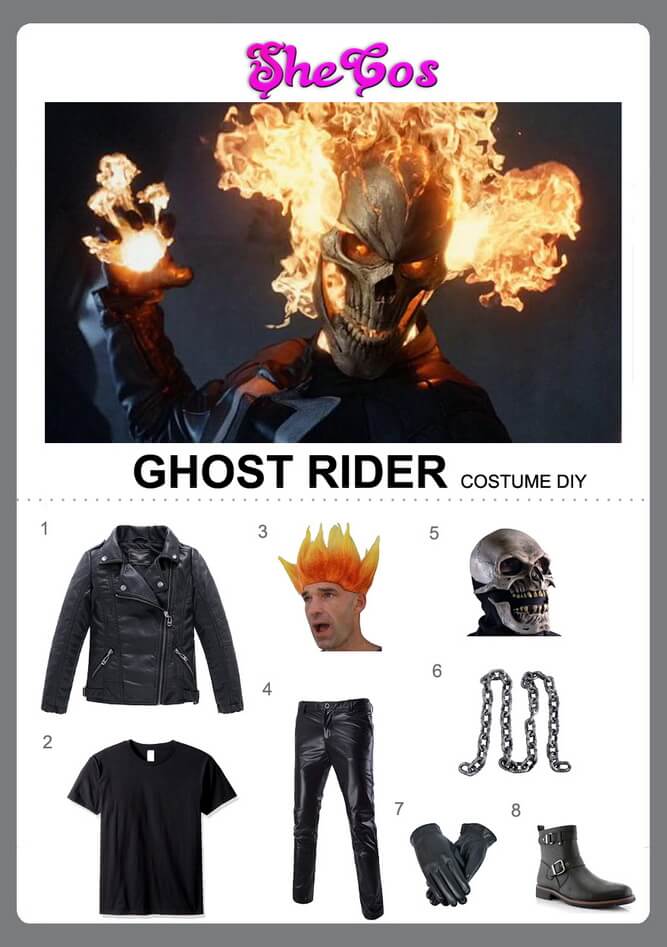 1. Ghost Rider Jacket                                  Check Price
2. Black T-Shirt                                            Check Price
3. Ghost Rider Flame Wig                          Check Price
4. Black Leather Pants                                Check Price
5. Ghost Rider Skull Mask                         Check Price
6. Chain Prop                                                Check Price
7. Black Ghost Rider Gloves                      Check Price
8. Black Shoes                                              Check Price
The Best Ghost Rider from Marvel Universe Cosplay Ideas
One of the coolest things about Ghost Rider is his appearance. The character doesn't sport the usual scary demon monster look since he wears regular clothes. When Johnny Blaze transforms into the Ghost Rider, his head becomes a skull that is covered in flames. This guide will feature Ghost Rider's cool appearance.
The Ghost Rider costume consists of a black t-shirt with a black leather jacket on top of it and a matching black leather pants. It will also include a pair of black gloves and a pair of black shoes. A full-head skull mask that represents the character's skull face will also come with the cosplay set, as well as a flame wig for Ghost Rider's fiery hair. The cosplay set is completed with a chain prop that the character covers in flame and uses it as his primary weapon.
About Ghost Rider Costume
Ghost Rider's real name is Zarathos, who the demon Mephisto considered as a rival. Mephisto was the one responsible for enslaving Zarathos' soul into mortals, with Johnny Blaze as the latest mortal to house the demon. Though Ghost Rider lives in harmony inside Johnny Blaze, the daredevil rider feels that the demonic soul inside of him is starting to take more control. Johnny Blaze's link with Ghost Rider dates back to his ancestors, who had a piece of the Medallion of Power that contains the Spirit of Vengeance embedded into the spiritual bloodline.
Despite the two soul's struggle for control, they are still able to set aside their battle from time to time to work together and defeat various enemies. Ghost Rider's appearance and the demonic power he possesses makes him a favorite for certain people. His control of hellfire and soul manipulation capabilities makes him a compelling character. As a favorite character, Ghost Rider is also a good cosplay option. If you look at the Ghost Rider cosplay photos, you can see that the demonic nature is a great costume idea for people who plan on attending a comic book convention or going to Halloween costume party.
The Ghost Rider Cosplay Makeup