Margot Helen Tenenbaum is one of the characters of the hit drama-comedy film The Royal Tenenbaums. She is an adopted daughter of the Tenenbaums and a playwright. But she hasn't written a play in years and would spend most of her time smoking in their bathroom. Margot Tenenbaum is also very secretive and a bit of a rebel. She ran away from home once to meet her birth family only to return two weeks later, with half of one of her fingers missing.
But what makes Margot Tenenbaum an interesting character is how her outfit and appearance clashes a bit with her personality and demeanor. This article is a Margot Tenenbaum costume guide.
Royal Tenenbaums | Margot Tenenbaum Costume Tutorial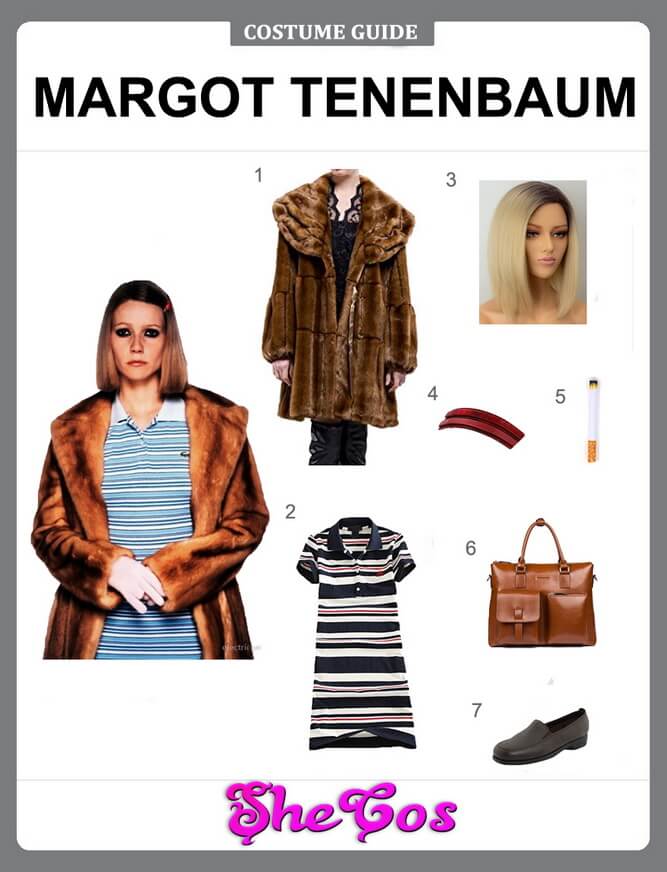 1. Margot Tenenbaum Coat                       Check Price
2. Margot Tenenbaum Dress                     Check Price
3. Blonde Margot Tenenbaum Wig          Check Price
4. Red Hairclips                                            Check Price
5. Fake Cigarettes                                        Check Price
6. Brown Margot Purses                             Check Price
7. Black Shoes                                               Check Price
The Best Margot Tenenbaum from The Royal Tenenbaums Cosplay Ideas
Margot Tenenbaum has worn a lot of different outfits throughout her appearance in the movie. Though she has worn different dresses, Margot still wears usual outfits and accessories that became iconic and attached to the character. This guide will feature one of the character's costumes.
It consists of a dark blue polo shirt dress with white stripes and a brown mink coat on top of it. The mink coat is the most iconic thing about Margot Tenenbaum since that coat is always associated with the character. The cosplay set will also come with a pair of black shoes and a medium-length blonde wig for the character's hairstyle. The cosplay set is completed with the accessories that are also associated with Margot Tenenbaum, these are a pair of red hairclips, a brown handbag, and a fake cigarette to represent the character's fondness for smoking in the bathroom.
About Margot Tenenbaum Costume
Though Margot Tenenbaum is adopted, she was still loved and like her adopted brothers. She character a grant for a play that she wrote when she was in 9th grade. But like her two brothers, she also experienced a slump during adulthood. She's married to a neurologist named Raleigh St. Claire, whom she hides her troubled past and smoking habits.
Margot Tenenbaum is also a bit of a rebel and, cheating on her husband regularly with Eli Cash, the Tenenbaum's neighbor and the best friend of her brother Richie. Though Margot is a bit of a troublemaker and rebel, her unique and unusual combination of personality and appearance is what draws people to her. The outfits that she wore are a stark contrast to her personality since her mink coat makes her look more conservative and reserved rather than a rebel and a promiscuous. This intrigue with Margot Tenenbaum makes her a great cosplay option for ladies looking for a character to dress up as for costume parties. If you look at the cosplay photos, you can see that Margot Tenenbaum is a great character to dress up as.
The Margot Tenenbaum Cosplay Makeup