Melisandre is one of the characters of the hit fantasy drama TV series. She is also known as the Red Woman and is the Red Priestess that revived one of the main characters, Jon Snow. She believed he was the "Prince That Was Promised" and also served under him as one of his advisors. But she was banished after Jon Snow found out what she did when she was still working with Stannis Baratheon.
Despite this, she still played an instrumental role in bringing Jon Snow and Daenerys Targaryen together and in bringing down the Night King. This article is a Melisandre cosplay guide.
The Game of Thrones Melisandre Costume Tutorial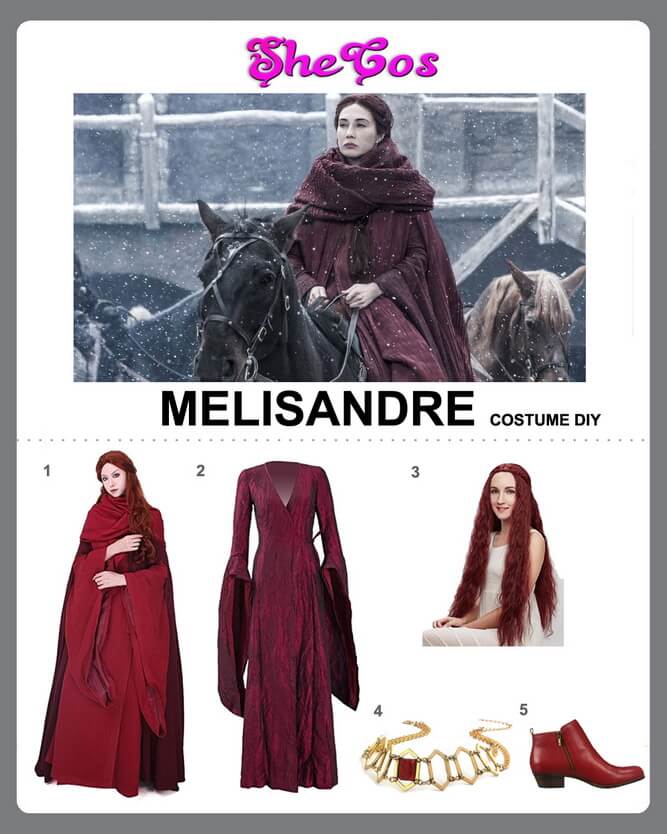 1. Full Melisandre Costume                        Check Price
2. Long Dark Red Dress                               Check Price
3. Red Melisandre Wig                                 Check Price
4. Melisandre Necklace                                Check Price
5. Red-Heeled Melisandre Shoes               Check Price
The Best Melisandre from Game of Thrones Cosplay Ideas
Melisandre is not like most of the characters in Game of Thrones, as she is mostly seen wearing only one outfit throughout her appearance in the series. She is always wearing a red dress or a red coat on top of the dress, hence her nickname the Red Woman. This guide will feature the usual outfit that the character wears in the series.
The Melisandre cosplay set consists of a long dark red dress that the character always wears whenever she makes an appearance. The collection will also come with a long red cloak that Melisandre wears when she is outside the castle walls as her protection from the cold. The Melisandre costume will also come with a pair of red-heeled shoes and a long red wig in the character's hairstyle. Completing the cosplay set is a replica of the necklace that the character always wears, complete with the red ruby.
About Melisandre Costume
The character is not a normal human being. As the red priestess, Melisandre possesses several powerful magic and abilities, which makes her one of the powerful characters in Game of Thrones. She is already 300 years old, but she doesn't look her age and it is due to the powerful necklace that she is wearing. She can also resurrect the dead, as evident when she brought back Jon Snow. Though she is not immortal, Melisandre didn't welcome death yet since she wants to make sure that the Night King is defeated first before she welcomes it.
Though she is a powerful sorcerer, her status as a red priestess doesn't bring her good fortune since people from Westeros don't worship red priestesses. Even if she possesses great powers, she is mostly known for her prophecies. Though Melisandre is not one of the famous characters in Game of Thrones, she still has her following since she played a pivotal role, and she's a badass sorceress. It makes her a good cosplay option for people looking to dress up as other characters in Game of Thrones. If you look at the Melisandre cosplay photos, you can see that she is a great cosplay for costume parties or costumed conventions.
The Melisandre Cosplay Makeup