One of the recognizable characters in My Hero Academia is Fumikage Tokoyami, who is also called the Jet-Black Hero: Tsukuyomi. He is a student at U.A. High School, hoping to turn into a Pro Hero after graduation. What makes Fumikage recognizable is his head, which resembles a crow or raven. But it's only his head that has the blackbird appearance as his entire body still resembles a normal human being.
Fumikage is also one of the powerful characters in the My Hero Academia series. His proficiency in using his Quirk, Dark Shadow, makes it hard to defeat him in battle. This article is a Fumikage Tokoyami cosplay guide.
The My Hero Academia Fumikage Tokoyami Cosplay Tutorial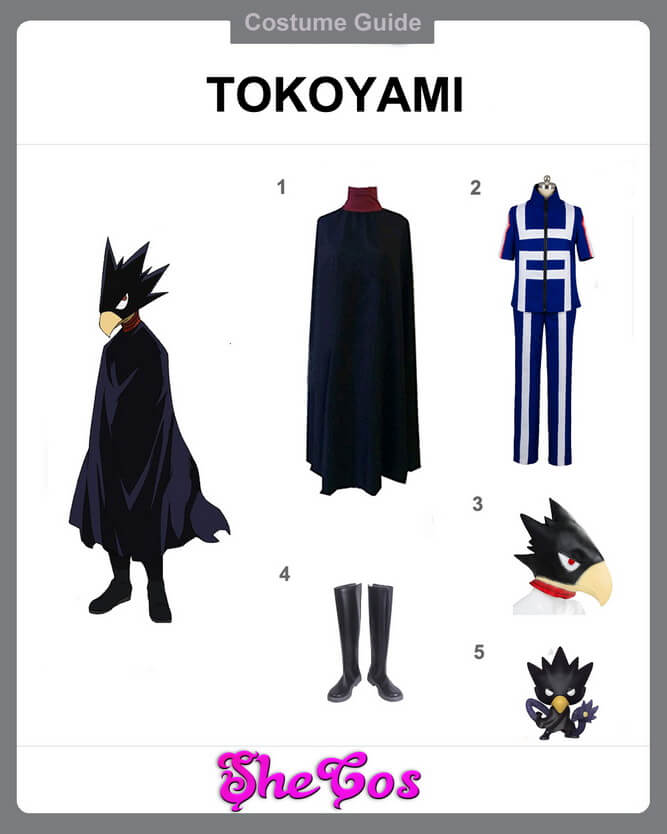 1. Full Fumikage Tokoyami Costume      Check Price
2. U.A. High School Training Uniform    Product Page
3. Black Bird Mask                                       Check Price
4. Black Fumikage Tokoyami Boots         Check Price
5. Jet-Black Hero: Tsukuyomi Toy           Check Price
The Best Fumikage Tokoyami from My Hero Academia Cosplay Ideas
Much like the other characters at My Hero Academia, Fumikage Tokoyami has worn different outfits throughout his appearance in the series. But the character's outfit mainly revolves around his school uniform, his training outfit, and his hero costume. This guide will feature Fumikage Tokoyami's hero costume and training uniform.
Jet-Black Hero's outfit consists of a black cape that the character wears like a cloak to cover his full body. Underneath the cape, Fumikage wears a black t-shirt and matching black baggy pants. The character also wears a pair of wristbands and a utility belt. Completing the hero costume is a pair of black boots. The training outfit is the traditional blue U.A. High School Training outfit that has the large letters U and A starting at the shirt, all the way to the pants. The cosplay set for the character will also come with a mask of a blackbird to represent the character's raven-like head. Completing the set is a toy of Jet-Black Hero: Tsukuyomi.
About Fumikage Tokoyami Costume
Fumikage Tokoyami, as a serious, calm, and reserved character, doesn't talk a lot and is always focused. He also tends to ignore pointless questions or requests. But during team battle, Fumikage is more sociable, communicating with his teammates and doing whatever he can to win. He is also a respectful and honorable character, treating everyone with respect and remembering to thank them if there's a need to do so.
The character's combination of excellent and admirable personality, proficiency in using his Quirk, and unique appearance, makes him one of the coolest characters in My Hero Academia. That is also why he is one of the favorite cosplay options of fans of the series. His superhero costume is simple, but the all-black look and bird head make him look awesome. If you look at the Fumikage Tokoyami cosplay photos, you can see that the character's overall appearance is wonderful. He's a good costume option for people who are attending costume parties or going to a comic book convention.
How to Make Thee Fumikage Tokoyami Mask