The favorite manga My Hero Academia is an anime series about superheroes and centers on the story of a boy named Izuku Midoriya. The character is unique because of his lack of a Quirk, which is unusual in their world, considering almost everyone has one. Though Izuku is the main character, he is not always the favorite of the series' fans, as there are also a lot of cool characters there. One such cool character is Momo Yaoyorozu, aka Creati, the Everything Hero.
Momo is a student at U.A. High School and is the Vice President of Class 1-A. She is also considered an S-class genius, which means she is one of the smartest characters in the series. Her Quirk is Creation, which allows her to create any non-living material from her exposed skin. The unique material comes from the molecular manipulation of her fat cells.
Her unusual Quirk, high intellect, and attractive appearance make her one of the cool characters in the series, and also an excellent option for people to cosplay in. Like most of the characters in the series, Momo usually wears two outfits on the anime with one being her U.A. uniform and the other her battle costume.
My Hero Academia Momo Yaoyorozu Cosplay Guide
Parts you may need:
1. Momo Wig                                                  Product Page
2. U.A. High School Uniform                       Product Page
3. Brown Shool Uniiform Shoes                 Check Price
4. Full Battle Costume                                  Check Price
5. Battle Costume Boots                              Product Page
The Best Momo Yaoyorozu of My Hero Academia Cosplay Ideas
Momo Yaoyozoru is one of the attractive teenage girls in the My Hero Academia series. She also has a manly physique, which adds significantly to her attractiveness factor. When it comes to dressing up as Momo, you have two choices. The first one is cosplaying the character wearing her high school uniform, while the other is where she is wearing her battle outfit.
This cosplay set can allow you to wear both outfits. It comes with the My Hero Academia school uniform, which is a light grey coat on top of a white long sleeves polo with a red necktie. The outfit also includes knee-length black socks, blue-green skirt, and brown shoes. The set also has her battle costume, which is a red leotard vest with a gold utility belt. The outfit is completed red boots with black at the opening.
About Momo Yaoyorozu Costume
Momo Yayorozu is a dedicated individual that has that natural ability to lead. She is a calm and level-headed student, who doesn't easily get rattled, even in dangerous situations. She uses her high intellect to try and do the right thing in whatever cases. Despite all of these, there are still moments where she panics and loses confidence in herself, especially when she lost and compared herself to Shoto Todoroki. She can bounce back from this setback, though, which shows her determination and never giving up attitude.
But what makes her apart from a lot of characters in the series is her beauty and sexy physique. This attribute is more prominent when she is wearing her battle costume, as shown in the cosplay photos. Even if she is wearing a regular school uniform, her physical attributes can still be showcased.
Cosplayer: AnastasiaKomori, Morganacosplay, Mayaneku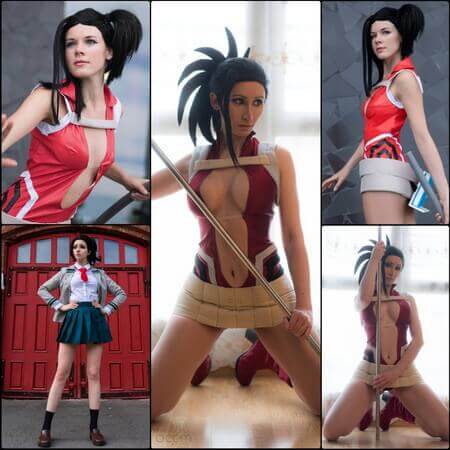 My Hero Academia Momo Yaoyorozu Cosplay Makeup Tutorial