My Hero Academia is one of the favorite anime and manga series today. It's a series about superheroes in a world where it's normal for people to have superpowers because of quirks. A quirk is a superhuman ability that an individual can possess to give them superpowers.
The series has a lot of main characters and one of the main characters it has is Katsuki Bakugou, who plays a supporting role to the protagonist Izuku Midoriya. But at the beginning, he was seen more of an antagonist than a deuteragonist. That is because he was bullying Izuku most of the time. His personality is also an arrogant and crude personality.
But towards the latter part, he became less of a villain. In the recent Popularity Poll that My Hero Academia conducts, Katsuki is the most popular character they have, which means he is also a popular choice to cosplay in. This article will be a Katsuki Bakugou costume guide.
My Hero Academia Katsuki Bakugou Costume Guide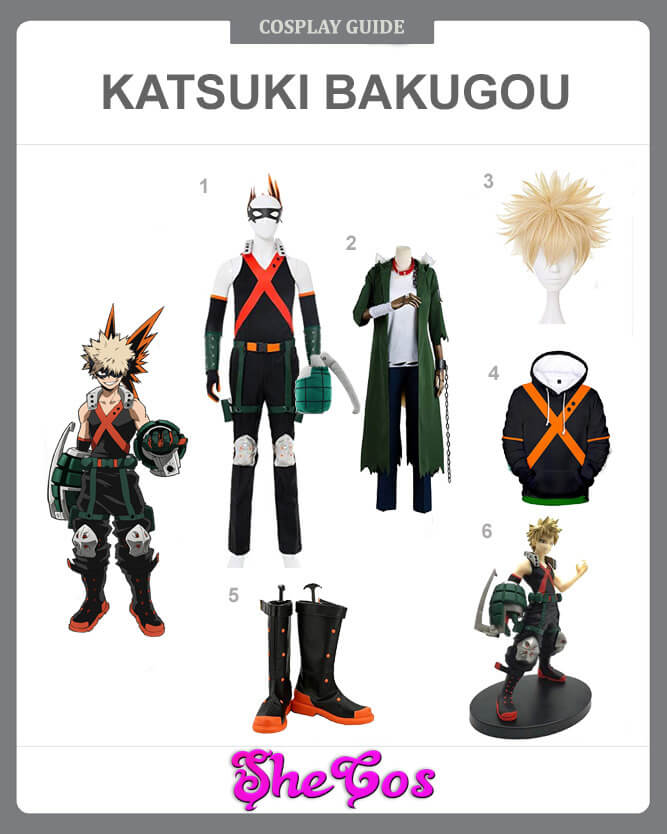 1. Full Katsuki Bakugou Hero Costume    Product Page
2. Katsuki Bakugou Halloween Costume  Product Page
3. Katsuki Bakugou Wig                               Product Page
4. Hero Costume Hoodie Jacket                 Check Price
5. Hero Costume Boots                                Product Page
6. Small Katsuki Bakugou Figure               Check Price
The Best Katsuki Bakugou of My Hero Academia Cosplay Ideas
Katsuki Bakugou is arrogant, selfish, crude, and a big bully. Despite his lousy personality, the character has consistently been one of the most popular characters in My Hero Academia, according to the Popularity Polls. This is why he is always an option when it comes to cosplaying anime characters.
The Katsuki Bakugou cosplay set comes with two costumes, the Hero outfit and Halloween outfit. The Hero outfit consists of a black sleeveless tank top with an orange X across the middle and black pants with knee guards. It also has metallic neck brace black, elbow-length arm sleeves, knee-length black combat boots with orange soles, and grenade-like gauntlets. The costume comes with a black mask around the eyes with orange and black flare on each side. The Halloween costume consists of a ragged green coat with a white shirt and blue jeans underneath. It also comes with shackles on one hand and bandage on the other. It is completed by the foxtail, fox ears, and red collar. The cosplay list includes a short blonde spikey wig and a Katsuki Bakugou figure.
About Katsuki Bakugou Costume
Katsuki Bakugou is one of the main characters of My Hero Academia. He started as an anti-hero, always harassing and bullying the characters, especially the main character Izuku Midoriya. But towards the middle of the series, Katsuki began to change, especially after experiencing failures and defeats, particularly from Izuku. Despite the character's lousy personality and anti-hero antics, he was still very popular.
The series' Popularity Poll always ranks him near in the top 5, in both U.S. and Japanese polls, and he has held the number spot quite a few times already. That is why he is always an option for people when it comes to dressing up as an anime character. And it is not only guys who dress up as Katsuki, but girls as well. Looking at the Katsuki Bakugou cosplay photos, you can see that women have put a sexy appeal when it comes to cosplaying Katsuki Bakugou.
Cosplayers: Pollypwnz, Khainsaw, Arlena Fae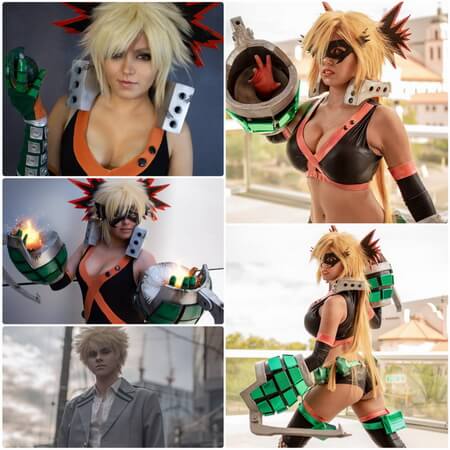 My Hero Academia Katsuki Bakugou Cosplay Makeup Tutorial