Hizashi Yamada, or more commonly known as the hero Present Mic, is one of the characters of the animated series My Hero Academia. He is a Professional Hero who also teaches English in the U.A. High School. His Quirk is Voice allows him to create high-pitched sounds that can cause bleeding in ears and block out other sounds.
His weakness, though, is that his sound powers don't work well underground. He is a character that is always smiling and has the persona of a radio host. His Quirk fits him very well since he likes to talk a lot. This article is a Present Mic cosplay guide.
My Hero Academia Present Mic Cosplay Tutorial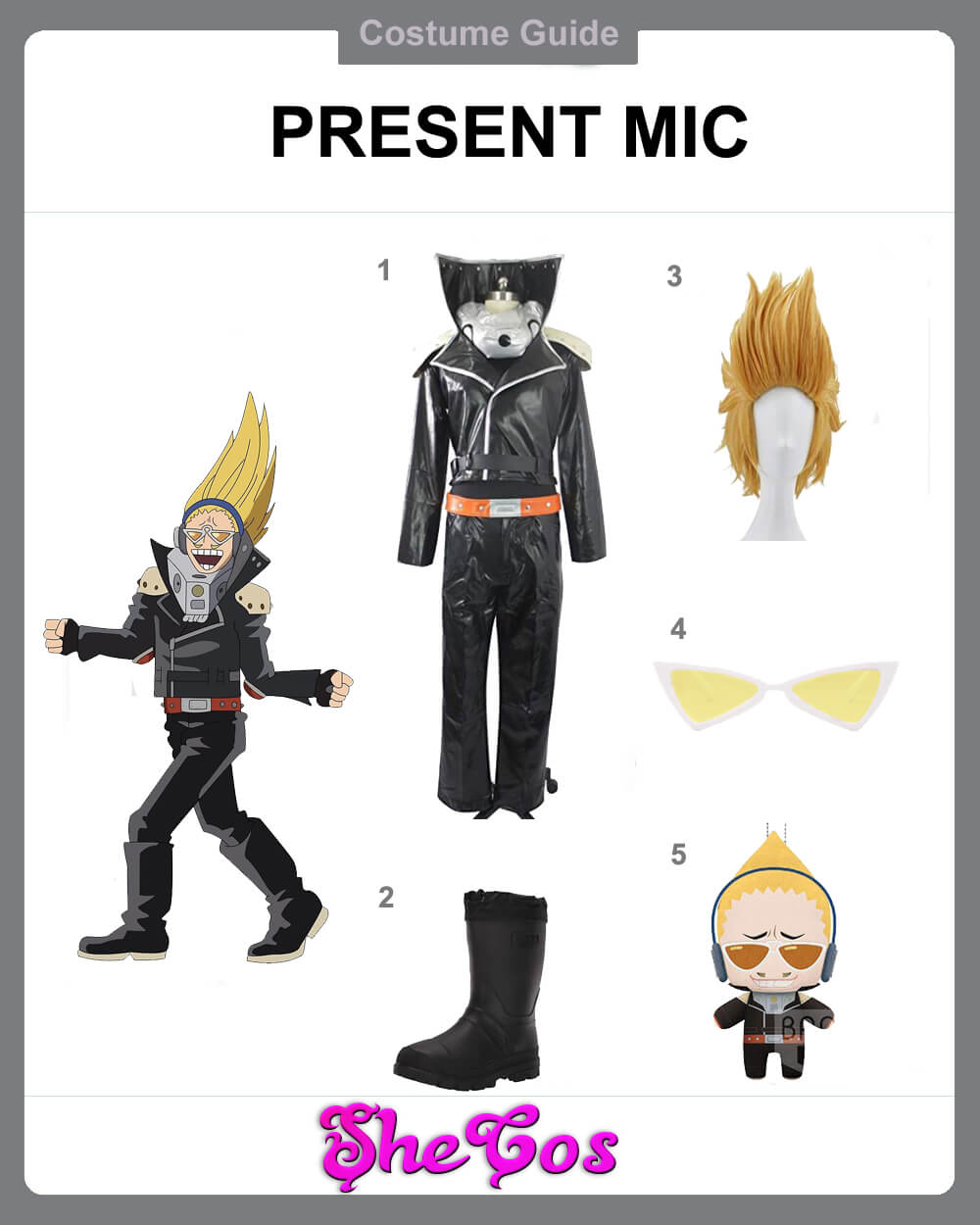 Parts you may need
1. Full Present Mic Costume                       Check Price
2. Black Boots                                                Check Price
3. Yellow Present Mic Wig                          Check Price
4. Yellow Glasses                                          Check Price
5. Present Mic Plush Keychain                  Check Price
The Best Present Mic from My Hero Academia Cosplay Ideas
Present Mic is just like most of the characters in My Hero Academia. He wears various outfits throughout his appearances in the animated series. He is mostly seen wearing two types of gear, his hero costume, and his usual civilian clothes. This guide will feature the hero outfit that Present Mic wears.
It consists of a black jacket that has a tall collar and tan-colored shoulder pads and a pair of red elbow pads. The cosplay set also comes with a directional speaker prop placed around the neck area, matching black pants, a couple of knee-high black boots, a studded red belt with buckle, and a pair of black fingerless gloves. A long yellow wig, which is brushed upward to form a huge spike, and yellow inverted triangle glasses complete the costume. A Present Mic plush keychain that you can attach your key on is also included with the cosplay set.
About Present Mic Costume
When you look and listen to Present Mic, you wouldn't think that he is a professional hero. That is because his personality and appearance don't match that of a hero. He looks and sounds more like a radio DJ or an announcer. He also tends to keep a level of excitement and enthusiasms, especially when he is talking, regardless of the situation. It adds to his radio or announcer persona, making it hard for certain characters to take him seriously.
Nevertheless, Present Mic has shown throughout the series that he is not a hero that you'd like to mess with. He also possesses a keen intellect, which helps him much in battles and in analyzing the situation. Despite his eccentric personality, Present Mic is a great cosplay option. His unique appearance and personality will make any wearer stand out in the crowd. If you look at the Present Mic cosplay photos, you can see that the character is a great costume choice if you are attending a costume party or going to a comic convention. He is also a great costume choice if you are doing an anime or cosplay photoshoot.
The Present Mic Cosplay Makeup