Yu Takeyama, who is also the hero Mt. Lady, is one of the characters of the animated series My Hero Academia. She is No. 23 Pro Hero and possesses the Quirk Gigantification. The Quirk allows her to grow in size, but she can only do it on one size, which is 2062 cm or more than 67 feet tall. But growing big also gives the superhero super strength, making her powerful and hard to defeat in battle.
Yu Takeyama is also a character who enjoys the attention and popularity that she gets from being a hero. This article is a Mt Lady cosplay guide.
My Hero Academia Mount Lady Cosplay Tutorial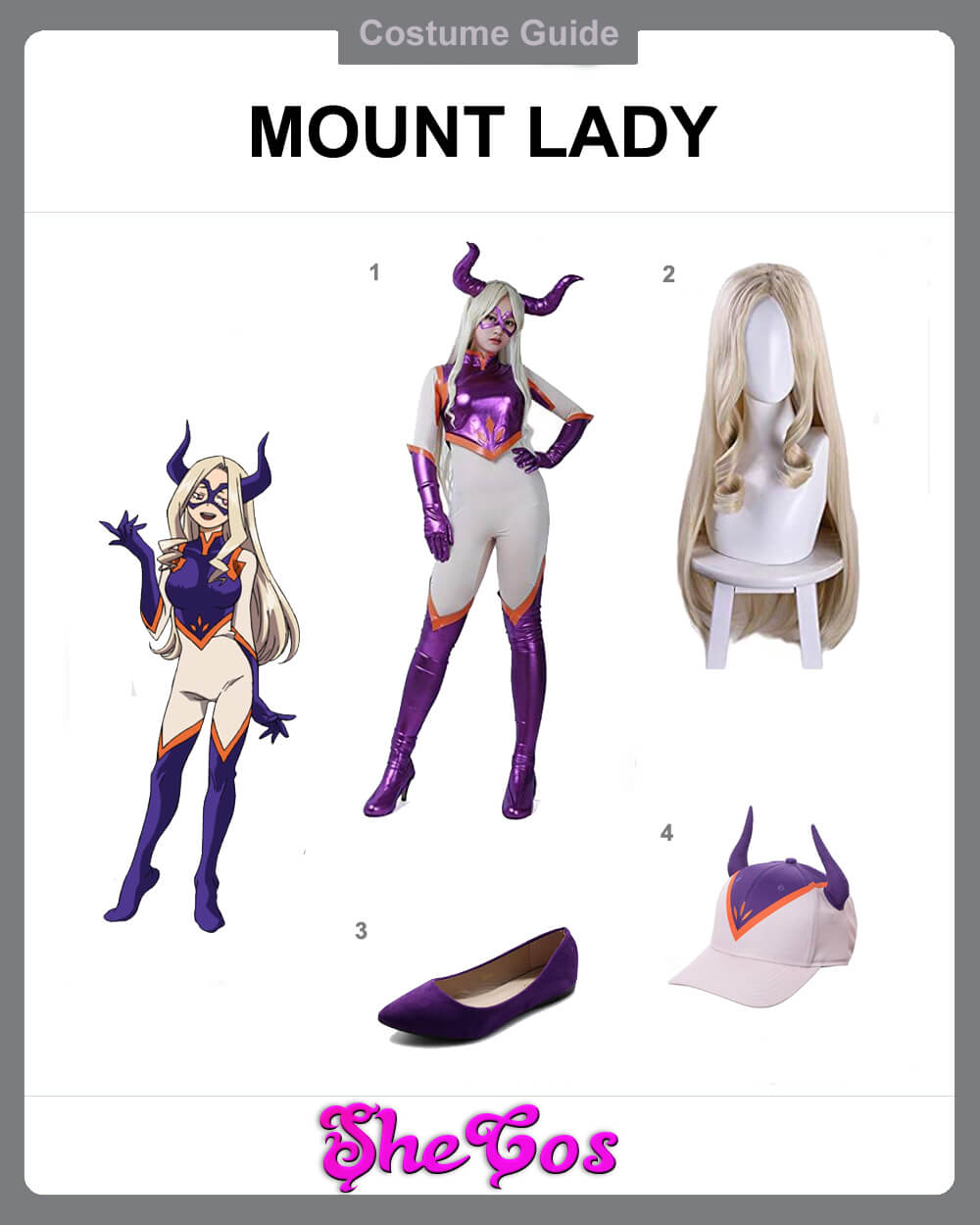 Parts you may need
1. Full Mount Lady Costume                      Check Price
2. Blonde Mt Lady Wig                                Check Price
3. Purple Flat Shoes                                     Check Price
4. Cap with Mount Lady Horns                 Check Price
The Best Mount Lady from My Hero Academia Cosplay Ideas
Like a lot of the character in the animated series, Mount Lady has worn various outfits throughout her appearance in the series. She changes looks whenever she goes into superhero mode. This guide will feature the outfit that the character wears when she is in her superhero mode.
It consists of a tight full-body white suit that has a purple vest plate with orange outlines. The cosplay set will also include a pair of elbow-length purple gloves with orange lines on the opening and a pair of knee-length purple boots with orange outlines. The cosplay outfit will also come with a long blonde wig for Mount Lady's hairstyle and a purple horn prop. The set will also come with a pair of flat purple shoes and a white cap with purple designs and purple horns, similar to the character's costume, attached to its sides.
About Mount Lady Costume
Like a superhero that can turn into a giant, it is not hard to notice Mount Lady, especially when she uses her Quirk. It works well for the character since she loves getting the attention and being popular. She is also very vain and is not ashamed to steal the fame and spotlight from another hero. She also has a strong sex appeal, which she frequently uses to increase her fame and popularity. But the character is not careless when it comes to using her powers since she doesn't want to destroy buildings or harm hostages when she transforms into a giant.
She is also shown to have a selfless tendency, willing to help out people in need without hesitation. It shows she is dedicated to her role as a hero and won't hesitate to risk her life to perform her duty. As a pretty character with a considerable sex appeal, Mount Lady is a great cosplay option for ladies looking to dress up as My Hero Academia characters. If you look at the Mt Lady cosplay photos, you can see that the character's overall appearance is a good cosplay option for attending costume parties or going to comic conventions.
The Mount Lady Cosplay Makeup