My Hero Academia is a favorite anime and manga series that is a story about superheroes. It centers on a high school student Izuku Midoriya, who was born without a Quirk. It's an unusual circumstance considering Quirks are normal in a world where people with superpowers are ordinary. Though Izuku is the main character of the series, he is not the only character in it. The series has a lot of different characters, and each one of them plays different roles. One such character is Tsuyu Asui, aka Froppy, the Rainy Season Hero.
Tsuyu Asui is a female student in U.A. High School that is training to become a Pro Hero. She is a student that possesses a keen intellect throughout the anime series. Her Quirk is a frog, which means she can do anything that a frog can do. She can hop long distance, stick to walls, extend her tongue, and so on. She needs to refrain from staying in cold environments for too long or else she won't be able to use her Quirk.
Tsuyu is another My Hero Academia that people can cosplay in. She is known to wear her U.A. High School uniform and her battle uniform frequently.
My Hero Academia Tsuyu Asui Cosplay Guide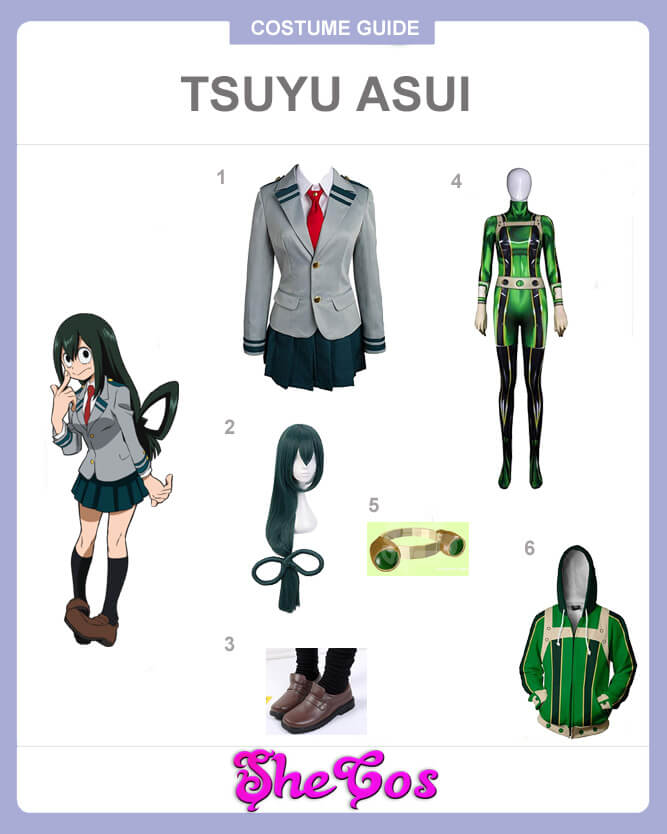 1. My Hero Academia Uniform                   Product Page
2. Tsuyu Asui Wig                                         Product Page
3. High School Uniform Shoes                   Check Price
4. Full Battle Uniform                                  Product Page
5. 3D Printed Googles Kit                            Check Price
6. Battle Uniform Hoodie Jacket                Check Price
The Best Tsuyu Asui of My Hero Academia Costume Ideas
There are two options to dressing up as Tsuyu Asui. One is dressing up as the character while wearing her high school uniform. The other one is dressing up as Tsuyu wearing her battle costume.  This cosplay set will allow you to dress up as both costumes. The U.A. High School uniform is a light grey blazer on top of white long sleeves polo and red necktie. The suit also includes a blue-green skirt, black knee socks and brown shoes.
Tsuyu's battle costume, on the other hand, is a green and black skintight suit that has lines that imitate frog skin markings. It also has a grey harness. This costume also comes with a 3D printed Googles Kit. To complete the Tsuyu cosplay, you will need a long brunette wig with a bow tied at the end and a battle uniform-inspired hoodie jacket.
About Tsuyu Asui Costume
Tsuyu Asui is a laid back girl who is also not afraid to say what's on her mind or how she thinks of others. She is also a brilliant character, being one of the first ones to notice the similarities in the Quirk of Izuku Midoriya and All Might. She is also a calm and collected individual who is rarely rattled, even in stressful situations. Despite being known to wear two outfits throughout the series, people would prefer to cosplay Tsuyu wearing her green battle outfit.
If you look at the Tsuyu Asui cosplay photo, you can see why people prefer that outfit over her U.A. high school uniform. Tsuyu looks gorgeous and sexy in her green battle outfit. It makes for a great and fascinating photo shoot, as well as cosplay outfit during comic conventions or costume parties.
Cosplayer: Kinpatsucosplay, Rinaca Cosplay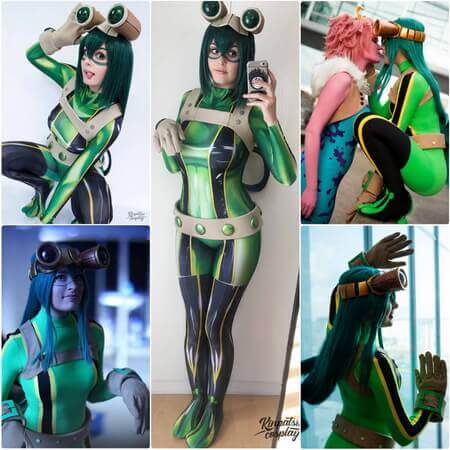 My Hero Academia Tsuyu Asui Cosplay Makeup Tutorial