Megara, or more commonly known as Meg, is one of the main characters of the animated movie Hercules. She is the deuteragonist of the story and the love interest of the protagonist. She was a reluctant servant to Hades because of a debt she has and has a cynical view of the world. Meeting Hercules changed her outlook, and she realized that there is still some good left in the world.
Meg is not the typical damsel in distress, as her troubled past made her tough and independent. She also started as a cunning and deceptive femme fatale, only after her independence. That is why a lot of people are fond of her. This article is a Megara costume guide.
The Hercules Megara Cosplay Tutorial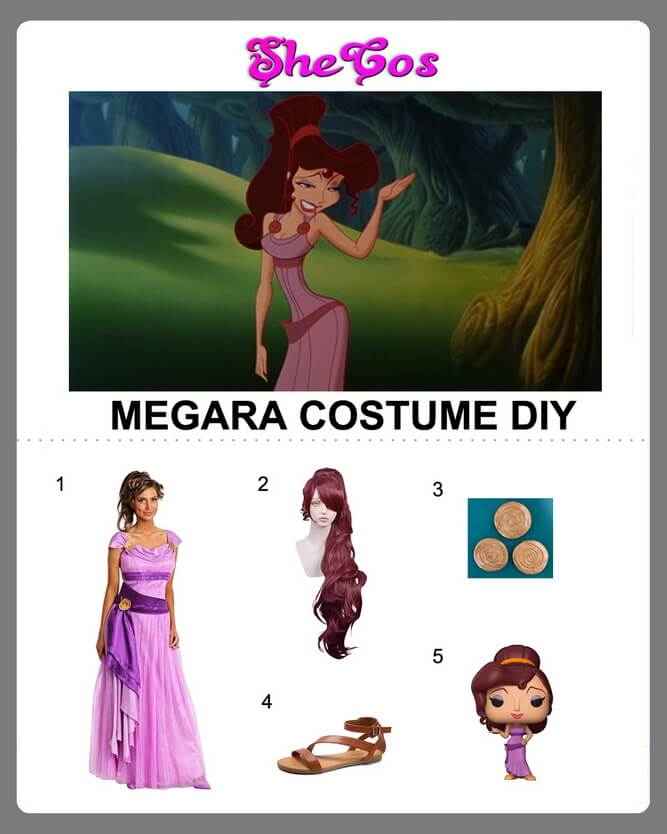 Parts you may need
1. Full Megare Costume                               Check Price
2. Megare Wig                                                Check Price
3. Brooch                                                         Check Price
4. Orange Sandals                                         Check Price
5. Megara Pop Figure                                   Check Price
The Best Megara from Hercules Cosplay Ideas
Like a lot of Disney characters, Megara is seen wearing only one outfit throughout her appearance in the animated movie. That makes it easy to cosplay the role since she's seen only wearing one kind of gear. This guide will feature the outfit that Megara is wearing throughout the movie.
It consists of a lavender dress that has a long skirt and two purple sashes with one around the waist and the other under her bust. The cosplay set will also come with a set of brooches with two of them placed on the straps of the dress above the bust area. The collection will also include a pair of orange sandals and a long dark auburn wig. The wig is tied into a ponytail and has curly fringes on the tip. The cosplay set will also come with a Megara Pop figure that you can display.
About Megara Costume
Megara is an independent and witty character, which she displayed early on. She makes use of her pretty looks and attractive figure to get the attention of Hercules and make him do her bidding. But she is also hurt and bitter due to the heartbreak she experienced from a lover who is also the reason for debt to Hades. That is why she didn't believe in love nor think that there is still some good left in the world.
But Hercules innocent personality has changed her mind, and she started believing again. She even sacrificed her life so that she could save the one she loved. Hercules retrieved her soul in the underworld to bring her back. The combination of Meg's personality and attractive looks makes her an excellent cosplay option for ladies to dress up as a Disney character. If you look at the Megara cosplay photos, you can see that her overall appearance would make any wearer stand out. She's a great cosplay idea for attending comic or gaming conventions and costume parties. She' also a good option for doing cosplay photoshoots.
The Hercules Megara Cosplay Makeup