Mason Pines, or more commonly known as Dipper Pines, is one of the main characters of the Disney animated series Gravity Falls. Dipper is a 12-year-old kid that went to spend the summer, along with his twin sister Mabel, with their great-uncle who lives in a mysterious town called Gravity Falls. The town has a lot of supernatural creatures and paranormal forces that Dipper and his family needs to investigate.
Though Dipper shares the spotlight with his twin sister Mabel, a lot of fans consider him as the show's best character. That is because of Dipper's combination of personality and characteristics, makes him a walking paradox. He likes adventure and mysteries, believing in the supernatural. But he is also an analyzer and a skeptic who always needs proof and evidence before he believes something. This article Dipper Pines cosplay guide.
Galaxy Falls - Dipper Pines Cosplay Tutorial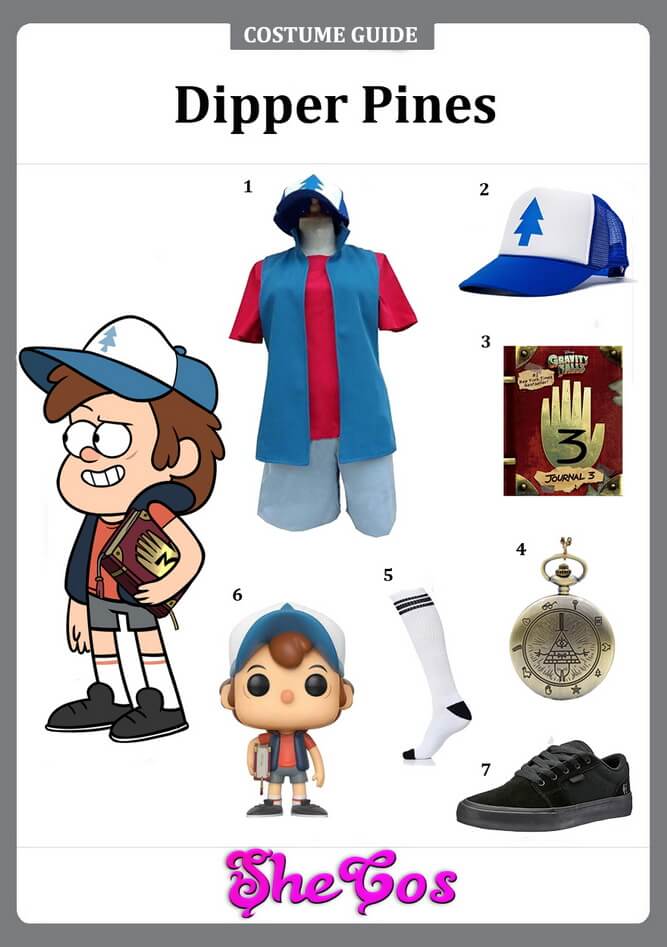 Parts you may need
1. Full Dipper Pines Costume                     Check Price
2. Dipper Pine's Cap                                     Check Price
3. Gravity Falls Journal                                Check Price
4. Pocket Watch                                             Check Price
5. White Long Socks                                     Check Price
6. Black Arm Sleeves                                     Check Price
7. Black Sneakers                                           Check Price
The Best Dipper Pines of Galaxy Falls Costume Ideas
Dipper Pines is a smart, funny, and adventurous boy, and you can see this reflected on how he dresses. He has the outfit of a typical smart boy who likes the outdoors and adventure. With how he is described, you'd think Dipper Pines would also wear thick-rimmed glasses to make him look like an awkward nerd. But he doesn't wear one, but he still looks smart.
This guide will feature Dipper Pines' full costume. It consists of a red t-shirt with a blue vest-like jacket on top of it and a light grey short. The costume set will also come with a pair of long white socks with line designs near the opening and a couple of black sneakers. The costume is completed with the blue cap that Dipper Pines' usually wears, a pocket watch, and a Gravity Falls journal. The set also comes with a Dipper Pines figure.
About Dipper Pines Costume
A lot of fans consider Dipper Pines as the best character of the animation series Gravity Falls. It is due to his unique combination of personality, bravery, and comedic tendencies. As the best character, of the animation series, this also makes Dipper one of the first choices when it comes to cosplaying characters from Gravity Falls. Dipper is a good option to wear, regardless if its for a costume party, comic convention or photoshoot. And it also doesn't matter if it's a guy or girl playing as Dipper Pines.
If you take a look at the cosplay photos, you can see that females can also pull off Dipper Pines' look. But the best way to dress up like Dipper Pines is if you'll wear this costume with a partner or friend who will dress up like Mabel Pines, the character's twin sister.
Galaxy Falls: Dipper Pines Cosplay Makeup Tutorial