Shinobu Kocho is one of the characters of the anime and manga series Kimetsu No Yaiba. She is a laid-back demon slayer who always has a smile on her face. But she is also a sadistic and cruel demon slayer who enjoys playing and giving demons false hope. Shinobu Kocho is also the Insect Pillar of the Demon Slayer Corp., which makes her a mighty swordsman.
But the laid-back personality and the constant smiling is a trait that her older sister possesses. She started to adopt the trait after her sister's death before the events of the series. This article is a Shinobu Kocho cosplay guide.
Demon Slayer Kimetsu No Yaiba | Shinobu Kocho Cosplay Tutorial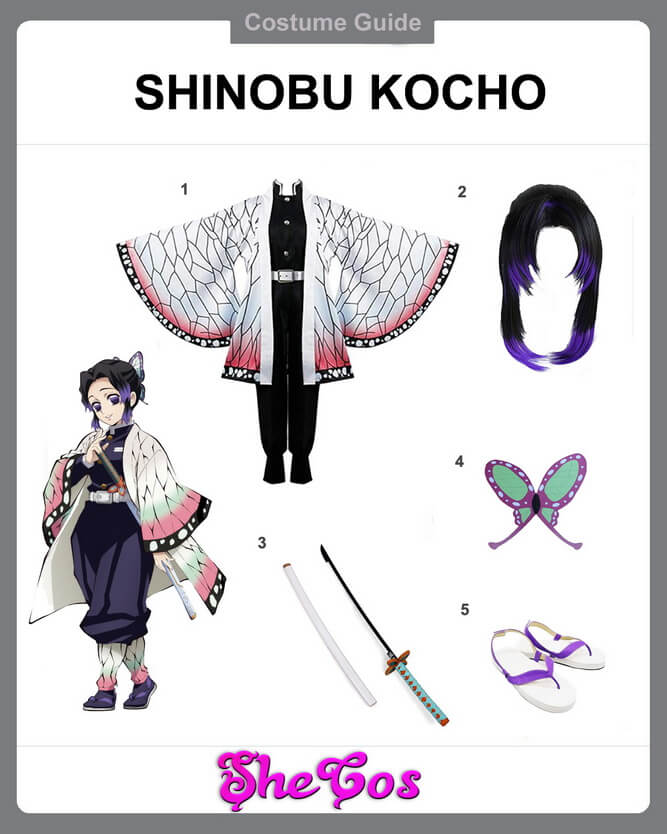 1. Full Shinobu Kocho Costume                Check Price
2. Shinobu Kocho Wig                                 Check Price
3. Sword Prop with White Scabbard        Check Price
4. Butterfly Headwear                                 Check Price
5. White Boots                                               Check Price
The Best Shinobu Kocho from Demon Slayer Cosplay Ideas
Like most characters of the anime and manga series, Shinobu Kocho is shown to wear only one outfit throughout most of her appearances in the anime and manga series. She wears an outfit that is the standard for all Demon Slayer. This guide will feature the usual outfit that the character wears.
The Demon Slayer uniform consists of a black jacket with a matching hakama pants with the tip tucked underneath a butterfly pattern cloth. The Shinobu Kocho cosplay set will also come with a white belt and a white haori with a butterfly wings pattern that the character wears on top of her Demon Slayer +uniform. The set will also come with a black medium-length wig with purple tips in the character's hairstyle and a butterfly headwear attached at the back of the mighty. The collection is completed with a sword prop and white sheath and a pair of white slippers with purple straps.
About Shinobu Kocho Costume
Shinbou Kocho has initially been a brash and straightforward person, which is the exact opposite of her current personality. Though it wasn't shown when it happened, she started to change her character after her sister's death. She adopted her sister's personality, having a laid-back demeanor and always smiling. But behind that smile, Shinobu Kocho is an angry person.
She was angry with all of the things that have happened before, as well as the things that are also happening currently in the series. As the series moves on, Shinobu is also shown to have more compassion, especially towards Tanjiro Kamado and her sister after she learned what happened to them. Though Shinobu is a powerful swordsman, her petite stature affects her confidence greatly. The combination of Shinobu Kocho's personality, appearance, and backstory makes her an intriguing character for fans of the series. Her overall appearance makes her a good cosplay option. If you take a look at the Shinobu Kocho cosplay photos, you can see that her appearance will make any lady who dresses up as her stand out in a crowd. She's a great costume idea for comic conventions or costume parties.
The Shinobu Kocho Cosplay Makeup