Eddie Johnson, or more commonly known as Cousin Eddie, is one of the characters of the Christmas comedy movie National Lampoon Christmas Vacation. He is the husband of Catherine, who is the cousin of one of the main characters Ellen Griswold. He and their family originally lived in Coolidge, Kansas in the first movie before living in the RV since he is broke, and they were forced to sell his house.
Cousin Eddie didn't appear much in the National Lampoon Vacation, but in the Christmas Vacation movie, he played a prominent role. It made him one of the memorable characters in a Christmas movie. This article is a Cousin Eddie costume guide.
The National Lampoon Christmas Vacation Cousin Eddie Costume Tutorial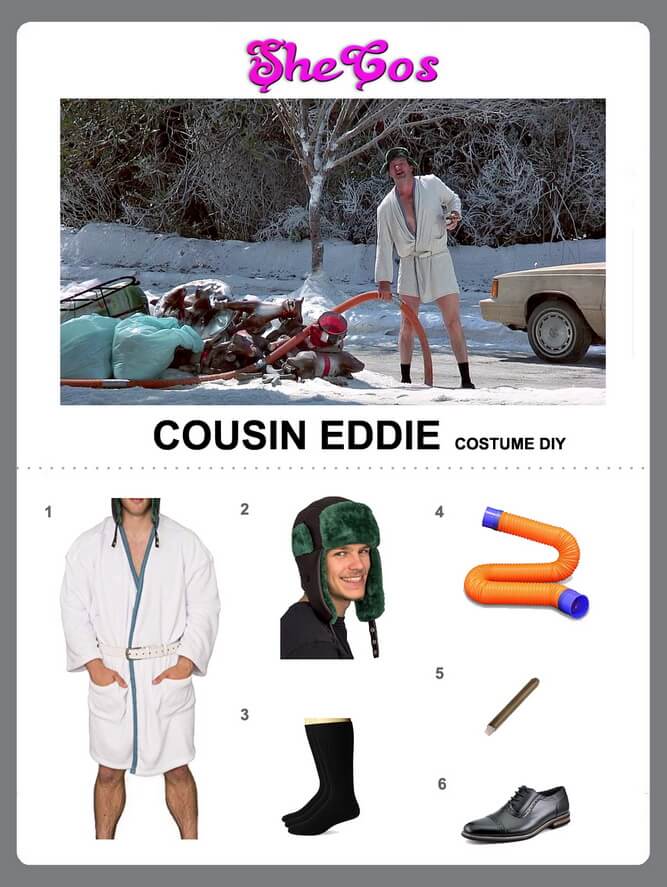 1. White Cousin Eddie Robe                       Check Price
2. Cousin Eddie Hat                                     Check Price
3. Black Socks                                                Check Price
4. Orange Leaf Blower Hose                       Check Price
5. Fake Cigar                                                  Check Price
6. Cousin Eddie Shoes                                 Check Price
The Best Cousin Eddie from the National Lampoon Christmas Vacation Cosplay Ideas
Cousin Eddie has worn different outfits throughout his appearance in the National Lampoon Christmas Vacation. But no outfit is more memorable than the white bathrobe that he was wearing when he went outside during the winter to dump the sewage from his RV into a storm drain. This guide will feature Cousin Eddie's bathrobe outfit.
It consists of a white bathrobe with a blue outline and a white leather belt. The Cousin Eddie outfit will also come with a black bomber hat that has green faux fur and a pair of black shin-length socks. The cosplay set also includes a pair of black leather shoes. For the accessories, an orange leaf blower hose is included to represent the hose that the character was used to empty the sewage of his RV. It also consists of a cigar prop, which Cousin Eddie regularly smokes.
About Cousin Eddie Costume
Cousin Eddie is broke and living in an RV because he hasn't worked for seven years. It's not that he can't find a job in the years that he is unemployed, he is just holding out for a managerial position. This attitude, combined with the character's personality and way of thinking, makes him one of the funniest characters in a Christmas movie. Cousin Eddie's overall personality and characteristics resulted in several memorable quotes that people still remember up to this day.
The character's quirkiness also provided one of the iconic outfits to wear during the winter, which is a white bathrobe combined with a bomber hat. Cousin Eddie's unique outfit is one of the things that people remember from the movie National Lampoon Christmas Vacation. It makes the character a favorite cosplay option for people who wants to dress up as a character from the movie. If you look at the Cousin Eddie cosplay photos, you can see that his look makes any wearer a standout in a crowd. He is a great costume option for people who plan to attend costume parties.