Stephen Robert Irwin was a famous Australian wildlife enthusiast and zookeeper. He was also nicknamed The Crocodile Hunter because of his famous TV series and documentaries that he co-hosted with his wife. But the series that brought him worldwide fame and recognition was The Crocodile Hunter, which aired in 1996 until 2007. He and his wife also operate an Australian Zoo, which his parents founded, near the city of Brisbane.
Steve's career as a wildlife enthusiast was sadly cut short when he died in 2006 due to a stingray barb stabbing him in the chest while they were filming a documentary in the Great Barrier Reef. This article is a Steve Irwin costume guide.
Steve Irwin Costume Tutorial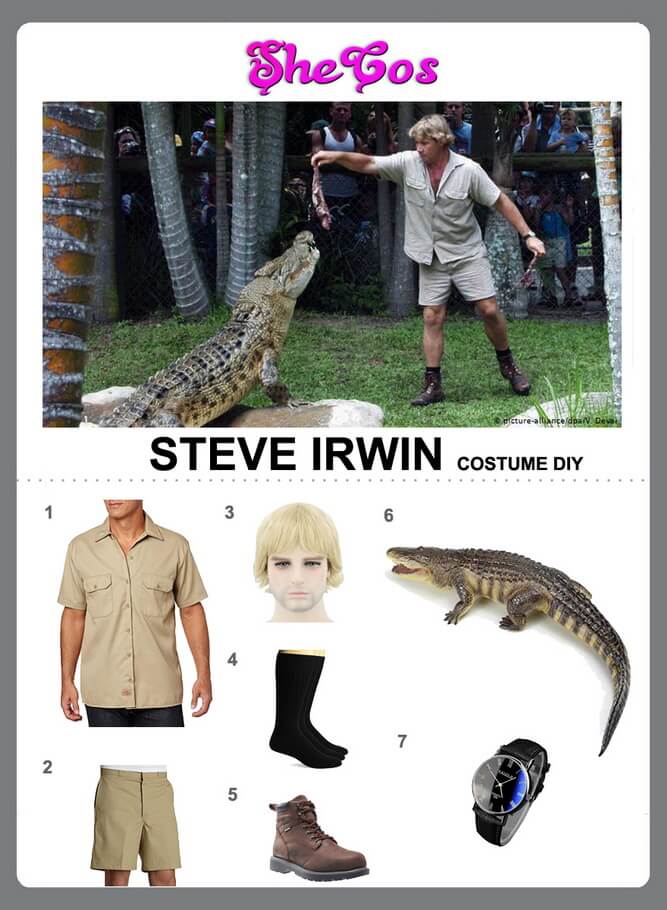 Parts you may need
1. Steve Irwin Shirt                                     Check Price
2. Brown Shorts                                          Check Price
3. Steve Irwin Wig                                      Check Price
4. Black Socks                                              Check Price
5. Dark Brown Boots                                  Check Price
6. Alligator Toy                                            Check Price
7. Black Watch                                             Check Price
The Best Steve Irwin Cosplay Ideas
Throughout Steve Irwin's appearance in his various TV series and documentaries, he is seen wearing only one type of outfit. It makes it easier for people to recognize him and also makes his outfit iconic. This guide will feature that outfit that the character usually wears.
It consists of a brown short-sleeved polo with a matching brown short of giving Steve a safari-like look. The Crocodile Hunter doesn't usually tuck his polo, which provides him a messy look. The Steve Irwin cosplay set will also come with a pair of black socks and a pair of dark brown boots to complete the safari look. A short blonde wig in Steve Irwin's hairstyle is also included to allow the wearer to copy his complete look. Included in the cosplay set is a black watch that Steve always wears and an alligator toy to represent his iconic nickname, The Crocodile Hunter.
About Steve Irwin Costume
That is why people from all over the world know and recognize wildlife enthusiasts. His shows always have good ratings, and people intently wait for The Crocodile Hunter's next adventure. Steve's interest in animals and wildlife began at an early age since his parents have a wildlife park. His father is also the one who taught him how to catch and handle crocodiles. As a passionate wildlife enthusiast, Steve Irwin became famous because of his childlike enthusiasm. Combine this with his boldness in handling different animals all over the world, and you have a person that people are always interested in watching and following his adventures.
Though he started with crocodiles, he also handled different animals since his passion revolves around the wildlife. Whether its animals in the sea, jungle, air, Steve will always treat them and explain them with love and vigor. As a popular person, Steve Irwin is also a good cosplay option. If you look at the Steve Irwin cosplay photos, his overall appearance, including a crocodile prop, is instantly recognized. He is a great costume option for people going to costume parties or those who want to do a wildlife photo shoot.