Richard Morgan Fliehr, or more popularly known as Ric Flair, is a semi-retired professional wrestler and is one of the most professional wrestlers. Also known as The Nature Boy, Flair has a successful 41-year career in professional wrestling that saw him have stints with National Wrestling Alliance (NWA), World Championship Wrestling (WCW), and World Wrestling Entertainment (WWE). Though the wrestler says he is a 21-time World Heavyweight Champion, he is officially recognized as a 16-time World Heavyweight Champion, 7-time champion at NWA, 7-time champion at WCW, and 2-time champion at WWE.
Ric Flair is also one of the most popular and iconic professional wrestlers, making him a good cosplay option. This article is a Ric Flair costume guide.
The Professional Wrestling Ric Flair Cosplay Tutorial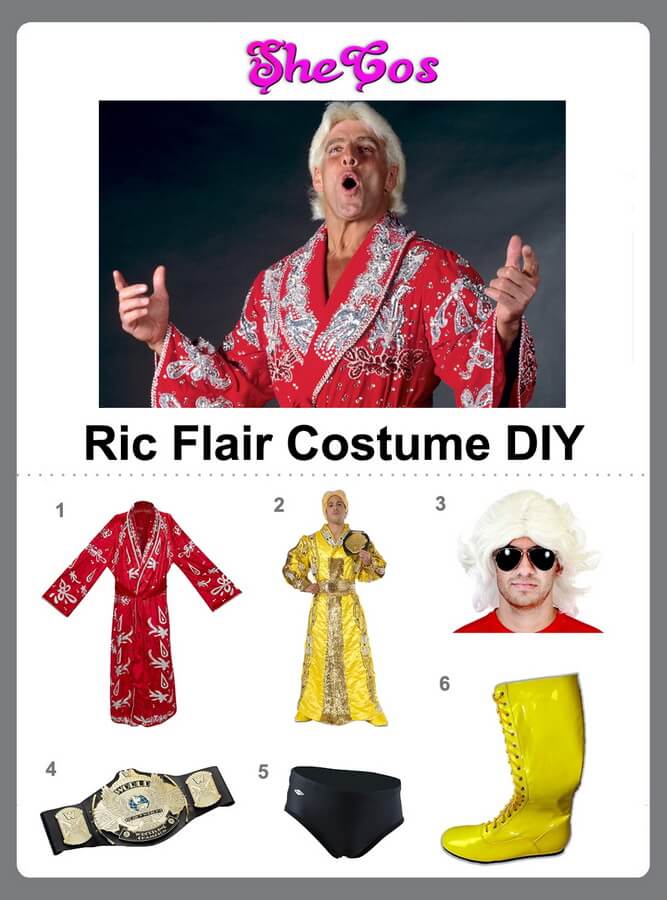 1. Ric Flair Robe Costume                          Check Price
2. Full Ric Flair Costume                            Check Price
3. White Ric Flair Wig                                 Check Price
4. World Championship Belt Replica      Check Price
5. Black Trunks                                             Check Price
6. Red Ric Flair Boots                                  Check Price
The Best Ric Flair of Professional Wrestling Cosplay Ideas
Ric Flair is one of the flashiest professional wrestlers, especially in terms of his appearance. He is known to wear glittering and glamorous robes whenever he is introduced. This guide will feature the usual outfit that Ric Flair wears when he enters the ring.
The professional wrestler's cosplay outfit consists of a red robe with silver designs all over it that is usually closed when he enters. The set will also come with a yellow gown that has gold designs as an alternative robe to wear. The cosplay set will also come with black trunks and a pair of yellow boots to complete the character's wrestling outfit whenever he is fighting. The cosplay set will also come with a short white wig that is style in Ric Flair's hairstyle. The collection also includes a replica of the World Heavyweight Championship belt that the character carries on his shoulders or wears on his waist when he was a champion.
About Ric Flair Costume
Ric Flair is one of the most popular professional wrestlers out there, as fans are fond of the wrestler, even as he was growing older. He portrays an image of a handsome and glamorous wrestler, thus also earning him the nickname the Nature Boy. His signature backslaps to the chest move and iconic "whoo" scream after each slap is a big hit to the fans. They would even mimic his scream every time he does it on the ring. But Flair is not only all about style and charisma, as he is also a skilled and cunning wrestler. It is evident from the 16 World Heavyweight Championships he won across different professional wrestling programs.
That is why he was considered one of the greatest professional wrestlers of all time and a fan-favorite, which also makes him a good cosplay option. If you look at the Ric Flair cosplay photos, you can see that the wrestler's flashy appearance will make anyone stand out in a crow, whether they're attending a costume party or comic conventions.