One of the main characters of the Witcher 3 role-playing game is Yennefer. She is a sorceress and a mother figure to Ciri and will do anything in her power to make sure she is away of any harm. She is also a close friend of Triss Merigold and the true love of Geralt of Rivia's. Despite being friends with Triss, she rejected an offer to join the Lodge of Sorceress because she didn't like how they want to use Ciri.
As a major character of the video game, Yennefer is one of the first cosplay options for people looking to dress up as Witcher 3 characters. This article is a Yennefer cosplay guide.
The Witcher 3 Yennefer Cosplay Tutoria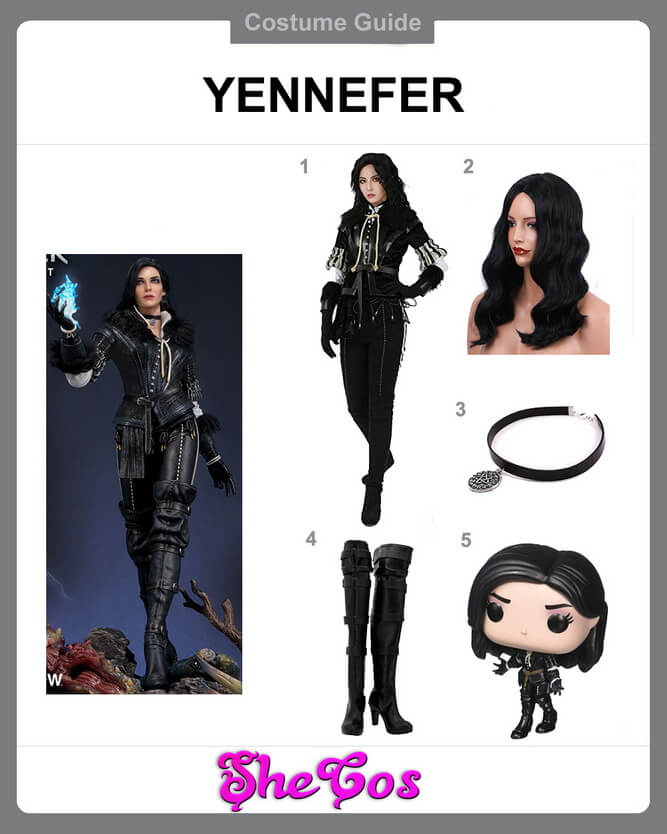 Parts you may need
1. Full Yennefer Costume                           Check Price
2. Black Yennefer Wig                                Check Price
3. Yennefer Necklace                                  Check Price
4. Black Yennefer Boots                              Check Price
5. Yennefer Pop Figure                                Check Price
The Best Yennefer of Witcher 3 Cosplay Ideas
Like a lot of the characters in Witcher 3, Yennefer is known mostly to wear one outfit throughout her appearance in the game. But her outfit doesn't look anything like a typical sorceress outfit since she doesn't wear a robe or carry a staff. It's a bit similar to a lot of the characters you see on the game. This guide will feature Yennefer's usual outfit.
It consists of a black leather top with white sleeves and a black and white stripe design on the opening of the sleeves. It also comes with matching black pants and black leather belt. The cosplay set also includes a pair of black gloves and a pair of black thigh-length boots. It is completed with a black necklace prop and a long black wig in Yennefer's hairstyle. The cosplay set will also come with a Pop figure of the character.
About Yennefer Costume
Yennefer is one of the sorceresses of the game. She had a rough childhood since her father detest her because she was born with a hunched back. When her father left, her mother started beating her up, blaming her for everything. Despite the rough childhood and how parents acted towards her Yennefer still became a good mother to Ciri. She wanted to have her daughter, but since she's a sorceress, she is sterile. That is why she gave her motherly affection to the Child of Surprise.
Yennefer grew up to be one of the most beautiful characters in the game, and this is still evident despite her age, which is already 98 years old. That is why she's one of the ideal cosplay options for ladies who are looking to cosplay Witcher 3 characters. As a character who is known more for her beauty than her powers, anyone who dresses up like her will look good. And if you look at the Yennefer cosplay photos, you can see that dressing up as the character will make any wearer stand out when they attend a costume party or comic convention.
The Witcher 3 Yennefer Cosplay Makeup Tutorial