King Triton is one of the main characters in the classic Disney animated movie The Little Mermaid.  He is the ruler of the undersea kingdom of Atlantica and the overprotective father of Princess Ariel, the protagonist of the film. His power and influence, though, seem to go beyond his kingdom, as he is also known as the king of the sea.
He is also in possession of a mighty magical trident that can shoot lightning and turn merpeople into humans. The trident likely possesses other powers, but it hasn't been shown yet. King Triton, though, is not only reliant on his trident, as he also possesses superhuman strength and superhuman speed. He can even talk to sea creatures as well as partially control the weather. This article is a King Triton costume guide.
The Little Mermaid King Triton Costume Guide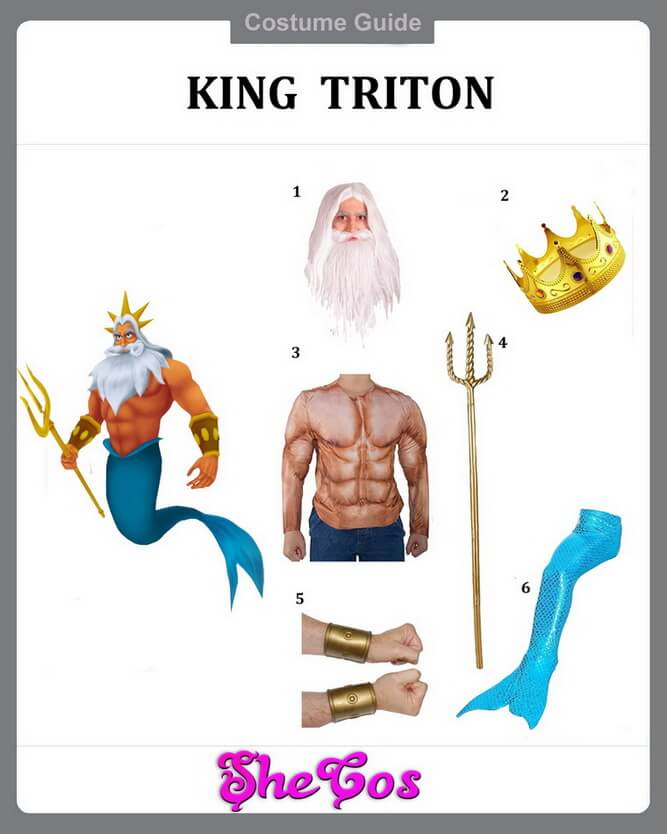 1. Long White Wig with White Beard       Check Price
2. King Triton Gold Crown                          Check Price
3. King Triton Muscle Shirt                         Check Price
4. Gold Trident                                               Check Price
5. Gold Armbands                                         Check Price
6. Light Blue Mermaid Tail                          Check Price
The Best King Triton of The Little Mermaid Cosplay Ideas
King Triton is one of the main characters of The Little Mermaid. He is also one of the popular ones, especially after people got to know him better in the TV series of the animated movie. Since he is one of the popular ones, he is also the top option for people looking to cosplay a male mermaid from the series. Now dressing up as King Triton might be simple, especially if you the matching body to go with it.
But if you're not comfortable going topless, then this guide can help you. The King Triton cosplay set will come with a muscle shirt that depicts his muscular body and a light blue mermaid tail. The collection also comes with a long white wig with a long white beard, gold armbands, and a gold crown. The cosplay set is completed with a prop of King Triton's gold trident.
About King Triton Costume
King Triton is one of the top 10 favorite characters in The Little Mermaid, in both the movies and in the TV series. his appearance correctly depicts that he is indeed the king of the sea. He is a muscular merman who has immense strength and speed, despite his already old age. He was also shown as a wise ruler but also shown to have a bias against human beings. That is likely due to the death of his wife, which is due to human pirates. He also has an aggressive temper, especially when provoked.
As the story of The Little Mermaid progresses, King Triton has grown to accept humans, even having a soft spot for his granddaughter, who grew up as a human. His explosive temper also mellowed a bit. But he has shown that he can still summon it, especially in times of crisis. His combination of personality and characteristics makes him an intriguing character to cosplay as. If you look at the King Triton cosplay photos, you can see that his appearance provides a lot of fun and playful photo opportunities and scenarios.
The Little Mermaid King Triton Cosplay Makeup