Cirilla Fiona Elen Riannon, who is commonly known as Ciri, is one of the characters of the role-playing game Witcher 3. She is the granddaughter of Queen Calanthe and the sole princess of Cintra. Ciri became an orphan before the age of 5 after her parents died at sea. She was supposed to join them on the voyage, but her mother secretly sent Ciri ashore, even against the wishes of the Queen.
It made Ciri the sole Princess of Cintra and the Queen took special care of her granddaughter. Ciri is also the Child of Surprise, which means it is her destiny to become the Witcher. This article is a Ciri cosplay guide.
The Witcher 3 Ciri Cosplay Tutorial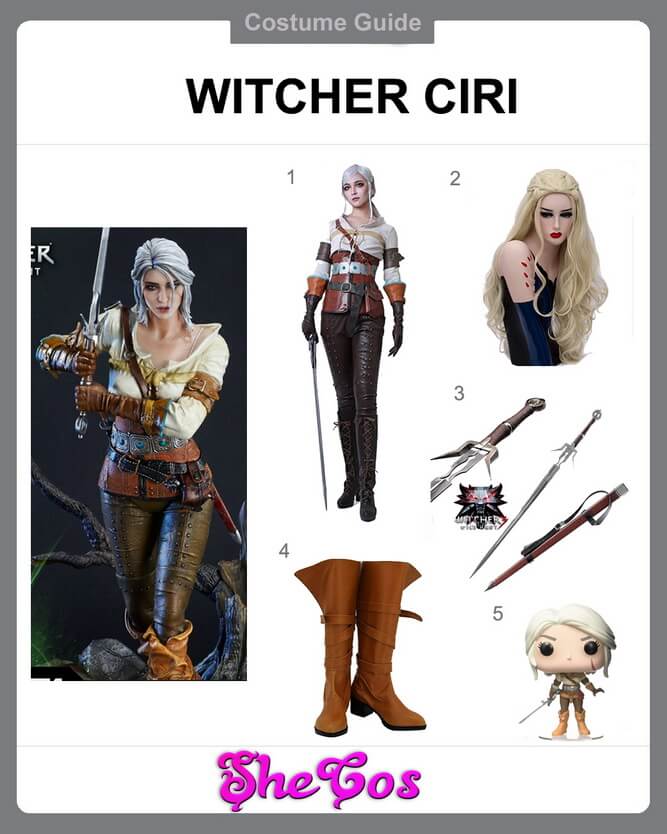 Parts you may need
1. Full Ciri Costume                                     Check Price
2. White Ciri Wig                                         Check Price
3. Ciri Sword Prop                                       Check Price
4. Brown Ciri Boots                                     Check Price
5. Ciri Pop Figure                                         Check Price
The Best Ciri of Witcher 3 Cosplay Guide
Though Ciri is a princess and heiress to several thrones, her outfit doesn't showcase that. If you look at the clothes she is wearing, and you'd think she's just another typical adventurer. But her looks are a different story since her white hair and beautiful appearance makes her unique. This guide will feature Ciri's usually outfit.
It consists of a white long-sleeved shirt with black leather pants and a brown corset-like armor wrapped on her midriff. A silver belt is also wrapped on her midriff and black leather belt on her waist. It also comes with a pair of brown gloves and a pair of brown bands wrapped on her biceps. The cosplay set will also include a pair of brown boots and a long white wig for the character's hairstyle. The prop of Ciri's sword and a Ciri Pop figure will also come with the cosplay set.
About Ciri Costume
As the sole princess of Cintra, Queen Calanthe tried to protect Ciri from the influence of the outside world. She also wanted to prevent her from learning that she is the Child of Surprise. But she was destined to become the Witcher, which is why the princess life of staying confined in the castle is not for her. She is also the last bearer of the Elder Blood, making her one of the powerful characters of the game. She only needs to learn how to use her power to unlock her full potential.
Ciri is also a beautiful character, despite the common clothes and outfit that she wears. It makes her a good cosplay option for ladies looking to cosplay characters from the video game Witcher. If you take a look at the cosplay photos, you can see that dressing up as Ciri makes the wearer stand out. She's a great cosplay option if you plan to attend costume parties or comic conventions. You can also cosplay as Ciri if you plan to do photoshoots representing video games since she is one of the prettiest video game characters.
The Witcher 3 Ciri Cosplay Makeup Tutorial