Black Canary is one of the superheroines in the DC Comics Franchise. Two ladies have taken the title of Black Canary and the original was Dinah Drake-Lance. Her daughter, Dinah Laurel Lance, soon took over the Black Canary title and continued her mother's work of fighting crime, working mostly with Green Arrow.
She was a hero who uses her martial arts skills to fight against crime. But in later versions, it was shown that he has superpowers, the canary cry. It's sonic scream that allows her to shatter objects or damage and even kill powerful enemies. This powers, along with her martial arts skills, allows Black Canary to defeat a lot of strong enemies. This article is a Black Canary cosplay guide.
The DC Franchise Black Canary of Cosplay Tutorial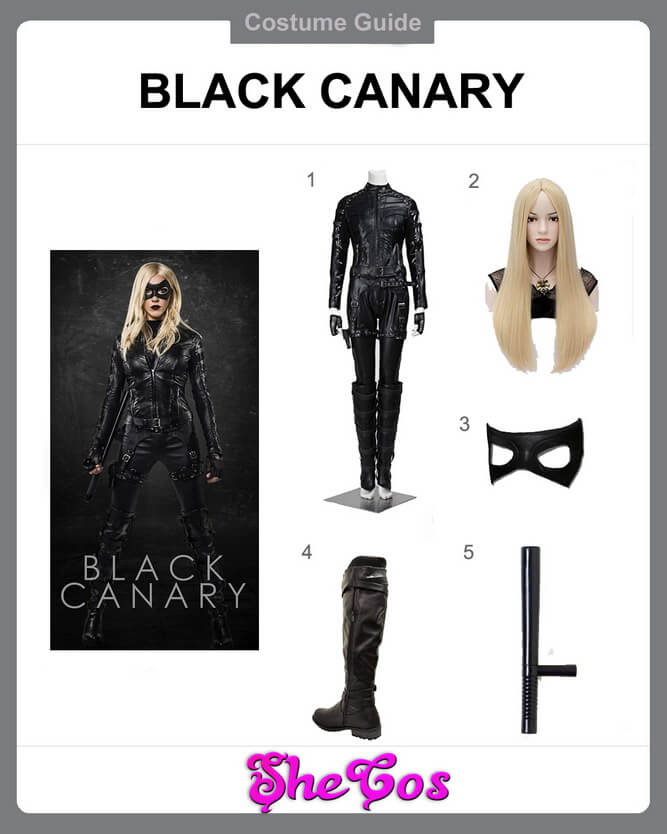 Parts you may need
1. Full Black Canary Costume                   Check Price
2. Black Canary Wig                                    Check Price
3. Black Canary Mask                                  Check Price
4. Black Canary Boots                                 Check Price
5. Black Police Baton                                   Check Price
The Best Black Canary of DC Cosplay Ideas
Black Canary a great cosplay option for ladies. Not only is it because she's a badass heroine, but also because she is one of the prettiest female comic book characters. She's also a sexy lady and it is evident in the different outfits that the character is wearing. This guide will feature one of the outfits that Black Canary was seen wearing.
It consists of a black long-sleeves leather jacket with a black shirt underneath and a matching black leather pants. The cosplay set will also come with a black belt that has leg holsters for both legs attached to it and a pair of black gloves. Included in with the costume is a pair of black boots that is close to knee-length in height, a black mask, and a long white wig for the character's hairstyle. The cosplay set is completed with a black police baton for Black Canary's weapon.
About Black Canary Costume
Black Canary is not one of the most popular characters in the DC franchise, but she does have her fan base. A lot of people like how badass the character is, especially with her martial arts moves and how she's able to incorporate her canary cry in the way she fights properly. She is one of the better martial artists in the DC Universe due to the training she underwent from a lot of different martial arts master. There are even times that she bested Batman in hand-to-hand combat.
But Black Canary is not a female character that is only all brawning. She's also intelligent and one of the prettiest females in DC. It makes her a great choice for ladies who are looking to dress up as a female superhero. If you look at the Black Canary cosplay photos, you can see that She is a great cosplay option if you're attending a comic convention or doing cosplay photoshoots. You can see that the character's overall appearance will make you stand out.
The Black Canary Cosplay Makeup Tutorial