League of Legends is an online multiplayer video game that lets you play the role of summoner and control champions to fight other players or computer-controlled champions. The game has close to 150 heroes to choose from, and one of them is Nidalee the Bestial Huntress, who is a master tracker.
Nidalee grew up in the deepest parts of the jungle, and she uses this to her advantage when battling enemies as she can place traps to damage them. She is also adept at throwing her spear, making her a ranged champion.
Nidalee is not part of the original characters during the game's launch, but she is one of the firsts to be released during its early update, coming out in December 2009. It means that there are already some available skins or costume for the champion. This article will be a Nidalee cosplay guide.
League of Legends Nidalee Cosplay Tutorial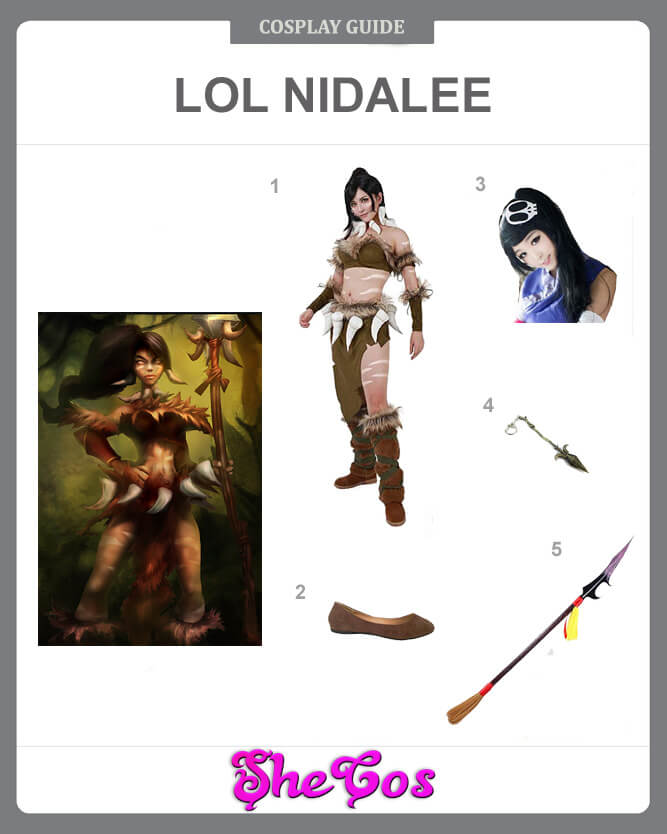 1. Full Original Nidalee Costume              Check Price
2. Brown Shoes                                              Check Price
3. Nidalee Wig                                                Check Price
4. Spear Keychain                                          Check Price
5. Nidalee's Spear Prop                                Check Price
The Best Nidalee of League of Legends Cosplay Ideas
Nidalee is somewhat in the same boat as the original champions, as she was released less than two months after the launch of League of Legends. Since she was one of the early characters, there are now a lot of skins or costumes for this champion.
But when it comes to Nidalee cosplay, nothing beats the original outfit, which is included in this cosplay set. The original costume consists of a brown bikini top with light brown fur at the outline. It comes with a brown bikini bottom with a ragged brown sash covering the middle. It also comes with a fur belt that has saber fangs dangling around it, a saber fangs necklace, and green armbands. The Nidalee costume consists of a long black wig for the champion's hairstyle and brown boots. The Nidalee guide also comes with brown shoes, a keychain of Nidalee's spear, and the actual spear for props.
About Nidalee Costume
As a baby, Nidalee was left alone in the deepest parts of the jungle. How she got there is a mystery. She was found by a cougar who adopted and raised her, which explains why she is a ferocious fighter, especially in the jungle. It also tells why some of her abilities are like that of a cougar. Living in the wilderness, together with beasts, has molded her to be a great huntress.
Though Nidalee already has a lot of skins or costumes available, her original outfit is still the preferred option by a lot of people, especially when it comes to cosplaying Nidalee. If you take a look at the Nidalee cosplay photos, you can see why many women prefer this outfit. Nidalee's original look reflects her roots greatly as someone who grew in the jungle raised by cougars. The costume also showcases the combination of sexiness and ferociousness.
Cosplayer: IssabelCosplay, Touko Cosplay, Knami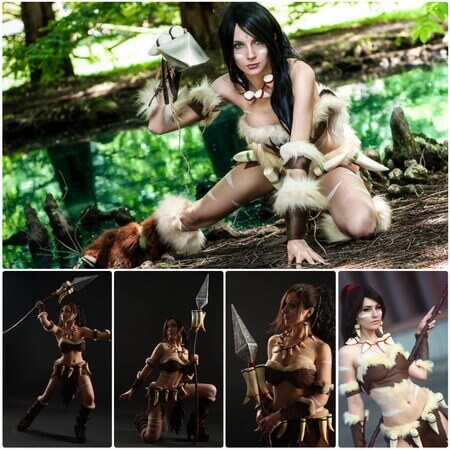 League of Legends Nidalee Cosplay Makeup Guide