League of Legends is an online multiplayer game where players control champions to battle other heroes and destroy the opposing team's Nexus structure. One of the heroes that you can play in the game is Soraka the Starchild. Soraka is a ranged champion as a support character in the game because of her combination of skills and abilities.
Soraka has a strong healing ability, which will significantly help her allies to continue marching forward, even after a battle. But she's not just a healer, as she also possesses an ability to inflict massive damage to enemies, while simultaneously healing herself.
Soraka is also one of the first champions that came with League of Legends when the game was released.  Soraka already has several skins or costume available that gamers can use. It also means people will have several outfits to choose from when it comes to cosplaying Soraka. The article will be a Soraka cosplay guide.
League of Legends Soraka Cosplay Guide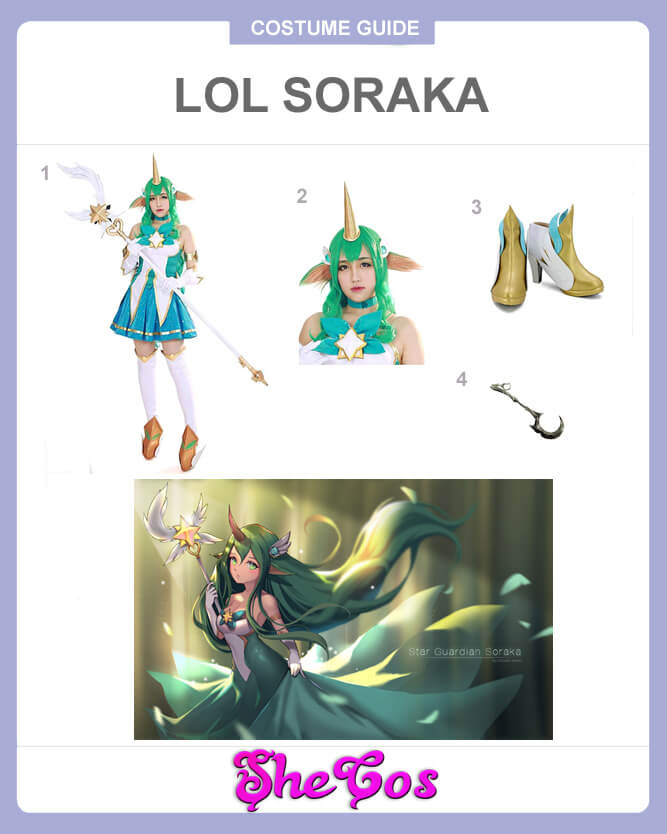 Parts you may need
1. Full Star Guardian Soraka Costume     Check Price
2. Green Soraka Wig                                    Check Price
3. Star Guardian Shoes                                Check Price
4. Soraka Weapon Keychain                       Check Price
The Best Soraka of League of Legends Cosplay Guide
Soraka the Starchild is one of the best support heroes in League of Legends because of her ability to heal her allies. She is a divine being, who gave up her immortality to protect the mortals. She wants to defend them against their violent instincts. When it comes to dressing up as Soraka, people will have several choices for her outfit.
This LoL Soraka cosplay set will feature her Star Guardian outfit. The costume consists of a blue-green halter dress with white designs at the front. It also has a blue-green star-like bow with a gold star at the middle. It also comes with elbow-length white gloves and white loose knee-length leg sleeves and white shoes with a gold design in the center. The set also comes with a long green wig for the champion's hairstyle, a gold horn on the head, and long ears. The cosplay set is completed with Soraka's Star Guardian weapon and the champion's weapon keychain.
About LoL Soraka Costume
Soraka is an inhabitant of the celestial realm who watches over the different races living in Runeterra. But they grew concerned about how the mortals are living until Soraka couldn't take it anymore. She let go of her immortality and descended into the mortal realm to try and save the races from their violent tendencies.
Soraka is primarily a divine being who decided to become mortal and form a new body for herself to help heal Runeterra. That is why Soraka's skills and abilities are designed mostly to help support her allies, making her one of the favorites to play in the game. It also makes Soraka a choice for ladies looking to cosplay League of Legends champions. Her favorite costume is the Star Guardian outfit, and you can see why if you look at the Soraka cosplay photos. This outfit brings out the goddess blood that is running through her veins.
Cosplayer: Missyeru, Smirka Cosplay, Shappi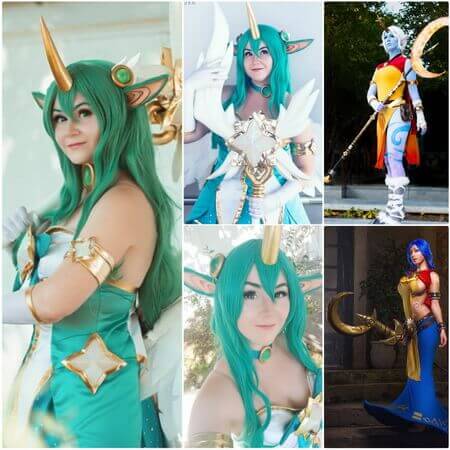 LoL Star Guardian Soraka Cosplay Makeup Tutorial