Peter Jason Quill, who is also known as Star-Lord, is one of the characters of the Marvel Cinematic Universe. He is a Celestial-human hybrid and the leader of the Guardians of the Galaxy. He was initially living on Earth, but Yondu abducted him in 1988 and was supposed to deliver him to his father Ego. But Peter ended up living and growing up with the Ravagers, where he started to build a reputation as an intergalactic outlaw known as Star-Lord.
When Peter decided to leave the Ravagers and go out on his own, he eventually met Gamora, Drax, Rocket Raccoon, and Groot. He soon allied with them and created the Guardians of the Galaxy. This article is a Star-Lord cosplay guide.
Marvel Cinematic Universe | Star-Lord Costume Tutorial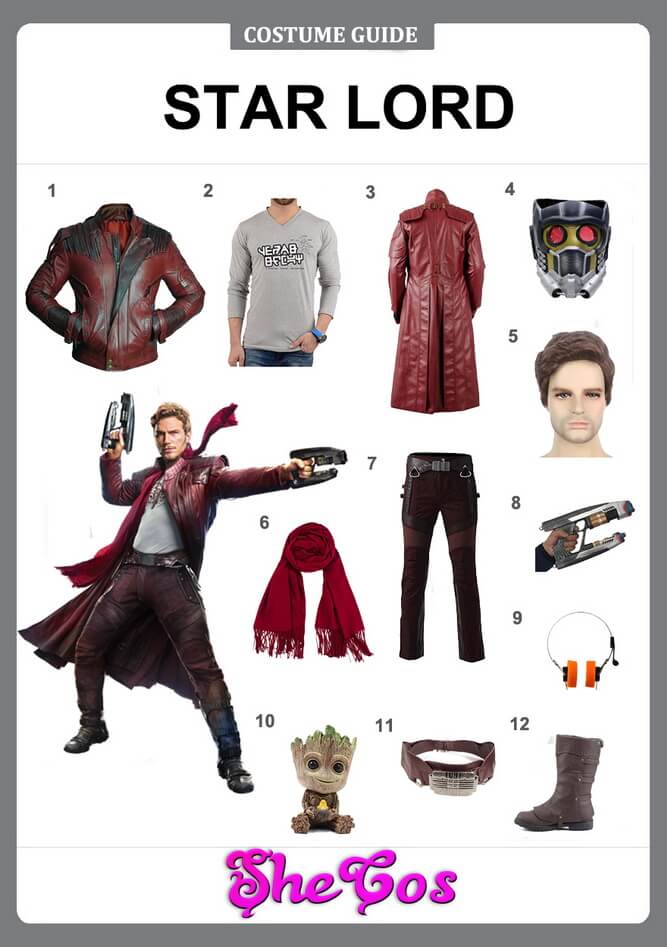 1. Red Star Lord Jacket                              Check Price
2. Gray Star Lord Shirt                              Check Price
3. Star Lord Trench Coat                           Check Price
4. Star Lord Mask                                       Check Price
5. Short Brown Wig                                    Check Price
6. Red Scarf                                                  Check Price
7. Dark Maroon Pants                                Check Price
8. Star Lord Blaster Prop                          Check Price
9. Headphones                                            Check Price
10. Groot Action Figure                             Check Price
11. Brown Belt                                             Check Price
12. Dark Brown Leather Boots                 Check Price
The Best Star-Lord from the Marvel Cinematic Universe Cosplay Ideas
This guide will feature the two jackets that Star-Lord mostly wears in the films. The Star-Lord cosplay set will come with a gray long-sleeves shirt that has a design in the center. He wore the shirt in Guardians of the Galaxy Vol. 2. The set will also come with dark maroon pants, a brown belt, and a pair of dark brown leather boots. The outfit will also include a red trench coat that the character wore in the second movie and a matching red scarf. His other gear involves wearing a red leather jacket that has a black design. The cosplay set is completed with a Star-Lord blaster prop, Star-Lord's mask, a short brown wig, headphones, and a Baby Groot action figure.
About Star-Lord Costume
Star-Lord has worn different throughout his appearances in the Guardians of the Galaxy movies and other tie-in movies from the Marvel Cinematic Universe that he made an appearance at. But what stands out the most about the character is the jacket that he usually wears in the movies.
Star-Lord didn't start as a hero outright since what he was only after was to steal valuable things and then sell it to the highest bidder. This attitude is likely due to the Ravagers raising Peter Quill. But he eventually started to change his ways and began to think more of the common good instead of just himself.
But what people liked about this character is his love for classic hit music. Star-Lord's human mother passed on to him her passion for music, which is why the character likes music as well and plays good music on their ship and in his Walkman. Star-Lord's personality, love for music, and fresh appearance make him a good cosplay option. If you look at the Star-Lord cosplay photos, you can see that his appearance is great for costume parties and comic conventions.