Slade Wilson, or more commonly knowns as Deathstroke, is one of the villains of the DC Universe. He is one of the deadliest and most expensive assassins in the DC Universe. Slade wasn't always an assassin as he started as a soldier. His skills and abilities in combat allowed him to rise in rankings quickly. But things began falling apart when he participated in an experiment that was supposed to stimulate his adrenal gland to resist truth serum.
The experiment transformed Slade, giving him superhuman strength, durability, and agility. He is also able to use 90% of his brain. Unable to enlist back in the military, Slade became a deadly assassin, using the codename Deathstroke the Terminator. This article is a Deathstroke costume guide.
The DC Universe Deathstroke Costume Tutorial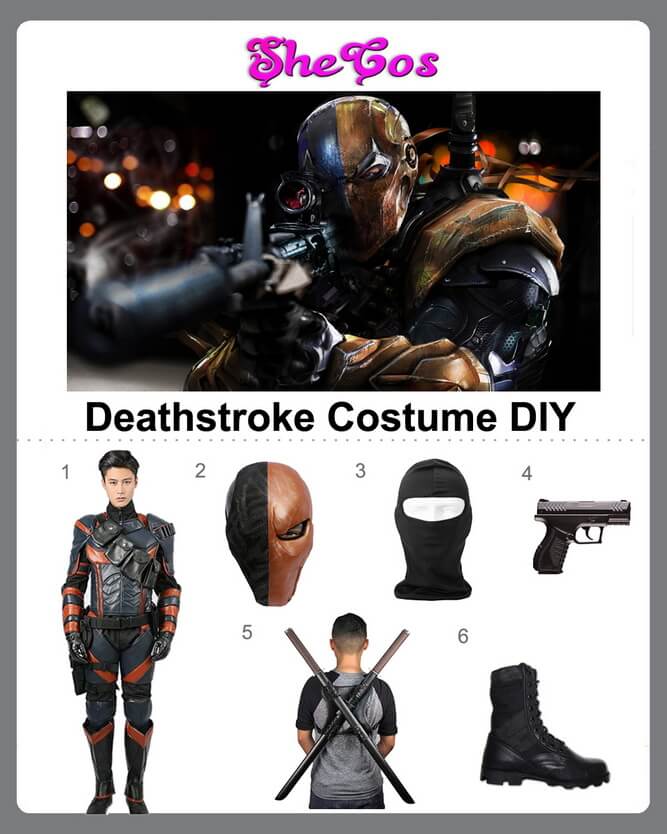 1. Full Deathstroke Costume                     Check Price
2. Orange Deathstroke Mask                     Check Price
3. Black Face Mask                                       Check Price
4. Handgun Prop                                          Check Price
5. Two Swords with Carrying Scabbard   Check Price
6. Black Boots                                                Check Price
The Best Deathstroke from DC Universe Cosplay Ideas
There are lots of different variations for Deathstroke's armor and appearance. But there are distinguishing things about the character, like his orange mask with the right side covered in black to symbolize he doesn't have an eye there and his signature weapon, a gun and two swords. This guide will feature one of the variations of Deathstroke's costume.
It consists of a dark gray bodysuit armor with orange designs on the chest area, shoulder area, and forearm. There's also orange design in the thigh area of the bodysuit armor. The costume will also come with a dark gray body belt with pockets and pouches and a black belt that contains a gun holster. The Deathstroke cosplay set will also come with a pair of dark gray gloves, a pair of black boots, and an orange mask with the right side covered in black for Deathstroke's mask. The collection is completed with a handgun prop, a pair of black boots, a black face mask, and two swords with a carrying holder attached on the back of the costume.
About Deathstroke Costume
Deathstroke is not your typical villain since he is not after world domination or world destruction. He's a mercenary for hire, and he will do what his employer wants as long as they can pay his enormous fee. That is why, in some stories, he comes to the aid of other heroes, most notable the Teen Titans. He regularly clashes with them since his assignments coincide with the Titan's missions.
But he also helps them regularly, especially when they're in a tough spot. Deathstroke also underwent another experiment to gain regenerative powers as long as his mind is still intact. It made him almost immortal. The unique story and role of Deathstroke in the DC Universe have earned him some fans, making him a good cosplay option. If you look at the cosplay photos, you can see that cosplaying as Deathstroke is a great idea for going to comic conventions or doing photoshoots.
The Khal Drogo Cosplay Makeup