Johnny Bravo is the main protagonist of the animated series with the same name. Though he is the protagonist of the series, Johnny Bravo possesses bad traits that get him in a lot of trouble. Various groups and individuals, especially ladies, always beat him up because of his bad traits. Despite Johnny Bravo's lousy behavior and personality, there are still people who love and care about him, particularly his mother, Pops, Little Suzy, and Carl (from time to time).
Johnny Bravo is also narcissistic, believing that he is more handsome and physically better than everybody else. This article is a Johnny Bravo costume guide.
Johnny Bravo Costume Tutorial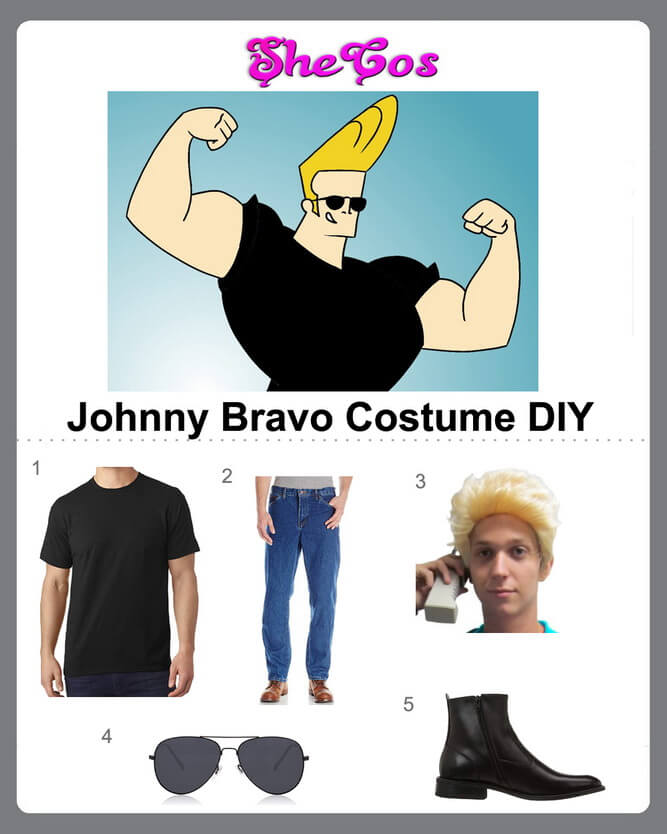 Parts you may need
1. Johnny Bravo T-Shirt                              Check Price
2. Blue Jeans                                                 Check Price
3. Short Johnny Bravo Wig                        Check Price
4. Johnny Bravo Sunglasses                       Check Price
5. Black Shoes                                               Check Price
The Best Johnny Bravo Cosplay Ideas
Johnny Bravo is a character that is very proud of his appearance and body. He has a big muscular body but small legs, making him a meme for gym-goers who don't work out their legs. Though he is proud of how he looks, Johnny Bravo is not a fashion icon since he usually wears only one outfit. He occasionally changes to other costumes like his karate outfit and beach outfit, but more often than not he only wears his casual clothes, which he thinks looks cool. This guide will feature the usual clothes that Johnny Bravo wears.
It consists of a black fitted t-shirt to showcase the big muscles in his body and jeans for his pants. The Johnny Bravo cosplay set will also come with a pair of black shoes and a short blonde wig in Johnny Bravo's hair, which is a brush-up style. The cosplay set is completed with black sunglasses that are very iconic for the character. Johnny Bravo never takes his sunglasses off, even when he is sleeping.
About Johnny Bravo Costume
Despite being the protagonist, Johnny Bravo possesses lousy behavior that makes him more of a punching bag than as the lead character. He is boorish, shallow, and uncouth, which is why various groups and individuals always beat him up. He is also portrayed as fresh and full of himself, flexing his muscles in front of women and looking at the mirror. Johnny Bravo is also shown as a bad communicator since all he wants is to talk about himself and how good he looks.
Couple his bad attitude and personality to his dim-witted brain, and it results in Johnny Bravo always putting himself in sticky situations that end badly for him. It is the running gag in the series and is probably one of the reasons he is a popular character. People find him funny and admire he don't-care attitude that allows him to move on from a bad situation quickly. That is also why Johnny Bravo is a good cosplay option. If you look at the Johnny Bravo cosplay photos, you can see that dressing up as the character is an excellent idea if you plan to attend costume parties or go to comic conventions.
The Johnny Bravo Cosplay Makeup