Elphaba Thropp, who is also known as the Wicked Witch of the West, is the protagonist of the hit Broadway musical Wicked. It tells the story of the Wicked Witch of the West, who is also the antagonist in the best-selling novel and movie The Wizard of Oz. The story is shown from the viewpoint of Elphaba before Dorothy Gale arrived in Oz and after she left.
The musical gave people a deeper understanding of the Elphaba, allowing them to view her as more than just a wicked witch. It makes some people appreciate the character more. This article is an Elphaba Thropp cosplay guide.
The Wicked Elphaba Cosplay Tutorial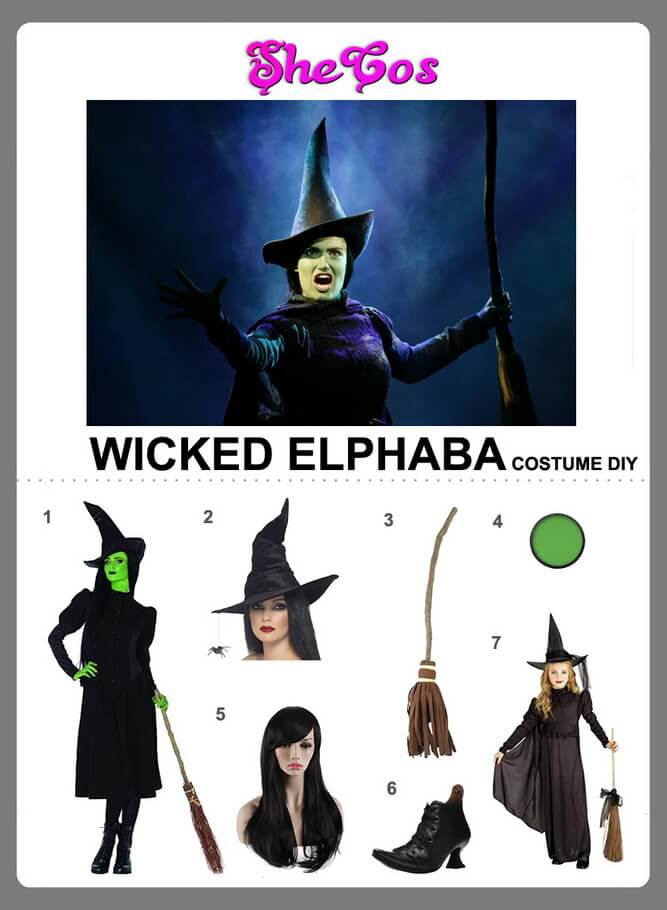 1. Full Elphaba Costume                             Check Price
2. Black Elphaba Hat                                   Check Price
3. Crooked Broom Prop                               Check Price
4. Green Face Paint                                      Check Price
5. Black Elphaba Wig                                   Check Price
6. Black Elphaba Shoes                                Check Price
7. Elphaba Witch Costume for Kids           Check Price
The Best Elphaba from Wicked Cosplay Ideas
Though Elphaba wore only one outfit throughout her appearance in the Broadway Musical, it's a remarkable outfit. The Wicked Witch of the West's black costume, combined with a green screen, had become an iconic look for witches. Most evil witches in other movies, novels, or plays, will usually sport a variation of the black outfit and unusual skin. This guide will feature the iconic witch outfit that Elphaba wears.
It consists of a black long-sleeved knee-length dress with puffed sleeves and a matching black cape. The costume will also come with a pair of black stockings and a black iconic witch hat that Elphaba always wears. The Elphaba cosplay set will also come with green face paint to represent the character's unique skin color. Completing the outfit is a long black wig in the character's hairstyle and a pair of black witch shoes. Included in the set are a crooked broom prop and an Elphaba Witch costume for kids.
About Elphaba Costume
Elphaba was an evil and wicked witch in the Wizard of Oz story. But in reality, she was only trying to fight against the Wizard of Oz for taking away the animals' speech ability. She also discovered that the Wizard was not all-powerful, and he was, in fact, a fraud. To keep the secret from coming out, the Wizard's press secretary spread reports that Elphaba was wicked. Her opposition to the Wizard was the reason she earned the title the Wicked Witch of the West.
The new understanding and meaning brought to the character have given people a deeper appreciation of Elphaba. Though her appearance is still mostly associated with evil and wicked witches, people are now beginning to see her in a different light. If you look at the Elphaba cosplay photos, you can see that she is not only a costume for Halloween, she's a great costume option if you plan to go to a comic or movie convention or attend costumed parties.
The Elphaba Cosplay Makeup