Anakin Skywalker, who is known more like Darth Vader, is one of the main antagonists of the first Star Wars Trilogy. He is the third apprentice of Lord Sidious after Darth Maul and Darth Tyranus. Anakin Skywalker was a powerful Force user, and Jedi Master Qui-Gon Jinn believed that he was the chosen one that is said to bring balance to the Force.
But despite undergoing the Jedi training, Anakin was lured into the dark side of the Force as he sought more power to prevent the vision of his wife dying. He became Darth Vader, a powerful Sith Lord and one of the most badass and terrorizing villains. This article is a Darth Vader cosplay guide.
The Star Wars Darth Vader Costume Tutorial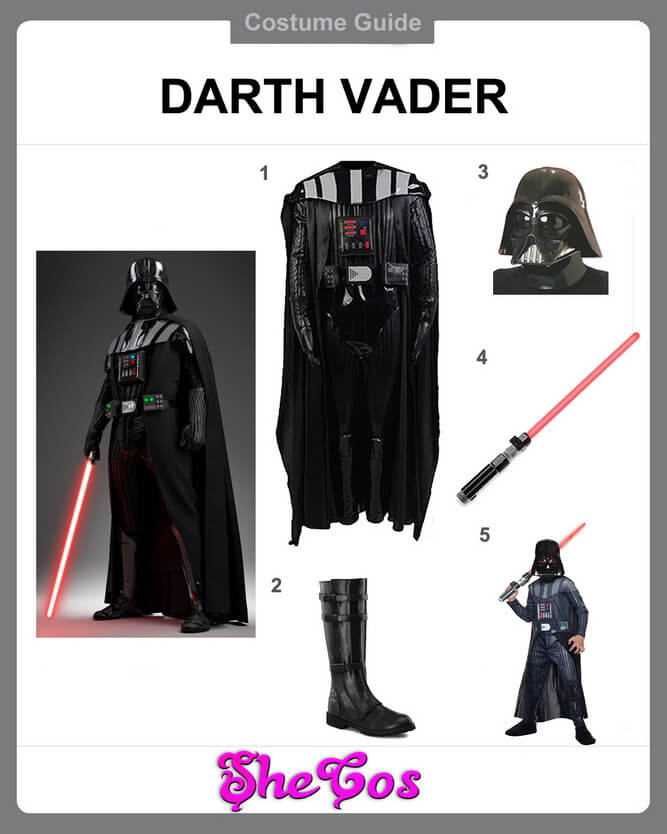 Parts you may need
1. Full Darth Vader Costume                     Check Price
2. Black Boots                                               Check Price
3. Darth Vader Mask                                   Check Price
4. Red Lightsaber Lightsaber Prop           Check Price
5. Darth Vader Costume Kids                    Check Price
The Best Darth Vader from the Star Wars Cosplay Ideas
Anakin Skywalker has worn various outfits throughout his appearance in the movie franchise. He does have a penchant for wearing black, which makes him unique among the Jedi. But as Darth Vader, he is known only to have one appearance. This guide will feature the well-known presence of Darth Vader wears.
Darth Vader has a full-body black suit with a black belt that has gadgets attached on each side of the buckle. The chest area also has a computer box attached to it to represent the apparatus that controls the character's breathing. He became a part machine to save his life from the severe burns he sustained after losing in a fight with Obi-Wan Kenobi. Included in the set are a pair of black gloves and a pair of boots that have a length just below the knees. Completing Darth Vader's look is his iconic helmet, the set will also have a Darth Vader costume for kids.
About Darth Vader Costume
Darth Vader is one of the most badass villains out there due to his combination of power, cool-appearance, personality, and ruthlessness. Fans of Star Wars were drawn to the way Vader is always calm and cool even if things don't always go his way. It's also great that Darth Vader is powerful, allowing him to use the power of the Force to make people bend to his will.
Combine all that with a cool-looking all-black outfit, and you have a villain that people will always remember. That is why despite Darth Vader being a villain, he is one of the favorite characters in the Star Wars franchise. If you look at the Darth Vader cosplay photos, you can see that he is a character that will always stand out in a crowd since almost everyone knows him. It also makes Darth Vader a popular cosplay option for people. He is a great costume for attending costumed parties or comic and movie conventions. He is also a great costume for doing photoshoots or other costume-themed events.
The Darth Vader Cosplay Makeup