Chi-Chi is one of the recurring characters of Dragon Ball. She is the current wife of Son Goku and the mother of Gohan and Goten. She is also the daughter of the Ox-King and the Princess of the Fire Mountain. Like Bulma, Chi-Chi is not of the fighters in the series, though she is a capable combatant. Her role is focused more on being a wife to Goku and a mother to Gohan and Goten.
She was a beautiful and shy character, but as the series progressed, she became tomboyish and fierce. She is also shown to have a lot of anger outbursts, with Goku usually experiencing the brunt of it. This article is a Chi-Chi cosplay Guide.
The Dragon Ball Chi-Chi Cosplay Tutorial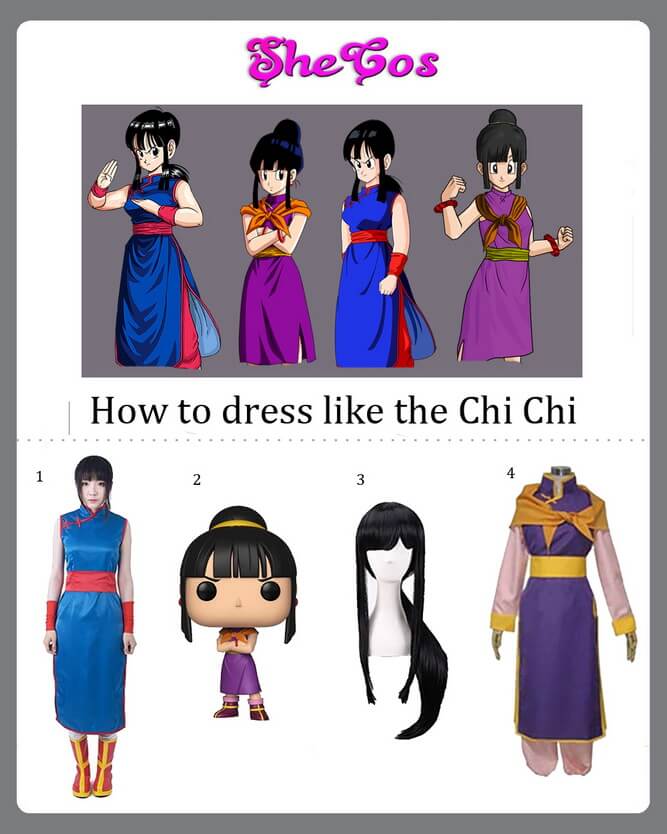 1. Adult Chi-Chi Dragon Ball Costume     Check Price
2. Chi-Chi Pop Figure                                   Check Price
3. Black Chi-Chi Wig                                    Check Price
4. Full Chi-Chi Dragon Ball Z Costume    Check Price
The Best of Chi-Chi from Dragon Ball Cosplay Ideas
Like a lot of the Dragon Ball characters, Chi-Chi doesn't have a lot of outfit or appearance change throughout the series. The character only wore three different outfits, one was when she was a child, the other is before marrying Goku, and the third one is when she is already living as a wife and mother. This guide will feature two of Chi-Chi's outfits.
The first outfit is the one she wore during the tournament and before marrying Goku. It consists of a blue Chinese dress with red outlines, red pants, and red sash. The cosplay set will also come with a pair of red armbands and a pair of red shoes. It also comes with a long black wig in a ponytail for the character's hairstyle. The second cosplay set is the outfit she wore when she is already a full-time wife and mother. It consists of a purple dress with a yellow sash tied around the waist. The set also comes with an orange clothe tied around Chi-Chi's shoulders and a pink long-sleeved top and pants underneath the purple dress.
About Chi-Chi Costume
Chi-Chi is not one of the famous characters in Dragon Ball since she doesn't play a significant role in the series. She is just the wife of Goku and the mother of Goten and Gohan. But there are still a lot of people who adore her because she is mostly left alone to care for their kids. Either Goku is too busy on training and fighting, or he is dead, leaving Chi-Chi alone most of the time.
Chi-Chi performed her duties well, especially with Goten since she didn't just push him to study, but also trained him a bit to fight. Plus, she is one of the beautiful women in the series, so she is also a good cosplay option. If you look at the Chi-Chi cosplay photos, you can see that she is an excellent character to dress up as if you're attending costume parties or comic conventions. It's also a great idea to cosplay with Goku as a couple for Halloween.
Dragon Ball Chi-Chi Cosplay Makeup Tutorial