Android 21 is one of the characters of the video game Dragon Ball FighterZ. She is the main antagonist of the game, especially when she is in her evil persona. Android 21's real creator is unknown since there are two versions of it. The first version says that she was the wife of Dr. Gero, and he turned her into an android after the death of their son. The other release states that she is the latest version of the Bio-Android and that her appearance comes from a female adult with high IQ.
Regardless of origins, she's a good cosplay option, not only because of her power but also because of her beautiful appearance. This article is an Android 21 cosplay guide.
Dragon Ball FighterZ | Android 21 Cosplay Tutorial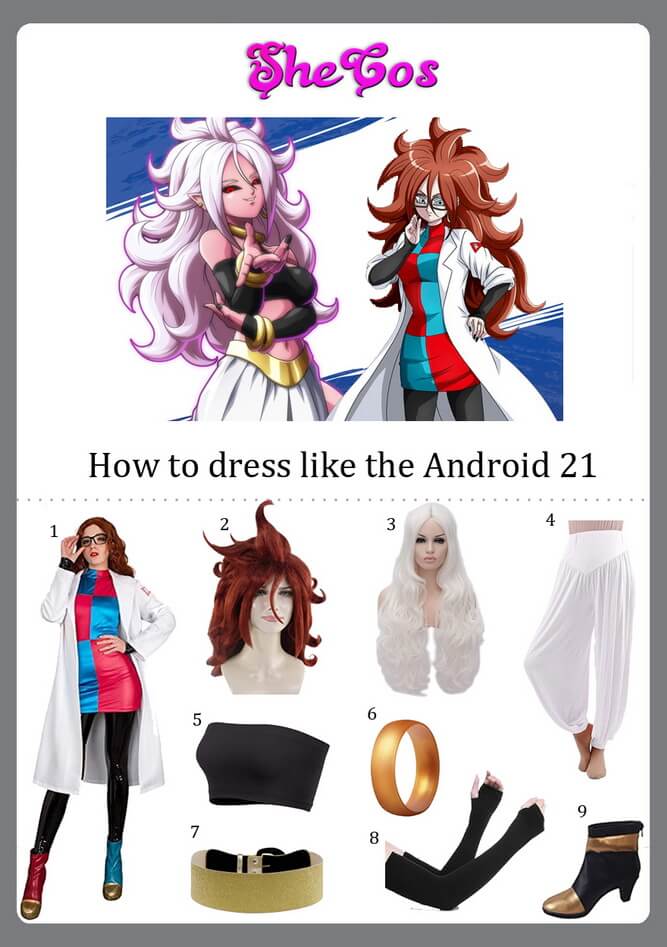 1. Full Android 21 Costume                        Check Price
2. Long Auburn-colored Wig                      Check Price
3. Long White Wig                                        Check Price
4. White Baggy Pants                                   Check Price
5. Black Tube Top                                          Check Price
6. Gold Ring                                                    Check Price
7. Brown Belt                                                  Check Price
8. Black Fingerless Gloves                           Check Price
9. Android 21 Shoes                                      Check Price
The Best Android 21 of Dragon Ball FighterZ Cosplay Ideas
Android 21 offers cosplayers two options when it comes to dressing up like her. One is her good and normal appearance, and the other is her evil and more vicious looking appearance. This cosplay guide will feature both of Android 21's appearance.
The good and normal appearance consists of a sleeveless blue and red short dress, black tight-fit pants, and a white lab gown. It also comes with a long auburn-colored wig, glasses, a gold ring, and a pair of boots. The right side of the boot is color red and the left side color blue. The costume is completed with a pair of black sleeves for the arms. The evil appearance of Android 21 consists of a black tube top and white baggy pants. It also comes with a long white wig, a belt, and a pair of black and gold shoes. She also wears a pair of black sleeves in her arms and a gold ring necklace.
About Android 21 Costume
Android 21 is a powerful villain. She possesses all the traits of the Z fighters, Frieza, Majin Buu, and even Cell.  It makes her one of the strongest villains that Dragon Ball characters have to face. But unlike most of the villains, Android 21 has a dual personality. One side is good, and the other side is bad, which makes her an exciting opponent in Dragon Ball FighterZ. But her power and unusual nature are not the only reason people are fond of her.
Android 21 is also one of the prettiest and attractive Dragon Ball characters in the franchise. Her curvaceous appearance and beautiful face are nice to look at, especially for fans of the said video game. That is also why the character is a good cosplay option. If you take a look at the Android 21 cosplay photos, you can see that she is a right cosplay choice if you're going to a costume party or comic convention.
DBZ Android 21 Cosplay Makeup Tutorial