Mavis Dracula is one of the main characters of the Hotel Transylvania animated movie series. She is the deuteragonist of the story and the daughter of the protagonist, Count Dracula. She is also the mother of Dennis and the wife of Jonathan Loughran. Mavis is already 126 years old in the third movie and works full-time at their hotel.
Though she already has her own family, she and her family still live in the hotel with everyone. Mavis is an intelligent, headstrong, and curious vampire, which was depicted in the first movie when she desired to leave the hotel to explore the world. This article is a Mavis Dracula costume guide.
The Hotel Transylvania Mavis Cosplay Tutorial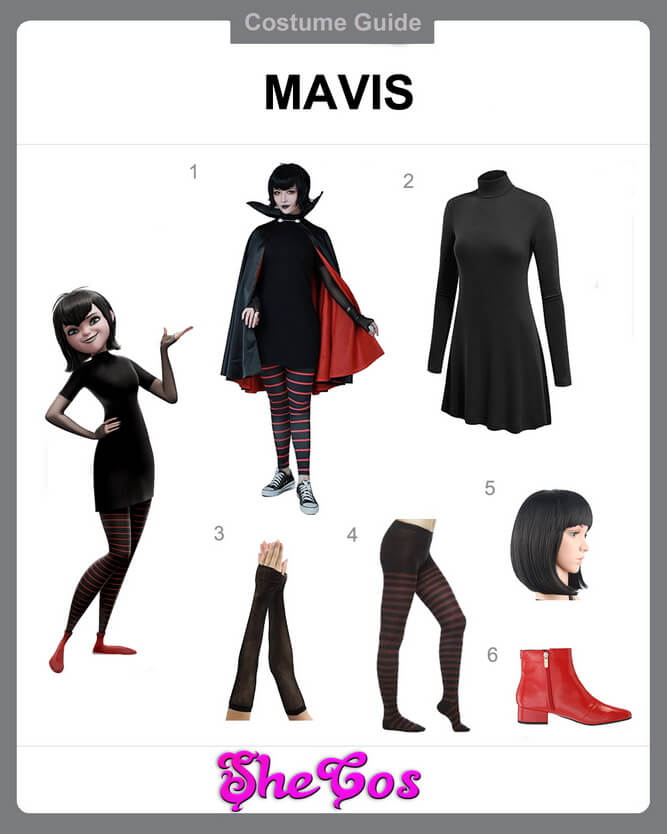 1. Full Mavis Costume                                  Check Price
2. Black Handkerchief Hem Tunic             Check Price
3. Mavis Gloves                                              Check Price
4. Black Tights with Red Stripes                Check Price
5. Black Mavis Wig                                        Check Price
6. Red Mavis Shoes                                       Check Price
The Best Mavis Dracula of Hotel Transylvania Cosplay Ideas
Mavis Dracula is described as a beautiful and slender vampire, even if she has pale skin. Though the character has worn various outfits throughout her appearance in the movie, she does have a usual outfit she wears regularly. This guide will feature Mavis Dracula's typical outfit.
It consists of a black turtleneck dress with black tights that has red stripes. The cosplay set will also come with a pair of arm-length black fingerless gloves and a pair of red shoes. The set is completed with a short black wig in Mavis Dracula's hairstyle. Included in the cosplay set is a black handkerchief hem tunic, which you cosplayers can use as an alternate outfit for the character. The collection will also come with a black vampire cape, for people who want the complete vampire appearance.
About Mavis Dracula Costume
As a vampire, Mavis Dracula ages slowly. That's why in the first Hotel Transylvania movie, she was still a teenager, even though her age is already 118. Her youthfulness is also seen in her personality since she was still at the stage where she wants to explore around and go on adventures. But as the story progresses into further movies. The character becomes more mature, especially once she started her own family with her human husband.
Mavis Dracula is one of the prettiest characters in the movie, which makes her a great cosplay choice for ladies who are looking to cosplay cartoon characters. And if you take a look at the Mavis cosplay photos, you can see that she is a great costume idea if you plan to attend comic conventions or do some photoshoots. Since she is also a vampire, Mavis Dracula is also a good costume idea to wear during the Halloween season for both adults and kids doing the trick or treat or attending costume parties.
The Mavis Dracula Cosplay Makeup Tutorial