Agnes Gru is one of the main characters of the Despicable Me animation movie series. She is one of the three adoptive daughters of Gru and Lucy and is the youngest one. As the youngest child, she is naïve and innocent. Her innocence is one of the reasons why she was the only one who was excited when they found out that Gru is adopting them.
She is also very obsessed with unicorns, always carrying a unicorn doll wherever she goes. She is not aware that unicorns don't exist and hopes to own a unicorn as a pet one day. This article is an Agnes Gru cosplay guide.
The Despicable Me Agnes Gru Costume Tutorial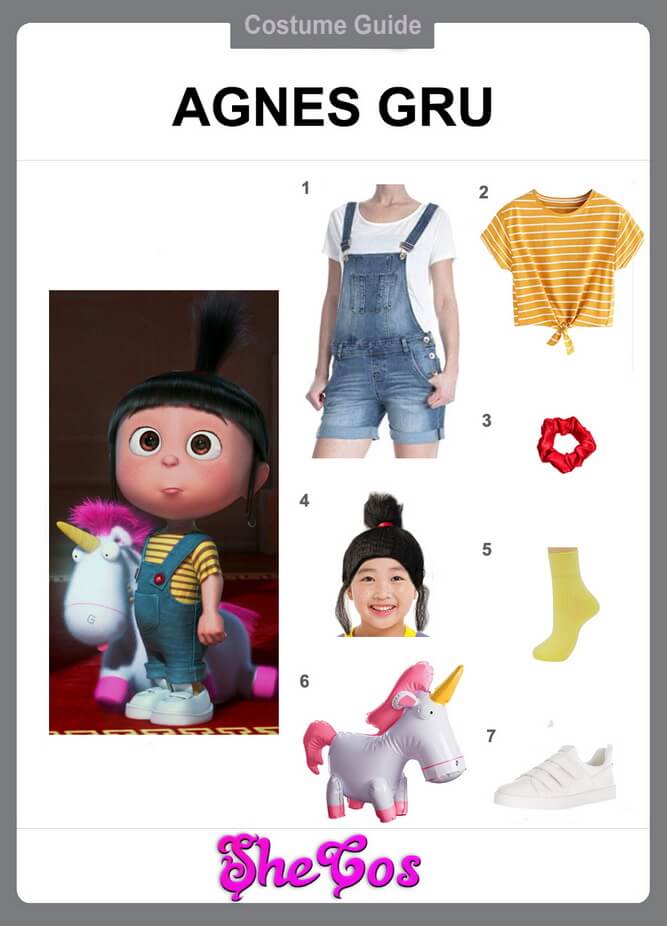 Parts you may need
1. Denim Shortall                                         Check Price
2. Agnes Despicable Me shirt                    Check Price
3. Red Ponytail Holder                                Check Price
4. Short Black Agnes Wig                           Check Price
5. Yellow Socks                                              Check Price
6. Fluffy Inflatable Unicorn                        Check Price
7. White Rubber Shoes                                 Check Price
The Best Agnes Gru Costume Ideas from Despicable Me
Like all of the characters in the Despicable Me movie series, Agnes Gru has worn mostly one outfit throughout her appearance in the movies. The only other outfit she has worn sparingly, aside from her usual one, is her pajama and ballet costume. This guide will feature Agnes Gru's usual outfit.
It consists of a yellow shirt with white stripes. The cosplay set will also come with a pair of yellow socks and a pair of white rubber shoes. The Agnes Despicable Me costume also includes a short black child wig in the character's hairstyle and a red ponytail holder to keep the hairstyle in place. Completing Agnes Gru's cosplay outfit is a fluffy inflatable unicorn that is designed in the unicorn that the character always carries with her where she goes.
About Agnes Gru Costume
As the youngest among the three sisters, Agnes Gru is hugely immature, who still doesn't understand that she can't always get her way. But she's also sweet, innocent, and naïve. She's the only one who entirely accepted Gru as their adoptive father, showing him love, sweetness, and care. Her affection towards Gru softened him, and he started to show affection towards the girls and accepts them as his adopted daughters.
Agnes Gru is also a good ballet dancer, despite her young age. She's not as good as her oldest sister Margo yet, but she's already better than her other older sister, Edith. The character is also adorable, and combine that with her personality, and she is one of the favorite characters of fans of Despicable Me. As a favorite character, Agnes Gru is also a good cosplay option for people looking to dress up as animation characters. If you take a look at the Agnes cosplay photos, you can see that the character is a great cosplay option if you're attending a costume party or going to a comic and movie convention. She's also a good option for doing photoshoots.
The Agnes Despicable Me Cosplay Makeup