Tintin is one of the main characters of the hit comic book series The Adventures of Tintin. He is the series' protagonist, who is a reporter, adventurer, traveler, and crime-buster. Tintin made his first appearance in the comic book "Tintin in the Land of the Soviets" in 1929. His faithful dog, Snowy, always accompanies him on his adventures.
Tintin is one of the popular comic book characters, and The Adventures of Tintin was one of the popular European comics in the 20th Century. It makes the character one of the favorite cosplay choices for people looking to dress up as a comic book character. This article is a Tintin cosplay guide.
The Adventures of Tintin - Tintin Cosplay Tutorial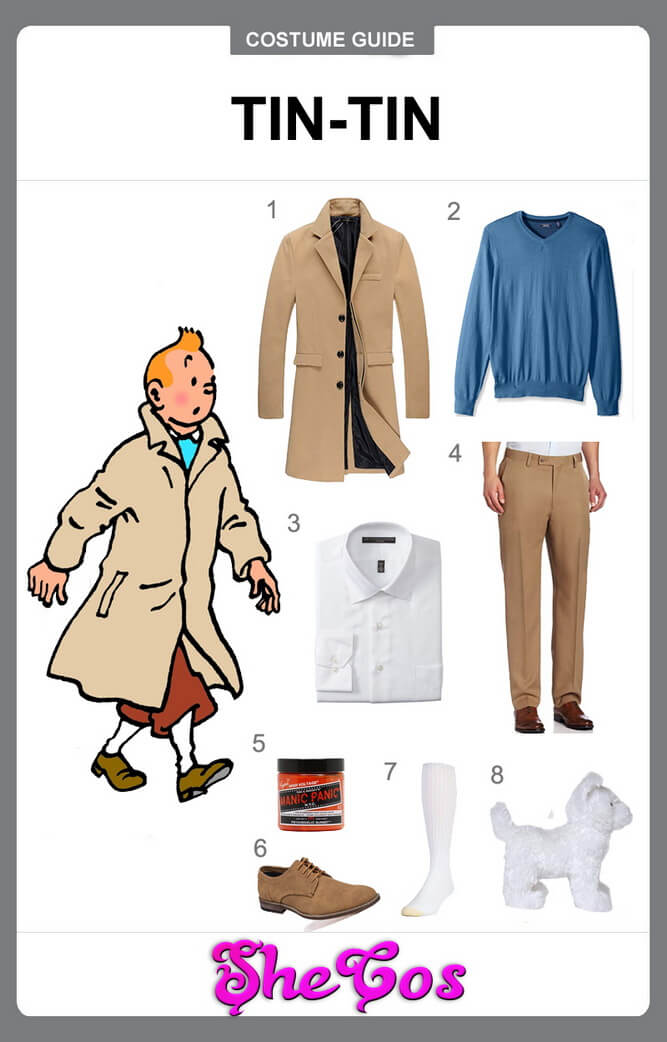 Parts you may need
1. Light Brown Trench Coat                        Check Price
2. Tin-Tin Blue Sweater                               Check Price
3. White Polo                                                  Check Price
4. Khaki Tintin Pants                                    Check Price
5. Orange Hair Dye                                       Check Price
6. Suede Shoes                                               Check Price
7. Long White Socks                                     Check Price
8. Snowy Dog Stuffed Toy                            Check Price
The Best Tintin from The Adventures of Tintin Cosplay Ideas
Tintin has worn a lot of different outfits throughout his appearances and adventures in the comics, TV shows, and movies. But the character does have a usual outfit that he wears continuously throughout his adventures. This guide will feature the typical outfit that Tintin wears.
It consists of a white polo with a blue sweater worn on top of it. The outfit also always wears khaki pants, a pair of long white socks, and a pair of suede shoes. Tintin also has orange hair in a way that the front hair is brushed up, so the set will include an orange hair dye for his hair color and hairstyle. A light brown trench coat is also included since Tintin usually wears the coat when he is on the move. The cosplay set is completed with a white stuffed toy dog to represent his loyal companion Snowy.
About Tintin Costume
One of the things that intrigued people about Tintin is his lack of backstory. No one is certain about his background, especially since the friends and enemies he meets in the comics are those he already encountered earlier. His Nationality was also uncertain until it experiences he is Belgian and lives in Brussels. Tintin also has a neutral personality, which is weird considering all the adventures, dangers, and excitement he has faced throughout the series.
But the character does have a curious nature, which makes him go on a lot of adventure and also perform deeds not usual for a reporter. His experience usually includes fighting and catching bad guys and bringing justice. It makes Tintin and his group somewhat heroes, which is also why people are fond of him. It also makes Tintin a great cosplay option, and if you look at the cosplay photos, you can see that the character's unique look will make anyone who dresses up as him noticeable. Tintin is a great cosplay option for attending comic conventions or costume parties.