Lind Belcher is one of the main characters of the animated series Bob's Burgers. She is the wife of the protagonist Bob Belcher and the mother to their three kids. Unlike her husband, Linda is a friendly and happy-go-lucky person who doesn't care what society thinks.
She is also funny and enthusiastic and will support his husband through thick and thin. She also loves her entire family unconditionally, and she also gets their love and respect. Her children respect her more than they respect their dad. As one of the main characters, Linda Belcher is one of the favorite cosplay choices of people who want to cosplay as Bob's Burgers characters. This article is a Linda Belcher costume guide.
The Bob's Burgers Linda Belcher Costume Tutorial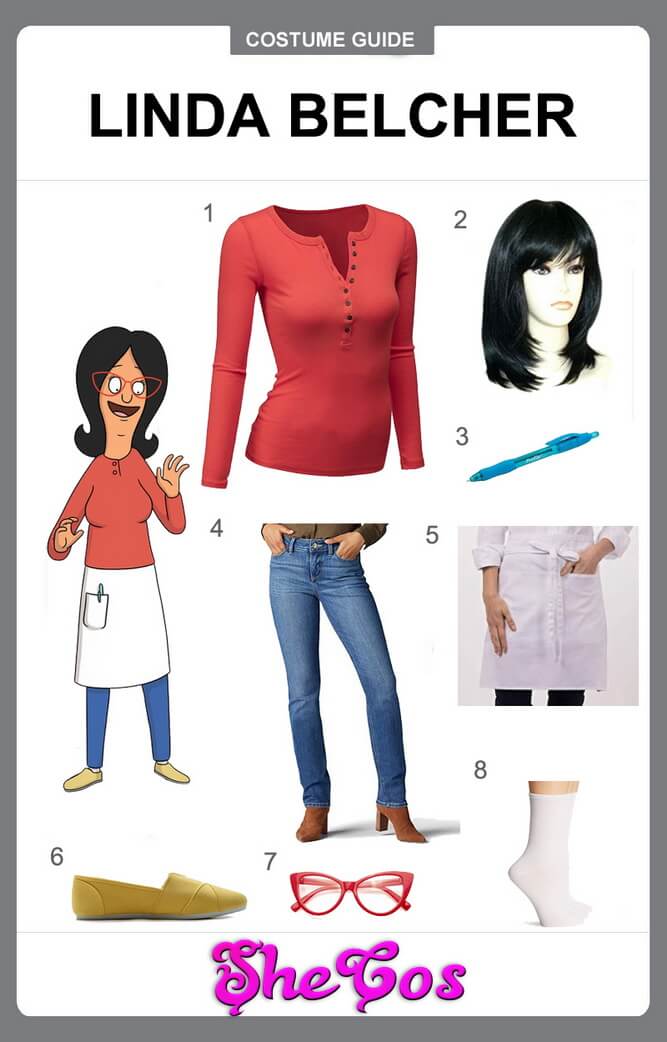 Parts you may need
1. Linda Belcher Shirt                                 Check Price
2. Black Linda Belcher Wig                       Check Price
3. Blue Pen                                                    Check Price
4. Blue Jeans                                                Check Price
5. White Linda Belcher Apron                  Check Price
6. Yellow Linda Belcher Shoes                 Check Price
7. Linda Belcher Glasses                            Check Price
8. White Socks                                             Check Price
The Best Linda Belcher from Bob's Burgers Cosplay Ideas
Linda Belcher wears several different outfits throughout her appearance in Bob's Burgers. She is not like the other characters who mostly wear only one costume. She is seen wearing a different outfit, depending on the changing scene. But she also has her typical outfit, which is what this guide will feature.
The typical outfit that Linda Belcher wears consists of a red long-sleeved V-neck shirt and blue jeans. The character also wears a white apron, which covers most of her legs. The Linda Belcher cosplay set also comes with a pair of white socks, a pair of yellow flat shoes and eyeglasses with red rims in cat eyes shape. Linda Belcher's appearance is completed with a medium-length black wig in the character's hairstyle and a blue pen that she uses to write down the customer's orders.
About Linda Belcher Costume
Linda Belcher's personality is the exact opposite of her husband. If Bob is an introvert, sensible, and reserved character, Linda is an enthusiastic, happy-go-lucky, and friendly. She is also someone who would try to force her expectations and opinions on others. Linda Belcher also loves performing arts and dramatic tradition. She also loves to sing, and she is the character in Bob's Burgers that sings the most. Despite her loud and rambling nature, she is still supportive of her family, especially her husband, Bob Belcher.
As one of the main characters and, probably the most extrovert of them all, Linda is one of the popular cosplay choices of people looking to dress up as Bob's Burgers characters. Her typical outfit is a great cosplay choice that is simple but also makes the wearer turn heads. Just look at the Linda Belcher cosplay photos, and you can see that she is a great cosplay option for attending costume parties or comic conventions.
The Linda Belcher Cosplay Makeup